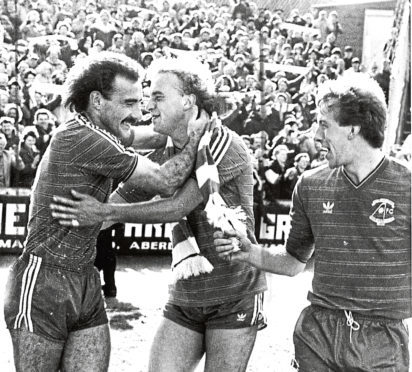 Aberdeen legend Neil Simpson says Sir Alex Ferguson made it clear his team had to lift the 1985 League Cup and complete his set of Scottish silverware.
Simpson, now head of Pittodrie's academy, was part of the Dons greatest era in the early 1980s, where they took regular domestic honours – and two European trophies.
However, it was Fergie's final full season before moving to Manchester United – 1985/86 – before the boss got his hands on the League Cup.
Aberdeen beat Hibernian 3-0 at Hampden to clinch the trophy, with Simpson – who made more than 300 Reds appearances between 1978 and 1990 – starting.
The midfielder, pictured, said: "It would be disappointing (if that team had never won the League Cup).
"Fergie was always determined, because it was one that eluded him.
"He would have felt sore if he'd never lifted that trophy before he moved to Man United.
"I remember in the build-up, (him saying) 'It's the one trophy I've never won'.
"That was a way of telling us: 'You need to step up here and make sure you win this one'.
"It was great just to lift that trophy."
Captain Willie Miller, part of the 1976 triumph, was the only member of the 1985 team who'd won the League Cup before.
And Simpson says, despite being Premier Division champions in 1983/84 and 1984/85, Aberdeen had a habit of slipping up.
They lost to Airdrie and Celtic in those campaigns, and this followed two consecutive exits to Dundee United.
On the way to the 1985 trophy, Simpson & Co. beat the Tannadice team 2-0 on aggregate in their tough two-legged semi, setting the stage for silverware.
Simpson said: "For everybody, apart from Willie Miller who won it in 1976, it was the one medal we still had to achieve.
"We used to get Dundee United in a two-legged semi-final and get beat.
"But that year we went all the way and didn't concede a goal the whole way through the tournament."
He added: "We won the league in 83/84 and 84/85, and what was good about the League Cup was it was short and sharp.
"You played your European games and then into the League Cup.
"We got Dundee United in the semis, home and away, and it was about the only time we beat them in a cup competition.
"They had a really good team and really good players, and it was whoever was on form on the day.
"We won more than our fair share against them, but they were always a dangerous, good cup team."
Simpson remembers the final against Hibs well.
He said: "We took a good crowd, but Hibs took a huge following to Hampden, because it was the first time they'd been in a cup final in ages with a chance of winning it. But on the day we scored two in the first half, Eric Black and Billy Stark.
"I was involved in the third one. Frank McDougall backheeled it, and I drove into the box and, you could say it was a cross-come-shot, it went straight to Eric Black who slid it in. That was 3-0.
"The final was over by half-time because we were so dominant, but that third goal made it easy.
"It was one of the best performances we'd given at Hampden in terms of how we played – with the other ones, we'd just ground it out.
"I thought everyone played well on the day and dominated the whole game."
Aberdeen had it their own way to the point where Simpson's endless efforts were looked upon humorously by the substitutes and Fergie's assistant Willie Garner.
Simpson said: "I remember one of their players went on a run from the 18-yard box all the way down the line and I chased him all the way.
"I eventually got a tackle in at our 18-yard box. I'd run 80 yards, and Willie Garner – who was assistant manager – said it was me building up my appetite for my meal later on at night."
However, the national stadium environment was one "Simmy" loved.
He said: "I loved playing at Hampden. The opportunity to get the medal and parade the trophy down Union Street inspired you to make sure you were a winner."