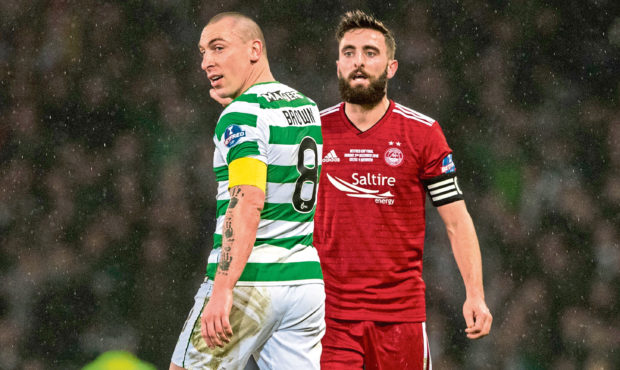 Aberdeen captain Graeme Shinnie accused Celtic of lacking class after they beat the Dons in the League Cup final.
Former Reds loanee Ryan Christie netted the only goal at Hampden in the fifth minute of first half injury time.
It was cruel on the Dons who matched the Hoops on the day, but Brendan Rodgers' men still made it seven successive domestic trophies.
However, skipper Shinnie took umbrage with the actions of Celtic captain Scott Brown and his team-mates. After coming on in 64th, Brown embarked upon a battle with Aberdeen's Lewis Ferguson.
Late on and after the final whistle, Brown appeared to celebrate in front of the 19-year-old as well as Shinnie.
The Reds captain felt it lacked class and said: "It just frustrated me when some of their players are celebrating in front of a young 19-year-old kid who is just trying to do well.
"You can have a wee bit more class than that. There's ways to go about being a captain.
"You can have a bit of class about you – they don't and it frustrated me. But we have to deal with it.
"They were 1-0 up and they had the ascendency and it gave them the chance to do it.
"I'm big enough and man enough to take it."
At full-time, Hoops right-back Mikael Lustig appeared to make a beeline for Ferguson.
Shinnie doesn't know why that happened and revealed the players involved in the altercation didn't shake hands after full-time.
He added: "I don't know. There were obviously battles going on in the game but you'd have to ask him that.
"'No, there was none of that (shaking hands)."
Shinnie says he didn't care about Celtic players celebrating in front of him, but felt it was poor that they chose to rub Ferguson's nose in it.
On Brown's celebrations, Shinnie said: "He will do what he does. It doesn't bother me.
"But when it's people like young Ferguson they are going for … they are older professionals and they should know better. But we can deal with it.
"Did I have to speak with Lewis afterwards? No, he's a mature young man.
"He's dealt with stuff like that in the past and he will deal with it again when he's involved in big games. He can handle himself very well and he will be fine."
Reflecting on the game, Shinnie was disappointed the Dons didn't offer more threat in the final third. In the second half a Jozo Simunovic attempted clearance rattled back off the Celtic crossbar, but keeper Scott Bain was not tested on too many occasions.
Rather than dwell on defeat, Shinnie is keen to rally Aberdeen as they look to bounce back against Rangers at Ibrox on Wednesday.
He said: "I'm gutted. It's frustrating because we were right in the game. We just lacked that bit of cutting edge to get back into the game after we fell behind.
"We put pressure on as much as we could but we just missed that goal. You want a wee bit of luck to go for you but that did not happen for us.
"We did not give it to Celtic. They knew they were in a game.
"We can't afford to dwell on it.
"We have a lot of big games coming up thick and fast between now and the end of December.
"It's a big month and losing the cup final hurts us. But we have to try to look forward to Wednesday."
Celtic could have made it 2-0 early in the second half when referee Andrew Dallas gave a penalty after Dom Ball headed the ball off his left hand.
There was nothing the midfielder could have done and he was outside the box, but Dallas still pointed to the spot.
Aberdeen keeper Joe Lewis saved Scott Sinclair's effort but it was still a poor decision, which could have been decisive.
Shinnie said: "The referee said to me: 'watch it back after the game and you will see it was a penalty'. I've watched it back and it's not a penalty.
"I said to him that it was accidental handball and it was outside the box.
"But once he's given the decision he's not going to change it. Joe made a great save to get us off it, but we lacked the luck when we hit the bar.
"It was fine margins, but Celtic have won it and congratulations to them."