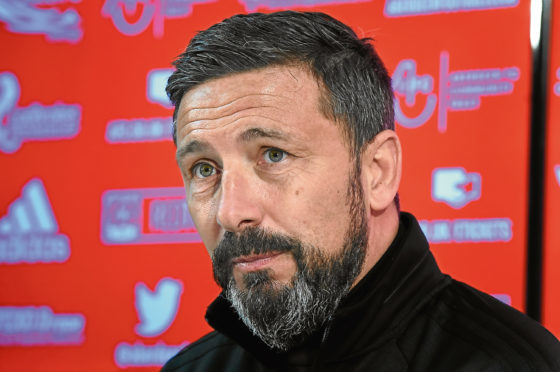 Aberdeen boss Derek McInnes today insisted he understands why fans are frustrated at the lack of recent wins.
He accepts the Red Army want to know why the Dons are four games without victory following a 0-0 draw at relegation battlers Partick.
However, the gaffer called for a "big performance" at Rugby Park tonight to get the Reds back on track.
Aberdeen were set to face in-form Kilmarnock in a Scottish Cup quarter-final replay.
He said: "Supporters want to see their team winning and when they don't they want to know why.
"I totally understand as it is an emotional game.
"We lost to Hibs who are a good team and we needed to play better there.
"We also lost to Celtic who are top of the league.
"There have been two draws in the last couple of games so it is hardly a disaster.
"But we are well aware if we are to meet the demands that we want and have set for ourselves, we will have to get winning again soon.
"There is no better time than at Kilmanock in the Scottish Cup and hopefully we can get that big performance, that big result that we know is in us.
"Hopefully we can then get that momentum kick-started again with more positivity.
"Things never ever seem bad when you are winning games – and that is what we are working towards."
At stake in tonight's replay is a semi-final clash against Motherwell at Hampden next month.
Aberdeen lost the final last season (2-1 Celtic) and have made liftng the trophy for the first time since 1990 one of the targets this season.
Rugby Park is a sesaon- defining game.
McInnes has put that demand on his players to deliver in the Scottish Cup and is confident they can rally from the dip in form.
He said: "It is very important for us to get to Hampden.
"We have always stressed the importance of that and I don't mind putting ourselves under that demand, pressure and focus to get to cup finals.
"This is an opportunity for us as a club to get to our sixth semi-final in five years.
"If you put that up against what was happening before it shows the consistency of the squad.
"It shows the competitive side of the squad and demonstrates we have a squad of players who are capable of meeting the demands.
"That was the biggest thing I always wanted to do when I came in the building, to get a team who were competitive enough to meet the demand that was expected.
"We didn't have that when we came in but we have had that over the years. We continue to have that now."
In-form Killie, who play on an artificial surface, have lost just twice in the last 20 games – both to Aberdeen.
McInnes said: "It is about getting the job done against an in-form Kilmarnock side.
"We go down to Rugby Park well aware of the opportunity, the strength of the opponent and also the strength of our own team that can get the job done.
"We have no problems with the pitch.
"It is the quarter-final of the cup and we don't really care about the surface.
"It is all about taking the opportunity that is there for us."