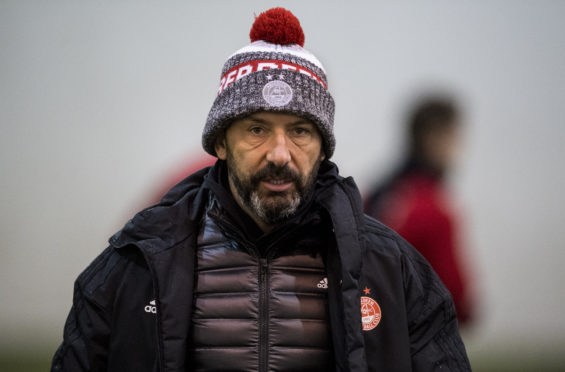 Dons boss Derek McInnes today claimed leaving out players for the Betfred Cup final against Celtic will be one of his toughest decisions as a manager.
At some point tomorrow in the Reds' Glasgow base McInnes will gather his squad and break the bad news to those unlucky enough not to have earned a jersey for the Hampden showdown.
Others will be informed they are not in the starting line-up as they bid to win a first cup since 2014.
McInnes has experienced first hand how heartbreaking that disappointment can be having played in every round of the 1996 League Cup for Rangers, only to be dropped for the 4-3 final win over Hearts.
He said: "Everybody wants to play their part and it can be tough leaving players out for a final.
"I try to put myself in the players' shoes, especially when it comes to cup finals and big games.
"I remember how it felt when I had played in every round and been involved in every league game only to be left out of the squad for a final.
"I had scored in the quarter-final and scored in the semi-final (of the League Cup) but was left out of that final.
"So I know how it felt.
"Even picking a bench if everybody is fit will be tough as you have to leave out one or two and also pick the team to play.
"Everyone wants to play in a final.
"We will go down (tomorrow) to the hotel and the team will be named on Saturday morning."
It remains to be seen whether the starting line-up McInnes ultimately selects will be influenced by the 3-0 defeat to Motherwell last Saturday.
He has made big calls for finals in recent seasons, dropping leading scorer Adam Rooney, who was on 20 goals for the season, in favour of Jayden Stockley for the Scottish Cup final against Celtic in 2017.
Aberdeen lost 2-1 to a late Tom Rogic goal.
Northern Ireland international Niall McGinn was also on the bench for the 3-0 League Cup final loss to Celtic that same season. The starting line-up may be affected by the defeat to Well but the preparations to the final have not been.
McInnes said: "We went into the game at Motherwell in good form so what happens prior to any game isn't a real indication.
"I'd rather have won at Fir Park but I'm not going to dwell on it too much. It's not going to affect the build-up to this one.
"Whether we won, drew or, as we did, lose at Motherwell it wasn't going to affect the preparation going into the final.
"At times we've stayed away for a few days prior to a final and sometimes it has worked, sometimes it hasn't.
"This time we just treat it as a normal game and stay in Aberdeen for the week and travel down to Glasgow on Saturday.
"That keeps it as simplistic as possible and as natural as possible for the players. We want to play the game when it comes around and not the occasion."
Aberdeen defeated Celtic 1-0 in the final game of last season to secure a first league victory at Parkhead since 2004.
Earlier this season they lost 1-0 in Glasgow to the Hoops.
"In the last few months we've had two very tight games against them," said McInnes.
"The game we won, there was nothing really in the game.
"We came up with a big moment to get the three points and an important result.
"Celtic are a good side and you have to get the balance right between attacking and defending. You've got to make sure you try to recognise and nullify their key players from having an enjoyable day."