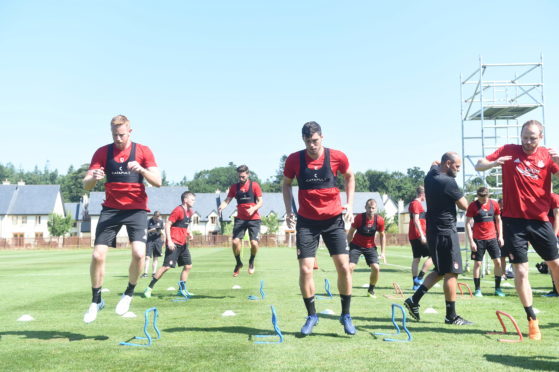 For Dons boss Derek McInnes a week in Ireland offers so much more than just working on fitness levels ahead of the Europa League clash with Burnley.
McInnes is putting "maximum" work into his squad despite the Cork heat wave where the mercury has hit 34 degrees.
However, during the training camp at the Fota Island Resort the Reds gaffer has put just as much weight on forging team spirit, confidence and integrating the new signings.
Having the players together 24-7 for a week in the isolation of a five-star camp previously used by big guns Manchester United and Liverpool allows that.
Summer signings Chris Forrester, Stephen Gleeson and Lewis Ferguson are not only sweating it out here on the south west coast but also learning what it takes to be a Don.
McInnes reckons forging that psychological bond is as important as working on core fitness ahead of the Europa League showdown with the Clarets on July 26.
He said: "The time in Ireland will help integrate the new signings as being away together helps develop that spirit and togetherness.
"That is important.
"While we are working them hard in Ireland to get that fitness it is also about building familiarity and confidence while integrating players.
"It's good for fostering team spirit because it's tough. They work hard and you put a lot of demands on them.
"When they all go through a session together that is tough on them, it helps with that."
Aberdeen are based at a luxurious resort on an island in Cork harbour, around a 20-minute drive east from the city centre.
With a week dedicated to training McInnes urged his players to be "selfish" in ensuring they get the best out of the time.
He said: "I like getting away to camps like this.
"We ask a lot of the players at this stage now when they come back for pre-season.
"The players need to take ownership at that time.
"Sometimes when you are back in Aberdeen there is the distractions of family.
"For me the players need to be really selfish at this stage.
"However, the weather is very hot here and that is a factor in how we train.
"It is maximum rest in between sessions because it is maximum work being put into them.
"It is good to get away and have that care for them.
"Fota Island is a brilliant environment for the players to come and work. It is an environment that caters for all our needs."
McInnes is determined to utilise a rare extended pre-season to build a base fitness that will serve the Reds throughout a gruelling campaign.
This summer the Aberdeen gaffer has the luxury of a five-week window to prepare his squad for the rigours of both domestic and European action.
In previous years it had been constricted to less than three weeks due to the early entry in the Europa League.
Previous pre-seasons had been a hectic sprint to get ready for Europe now McInnes is ready to make the most of the chance of a "slow burner".
He added: "Since my first year when we went to Warwick University this is the first summer where we can really give the players the type of pre-season that in an ideal world we would give them.
"Pre-season for me should always be about getting fit and up to speed for the start of the season but also for the whole season ahead.
"What we have done in recent years is only just keep the ball rolling because we are back for pre-season before we know it.
"Then it is all about just firing them up again.
"It has not been a true pre-season in the sense that it will be this year.
"This summer it will be a bit of a slow burner for the first game proper against Burnley.
"In recent seasons it has all been rapid to get ourselves ready and firing ourselves up again."
Republic of Ireland boss Martin O'Neill used the Fota Island Resort to prepare for the European Championships in France in summer 2016.
It offers two full-sized training pitches and high performance team gym within a short walk of the accommodation.
Pitches can be watered as requested or grass cut to a length specified.
Recovery requirements are catered for through ice baths, hydro pool and a swimming pool.
Away from the rigours of training there is also the opportunity for recreation on site as Fota Island boasts an 18-hole championship-level golf course.
Global stars like 14-time major winner Tiger Woods and Rory McIlroy have played on the course that has hosted the Irish Open in 2001, 2002 and in 2014.
Aberdeen's European opponents Burnley have used Fota Island in recent years and will arrive at the complex next week for a training camp to prepare for facing the Reds.
McInnes' own preparations will include a friendly against League of Ireland First Division Cobh Ramblers tomorrow (2pm).
The Dons have a busy schedule of friendlies with Falkirk (July 4), St Johnstone (July 8), Inverness Caley Thistle (July 11), Cove Rangers (July 15) and West Brom (July 20).
McInnes said: "We have concentrated in making sure the games are pretty close together so we can really put in the work.
"Results in pre-season, especially the early ones aren't so important. Before we know it the Burnley game will be upon us.
"However, it is also far enough away that we are confident we can plot and plan the pre-season properly."
Aberdeen's pre-season will conclude with a Pittodrie showdown against Championship West Brom on Friday July 20. That will be a litmus test of where they are in relationship to the Burnley showdown.
West Brom were relegated from the English top flight last season but in a valiant attempt to avoid the drop under Darren Moore beat Spurs, Manchester United, Newcastle and drew with Liverpool among the final games of the campaign.
McInnes said: "We felt that after missing the Europa League first qualifying round and going into the second round we were a little under-cooked.
"Previously the two games in the first round had set us up for the second.
"When we didn't have that last season we felt that with pre-season games alone we weren't quite as ready as we wanted to be for Siroki Brijeg.
"Especially with the changes we had and players coming from different clubs.
"We wanted as tough a game as possible in that last weekend before the Europa League game.
"Darren is a friend and phoned and asked about the game. I also want my new signings to experience playing at Pittodrie before the game against Burnley."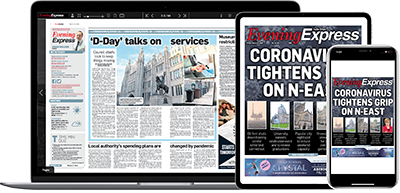 Help support quality local journalism … become a digital subscriber to the Evening Express
For as little as £5.99 a month you can access all of our content, including Premium articles.
Subscribe