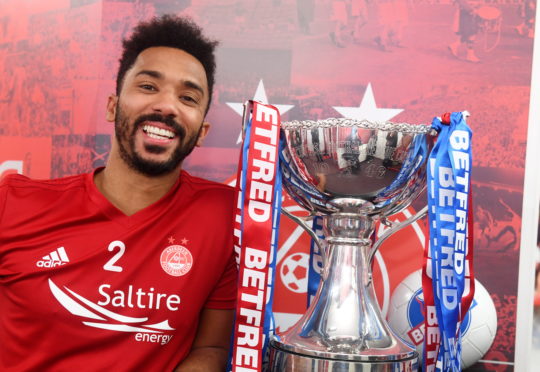 Defender Shay Logan today claimed Aberdeen's heart and fight can lead them to Betfred Cup glory against a Celtic he admits are a better team.
The 30-year-old  is one of the remaining members of Aberdeen's 2014 League Cup-winning side and is determined to secure another trophy by overcoming holders Celtic in the final at Hampden on Sunday.
Right-back Logan insists the Dons' 1-0 victory at Parkhead in the final Premiership game of last season shows what can be achieved.
A 20,000-strong travelling Red Army will cheer on the Dons' trophy bid at Hampden and Logan wants to reward their support with a trophy.
He said: "Celtic might have players who are better than us, but heart-wise I doubt they have a team that has more heart than us.
"So we have to fight and dig in and hopefully come out with a good result.
"It is a one-off game.
"I am not going to lie and say Celtic are not the best team in the league – they are. We know we need a strong performance to beat them.
"Any time you beat Celtic you know you have played well. Celtic are a team that have that winning mentality and they probably go into these games expecting to win.
"However, we go into the final knowing we have pushed them before, we have beaten them in their back garden.
"Although it may only have been once in how many years, it shows that it can be done.
"Celtic have lost this season, so they can be beaten. We don't worry about them, we have to focus on ourselves.
"The 11 players that start have to turn up and we have to put in a strong performance from the keeper to the striker.
"Everyone is in this together.
"It is a good chance for us to get another piece of silverware."
Aberdeen reached the final the hard way seeing off Premiership sides Rangers, Hibs and St Mirren.
Logan said: "If we beat Celtic we will have knocked out all the big boys in the league which would be a really good achievement.
"And the city of Aberdeen would be living it for a long time.
"They are still talking about the 2014 cup win.
"No matter how bad the game was (penalty shoot-out defeat of Inverness Caley Thistle) no one remembers that, they remember the result.
"I would love nothing more than to bring it home for the fans of Aberdeen and for the city of Aberdeen."
To lift the Betfred Cup the Dons will have to beat both Old Firm sides at Hampden having overcome Rangers 1-0 in the semi-final last month.
Logan said: "We went into the game (against Rangers) knowing ourselves that we could win it.
"We never go into a game fearing a team. We just needed a strong performance."
Logan was an integral part of the Dons side that won the League Cup in March 2014 to end a 19-year trophy drought.
He was on loan from Brentford at the time and raised the trophy in only his ninth Dons appearance. Now he is determined to get another winner's medal to give to his son.
He said: "I gave the medal to my eldest boy and I think it is in his room.
"That was a special medal and my little boy said to me he would like it. Hopefully I can add to that."
Aberdeen go into the final on the back of a disappointing 3-0 defeat at Motherwell on Saturday.
Logan said: "We are off the back of a bad result but everyone has come in firing, which is the attitude the gaffer looks for.
"You cannot dwell on games even though you can think about them.
"Motherwell came off the back of a bad result against Rangers (7-1 defeat)and they then produced a 3-0 performance against us.
"Hopefully we come off the back of that with a good performance in the final and that will be forgotten."