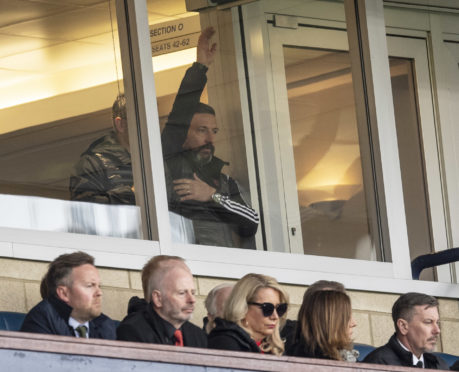 Police Scotland have launched an investigation into sectarian abuse aimed at Aberdeen boss Derek McInnes.
McInnes was sent to the stands for reacting to bigoted chants from Celtic supporters in the 3-0 Scottish Cup loss at Hampden.
A Police Scotland spokesperson today confirmed they "are aware of the abuse aimed at Mr McInnes and are carrying out an investigation".
Disappointed he alllowed sectarian chants of "sad orange b******" to provoke a reaction, McInnes admits he was wrong and will accept his punishment. However, he hopes those who abused him can also be punished.
McInnes claimed he has previously heard the sectarian chant directed at him "hundreds of times" but reacted at Hampden through frustration. He was one of four Dons red carded and admits the loss of discipline "wasn't pretty" as No.2 Tony Docherty, Dom Ball and Lewis Ferguson were also sent off.
It is understood the sectarian abuse will be included in the match delegate's official report.
Asked if the sending-off was as a result of reacting to sectarian abuse aimed at him, McInnes said: "Well, Aye. I let it go the first time. I shouldn't react and I'll take my punishment and I was wrong to do so.
"I apologise for that as I should be better than that. It will be interesting to see if everybody gets punished for the incident.
"I've heard that song a hundred times aimed at me and I've never reacted to it, so the frustration maybe from the game has played a part in that.
"The referee or the fourth official deemed my reaction a red card offence. It is disappointing as four sending-offs doesn't look pretty and it was a bad day for us."
It is unlikely the SFA willl hand out notices of complaint to McInnes and Docherty today because they are waiting for the match delegate's report which is expected to be finalised tomorrow.
Police Scotland have not received an official complaint but have still launched an investigation.
A former Rangers player, McInnes addressed the issue of sectarianism last month after it emerged Police Scotland had opened an investigation into reports of sectarian chanting aimed at Rangers boss Steven Gerrard by Aberdeen fans during the 2-0 Scottish Cup quarter-final replay win at Ibrox.
McInnes called for a zero tolerance approach to stamp out the problem and revealed he had been subjected to sectarian abuse during the 1-0 Betfred Cup final loss to Celtic this season.
This time he reacted, and was punished by being sent to the stand by referee Craig Thomson following the intervention of fourth official Nick Walsh.
McInnes said: "I think it will be in the delegate's report, which is pleasing and refreshing as it's not always in a delegate's report when they hear sectarian singing. It certainly wasn't in the last cup final.
"But that's not my battle or my fight. It's for others to condemn.
"For my part, I take responsibility for my own actions – I didn't react the first time, I did the second time. If my reaction is deemed a red-card offence, I'll take my punishment.
"The role of the fourth official sometimes is to give you a warning, and maybe a chance to let Craig Thomson (referee) know what I reacted to.
"Whether he knew or not I don't know. But it fell on deaf ears. "
McInnes was sent to the stands in the 74th minute to join assistant Docherty, who was dismissed at half-time for comments made to the referee.
The boss said: "Tony was sent off for acting in an irresponsible manner. I heard him at half-time – it was nothing more than anything you'd hear on a Saturday.
"That was harsh on him."
Dom Ball was dismissed in the first half for a second yellow following a mistimed aerial challenge on Ryan Christie, which left the Celtic midfielder with a suspected broken cheek bone.
Lewis Ferguson received a straight red in the second half for a reckless challenge on Tom Rogic.
McInnes said: "Ferguson's was a red. It was deserved.
"Of course I'm the Aberdeen manager, but I thought it (Ball's dismissal) was extremely harsh.
"For the first yellow I think it was one of the officials said it was stopping a promising attack.
"Jonny (Hayes) had kicked the ball out of the pitch.
"It is a foul, I'm not denying that, but I didn't think it was a yellow-card offence and it was Dom's first foul in the game.
"The second one is difficult.
"We've all played the game, when that ball bounces both players have got to go for it and it's ended up with young Ryan having a bad injury.
"Both players have to be committed to it. I don't think there is an elbow or a flailing arm.
"It was late and I think it was totally accidental.
"I need to remind people about when (Celtic's Dedryck) Boyata took Gary Mackay-Steven right out in the cup final.
"That was deemed to be a reckless challenge, it was late, Gary ends up in hospital.
"It wasn't a penalty kick, it wasn't a yellow-card offence and not that we were probably looking for it because we can see how these things happen – it's mistimed and it's accidental."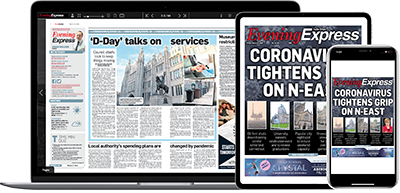 Help support quality local journalism … become a digital subscriber to the Evening Express
For as little as £5.99 a month you can access all of our content, including Premium articles.
Subscribe