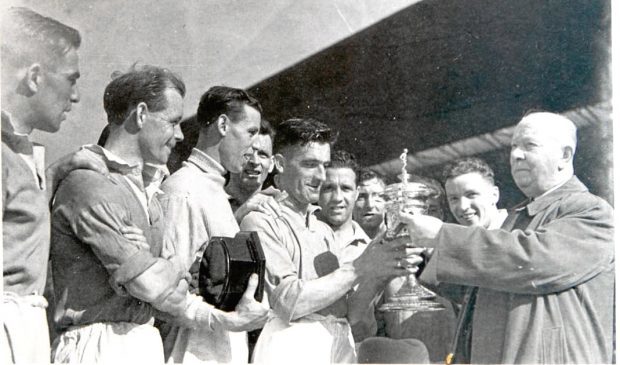 The Dons aim to lift the Scottish Cup in honour of the club's oldest surviving player and member of their first trophy winning side.
Aberdeen recently marked the 90th birthday of Alex Kiddie, who was part of the team that lifted the Southern Cup in 1946.
Winger Alex played a key role in the Dons side who beat Rangers 3-2 in the final.
The Southern Cup victory has been treated as "unofficial" by many historians because the competition was the first organised after the end of World War 2 and not all teams were able to compete.
Goals from Archie Baird, Stan Williams and George Taylor secured the first major piece of silverware in Aberdeen's history.
A letter to Alex from Pittodrie states: "As our oldest living player, and the last survivor of what was our first major honour, the Southern League Cup in 1946, you hold a very special place in the hearts of all those connected with the club and hopefully we can lift the Scottish Cup in your honour."
Alex will watch live television coverage on Saturday as the Dons face Celtic in the Scottish Cup final.
He said: "The letter from Aberdeen was a lovely touch and had some very nice words.
"It was a pleasant surprise and brought back many great memories for me."
Alex scored a double in the 5-3 semi-final replay win over Airdrie to book a clash against Rangers at a packed Hampden.
He said: "Winning that cup was a fantastic day for myself and there were 130,000 people at the final.
"At finals now you only get about 50,000.
"When we played Rangers in the final I wasn't aware of the size of the crowd as my mind was on the important things such as running up the wing or cutting inside.
"I was only aware of the crowd when I went to take a corner kick.
"It was great for Aberdeen to win that trophy."
Winger Alex was provisionally signed by Celtic in 1944 while the war raged on in Europe.
However, the Parkhead club never took up the option to sign him and Aberdeen moved to secure Alex.
In the 1946 cup final Alex was the only amateur on the Hampden pitch as he was also a successful athlete.
Had he signed professional forms on moving to Pittodrie, Alex would have been banned from competing in his other sports of sprint and long jump.
Being amateur meant he missed out on the win bonus his Dons team-mates received for lifting the trophy.
In light of that Dons chairman William Mitchell presented Alex with an engraved watch instead. That watch still keeps perfect time.Alex said: "Winning the cup was reward enough. The watch was a very kind gesture by the club and I've been proud to wear it almost every day since.
"It still keeps perfect time."