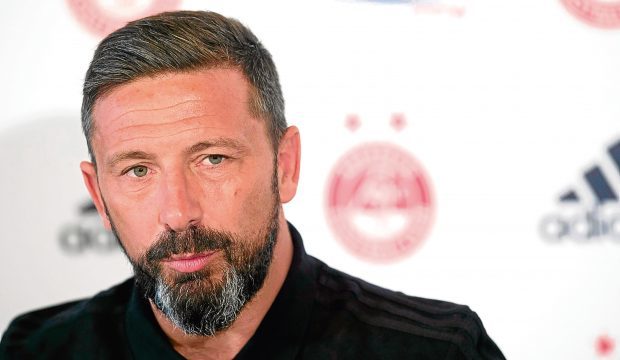 Aberdeen boss Derek McInnes today claimed he feels no added responsibility to fly the flag for Scotland despite the shock Euro exit of the nation's other sides.
The Dons are the country's sole remaining representatives in the Europa League after Rangers and St Johnstone both crashed out in the opening phase of ties.
Aberdeen will tomorrow begin their quest to reach the lucrative group stages as they host NK Siroki Brijeg in the second qualifying round.
Scotland's reputation in Europe and the Uefa co-efficient both took a battering with the exit of the two Premiership sides.
But all McInnes' focus is on Aberdeen's progression and not giving Scottish football a much-needed shot in the arm.
McInnes said: "I don't see there is any extra responsibility because of what others do.
"My responsibility is always to our supporters as first and foremost we try to look after ourselves and do as well as we can.
"Our responsibility is to try to be as ready as we can for Siroki Brijeg.
"We are not going to be at 100 per cent at this stage, we never are and that is just the difficulty we have in our country because of when the European competition is.
"There is disappointment at Rangers and St Johnstone going out.
"It was a surprise but it can happen
"Hopefully, we are good enough to get through this tie because we will get better and stronger as we go along.
"But first things first, we have to get through this one."
For the fourth successive season Aberdeen are Scotland's last team standing in the Europe League.
McInnes accepts the structure of Scottish football and the subsequent restricted pre-season has put the Dons at a disadvantage. Just as it had hindered Rangers and Saints.
Their early exit has re-ignited the debate around summer football in Scotland.
Just over a decade ago Scotland was in the top 10 for Uefa club coefficients. Now the nation has dropped to 27th, behind Kazakhstan and Cyprus.
"For us as a nation to become better is a far bigger discussion and it is about the footballing calender, finance and developing younger players," said McInnes.
"Getting more Scottish players in and being able to compete better is a national problem and not just our teams in Europe, but also with the national team.
"There is a bigger discussion but for now we have to try to be ready."
NK Siroki Brijeg are in a similar position to the Reds in that they had to enter European competition with no competitive action domestically.
The Bosnians had a training camp in Austria before facing Ordabasy. Aberdeen packed in an intensive one week training camp at St Andrews with friendlies against St Johnstone and Arbroath followed by a bounce game against Doncaster.
"We are trying to integrate new signings and bring new additions in, so any squad at this stage is not normally the squad you have when the window closes in August.
"In recent years we've had the benefit of being in a settled team, which has made the short period less of a factor, but this year is a bit different as we're putting a new side together and trying to get it to gel as well as being game ready.
"We are trying to do all that while also trying to come through a tough tie.
"At this second round stage we have always came up against a decent level of team whether that is Groningen (Holland) or Rijeka (Croatia).
"That is the same case this season with the Bosnians."
NK Siroki Brijeg were today set to arrive in the Granite City and will train at Pittodrie later tonight.
McInnes had both legs of Siroki Brijeg's 2-0 aggregate win over Ordabasy of Kazakhstan watched.
He and the Dons squad watched a live stream of their 0-0 draw in Kazakhstan last Thursday.
McInnes said: "Siroki Brijeg are a decent side and I have been impressed with them, certainly over the tie. Both legs looked very comfortable for them and they offered a good attacking threat in the first leg.
"The Bosnians had good organisation and countered very well.
"It could have been a very tricky tie away for them in Kazakhstan but I felt they dealt with it very well.
"They have good players within their set-up and reminded me a little bit of my first Aberdeen team here with Niall McGinn and Jonny Hayes, counter-attacking on the sides.
"We split the staff up to look at both potential European opponents, I concentrated on Siroki Brijeg who ended up getting through.
"Based on the two ties Siroki Brijeg deservedly progressed as they were the better of the two teams.
"They have good energy in the middle of the park
"We have had them watched twice and we have all their footage from last season.
"They do have a couple of new signings, which changes things a bit, but they have picked the same team for the past two games, so I feel we have a good understanding of their team."
Aberdeen will tomorrow embark on a fourth successive European campaign under McInnes.
There may have been changes to his squad with key players leaving, but he is confident that experience of Continental action will prove pivotal.
He said: "The third qualifying round ties against Almaty and Maribor in recent years were so finely poised we were unlucky to go out.
"We can take confidence from the fact we were in both ties and use that experience to get the desired result this time."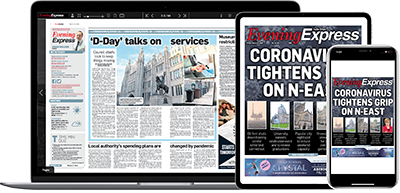 Help support quality local journalism … become a digital subscriber to the Evening Express
For as little as £5.99 a month you can access all of our content, including Premium articles.
Subscribe