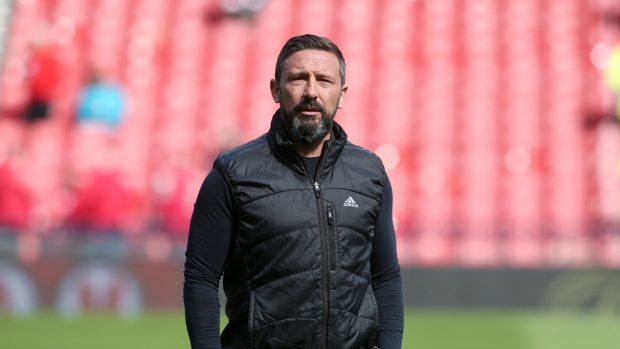 Aberdeen's manager next season will be given an improved budget to bolster the Pittodrie squad.
Derek McInnes will today open up talks over personal terms at Sunderland as the Black Cats close in on securing him as new their new manager.
The Dons boss remains on a family holiday in Florida but Sunderland chief executive Martin Bain was today set to arrive in the States to start personal talks.
Championship Sunderland have agreed compensation with the Dons, allowing McInnes and his No 2 Tony Docherty to discuss terms with the Stadium of Light side.
Sunderland are confident of naming McInnes as the replacement to Davie Moyes before the weekend.
However, McInnes still has to agree to the move and will seek assurances that he will be given the budget needed for a bid to take Sunderland, £110m in debt and recently relegated, back to the English top flight.
Aberdeen will not give up their fight to retain McInnes and are ready to offer him a vastly improved contract.
However, the Pittodrie board accept that may be in vain and are looking at potential replacements.
Ross County's Jim McIntyre, St Johnstone's Tommy Wright, Plymouth's Derek Adams, former Norwich boss Alex Neil, Gothenburg Great Alex McLeish and St Mirren's Jack Ross are all in the frame to replace McInnes should he move on, as expected.
Aberdeen have a fresh influx of cash as Dave Cormack recently joined the Dons as a non-executive board member following the investment of several million through the acquisition of shares.
Cormack confirmed there will be a bigger budget available, to whoever is boss. He said: "We are investors here and are looking to put in as much as we can. And we have done it.
"Every season over the last few seasons we have increased the football budget and again that will be increased."
Should McInnes complete his move to Sunderland the Reds will pocket £1m, with a further £1.3m from the transfer of Jonny Hayes to Celtic.
Aberdeen yesterday confirmed to having "reluctantly" reached an agreement over a compensation package to allow McInnes and Docherty to talk to the Black Cats.
The statement read: "The club can confirm that early this afternoon Sunderland FC agreed to meet all the contractual obligations for both Derek McInnes and Tony Docherty and have, reluctantly, been granted permission to speak with both of them about the vacant managerial position at Sunderland."
That statement came just two hours after two Pittodrie board members had reiterated their determination to retain McInnes at the club.
Vice-chairman George Yule and Cormack were determined they would fight off the approach from Sunderland.
Cormack claimed the Dons were ready to "move heaven and earth" to retain McInnes.
He added: "We don't need Sunderland's money, we don't need anyone's money. We don't want our manager to go."
Aberdeen hope McInnes will decide not to move to the uncertainty at Sunderland.
However, they accept the most likely outcome is he will end his spell at Pittodrie.
Should that, as expected, happen it will be a blow but one the Pittodrie board are confident they will navigate.
Yule said: "Any key member of staff, whether Derek, a player or people upstairs, we don't want to lose. We do our very, very best to keep key staff.
"At the end of that, having put our best foot forward, it is still not something they want to accept, we have to move on with our business. And we will.
"Aberdeen FC has been here since 1903 through a number of managers and we will continue to be here."
Sunderland are closing in on becoming the first club to take a Dons boss away since Manchester United secured Alex Ferguson in 1986.
Cormack said: "Whether it is Derek, anyone else, or players, if someone wants to move on at some stage conditions have to be met.
"If these conditions are met then it is up to the player, or Derek in this case, for us to say do you want to talk to these people and consider this."