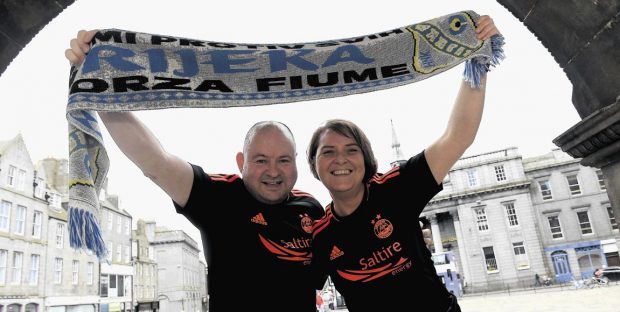 Dons fans Steve Fraser and Nicci Falconer have had a pair of football weekends to remember.
The loyal Reds and lifelong pals were at Hampden for Saturday's Scottish Cup frantic 3-2 semi-final victory over Hibs.
But the duo also had plenty to celebrate when they were in Croatia a week prior, reuniting with foes-turned-friends.
The Evening Express reported Steve, 50, and Nicci, 45, were going across to cheer on HNK Rijeka, the side their beloved Dons beat in the Europa League qualifiers in July 2015.
They were eager to catch up with Rijeka fans Teo Francetic and Christian Brozovic, who they became friendly with over the two legs.
Steve and Nicci expected the trip to be little more than a few beers between friends while taking in Rijeka's Croatian League clash with FC Split.
But it proved to be so much more than that.
Steve said: "It ended up being one of the best and most memorable weekends of our lives.
"We could never repay the kindness and hospitality we were shown by everyone over in Rijeka."
Steve and Nicci not only went to the Split match – which Rijeka won 2-0 to maintain their unbeaten home since the Dons beat them 3-0 in the Europa tie – but ended up getting the full VIP treatment.
Rijeka managing director Vlado Cohar gave them a guided tour of their stadium.
The club's millionaire chairman, Damir Miskovic, was even on hand to present them with official shirts – and even bought them 100 beers to enjoy during the match.
Team manager Matjaz Kek also cut short the standing ovation he was getting from Rijeka fans for winning his 200th game in charge to go across and present Steve and Nicci with official club caps.
As if that wasn't enough, Steve and Nicci also did interviews for the club's website, Croatian television and radio and the local newspaper.
"It was amazing being treated as celebrities for a few hours," said Steve.
"We've never been lucky enough to get one beer off Dons chairman Stewart Milne, never mind 100!
"We hardly had to put our hands in our pockets, which was right up Nicci's street.
"It normally costs me a fortune to keep her beer glass full whenever we are away.
"The best part of all though was watching the match with Rijeka fans, Teo and Christian in particular.
"The atmosphere was brilliant because they are unbeaten this season and on the brink of winning their league title.
"The weekend really couldn't have gone any better."
The pair were on their travels again last weekend, taking in Aberdeen's Hampden win over Hibs.
The trip to Croatia meant Steve and Nicci missed the Dons beating St Johnstone 2-1 in the Premiership to guarantee they will be in the Europa League qualifiers again this summer.
That means they will soon be on their travels again for another continental adventure with the Red Army.
And the pair would love it if that meant more excursions to Croatia.
"We haven't missed an Aberdeen away match in Europe for years," said Steve.
"It would be brilliant if we ended up back in Croatia again, although it's unlikely we would face Rijeka again.
"They are confident they will win their league and make it into the Champions League qualifiers."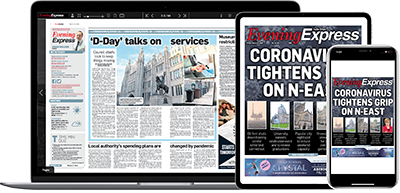 Help support quality local journalism … become a digital subscriber to the Evening Express
For as little as £5.99 a month you can access all of our content, including Premium articles.
Subscribe