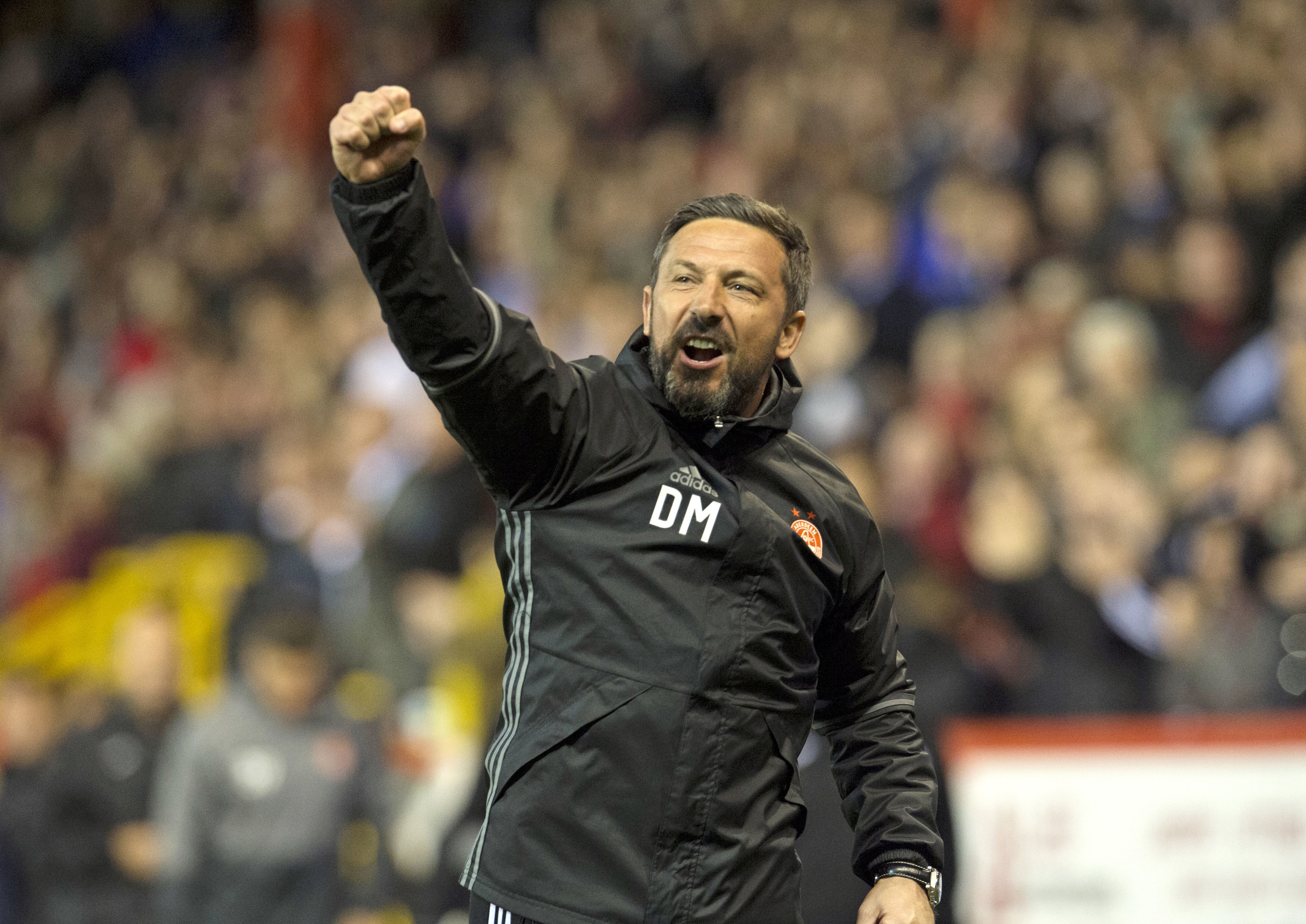 Derek McInnes admits facing Morton at Hampden will mean more to him than any of his previous cup semis as Dons manager.
The Aberdeen boss is excited at the prospect of leading the club in what will be their fourth cup semi-final since he came to Pittodrie in 2013.
They beat St Johnstone 4-0 in semis on the way to winning the League Cup in 2014.
The Perth Saints gained revenge by beating the Dons 2-1 in the semis of the Scottish Cup the following month.
Aberdeen's defence of the League Cup was then ended when Dundee United beat them 2-1 at Hampden in the semis in 2015.
But the fact this weekend's League Cup semi is against the club who gave him his start in the game makes it an even more personal encounter for McInnes.
"My focus, of course, is to go there and win the match and get Aberdeen to the final," he said.
"But facing Morton does add to the occasion for me.
"I'm really looking forward to it because Morton are a special club for me.
"I could talk all day about the good times I had with Morton.
"I have a lot to be thankful to them for and still keep in touch with the many people who helped me when I was at Cappielow."
McInnes made his first team debut for Morton at the age of just 16 and was captain of the club by the time he was 19.
That was because Morton's management duo, Cappielow legend Allan McGraw and Dons Gothenburg Great John McMaster, were convinced from the first day they signed McInnes that they had a special player on their hands.
McInnes said: "The eight years I spent at Cappielow shaped my whole career.
"It was a brilliant grounding for me. Allan and John put me in the team and I played every week.
"That was significant for me.
"When I look back now I can see there were times when I didn't have the best of games but they saw that as part of my development.
"They would put me straight back in the following week.
"They had so much faith in me and that for a young player is so important.
"It's understandable that I should feel a wee bit nostalgic as we prepare to play them in a cup semi-final.
"But that will go as soon as the match kicks off.
"Like Morton, we see it as a game that has to be won to make it to the final."
McInnes is happy the Dons are taking Morton on at the end of a six-match unbeaten run since losing away to Celtic at the end of August.
That includes winning their last five games on the trot.
McInnes said: "I mentioned when the draw was made that it was important that we were in a good run of form when the semi-final finally came around.
"We are pleased the players have responded positively to that by doing very well in recent weeks.
"We have to hope they are at their best again.
"It's a big opportunity for us to get to another final.
"But we must try to treat it in the same manner as we did our previous five games.
"We will have to start by showing full respect to our opponents.
"Morton have recorded some excellent results already to earn the right to be in the semis.
"They will also be looking on it as a great opportunity to get themselves to a final. It's a massive game for the both of us.
"It's also important we play the match and don't allow ourselves to be caught by all the sense of occasion that comes with being involved in a cup semi.
"If we want to get to the final it's all about doing better than
Morton over the course of the next 90 minutes."
Some of his players, having experienced the pain of losing that last semi to United, will see it as a positive.
McInnes said: "Those who helped win in 2014 will be desperate to get an opportunity to do that.
"But the ones who also played against Dundee United know how much it hurts to go out.
"I still maintain that defeat was harsh on us.
"We were let down by one or two decisions in the game.
"We all know that can happen.
"The task for the players is to make sure that we do enough on the day to make sure the result doesn't come down to a bad decision or whatever.
"They have worked hard to get us back into this position and it's a case now of seeing the job through."