Morton boss Jim Duffy believes Jai Quitongo could develop into a top player – but does not want to place too much pressure on the ex-Don.
The Cappielow club are hoping to get to their first League Cup final in 52 years.
Duffy wants his side to fend off Aberdeen's advances and attack where possible.
A key part of the Ton threat will be former Pittodrie prospect Quitongo.
Duffy has tried to downplay the fervour surrounding the attacker facing his old club.
The 57-year-old believes the hype surrounding the teenager is at risk of being blown out of proportion.
But Duffy is pleased to have the flourishing forward in his side for the semi-final.
He said: "No one could ever deny he has raw potential.
"He's beginning to show signs that he's finding a level, he's growing but he still has a fair bit to go.
"He's a player that's got talent and natural ability.
"Players like him, if they focus properly and have the mentality to work hard, he's got a chance of being successful.
"He has talent and attributes that are good in the modern game."
Duffy thinks the expectation is a Dons win, calling them "huge favourites".
But he believes both teams will have to cope with the pressure of a semi-final showdown.
And Duffy thinks the side that handles that better will emerge triumphant.
He said: "If you don't put pressure, you shouldn't even be in the competition to start with.
"The expectation is on them but I don't believe the pressure (is solely on them). They have been there several times, they've played teams they are expected to beat.
"In the last two games, they have beaten teams 4-0 so I think they are more than capable of dealing with expectations.
"The pressure is there to succeed and try to achieve a result to get to the final and that affects both of us, it's the same objective for both of us."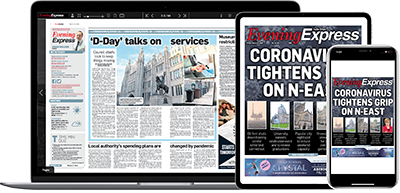 Help support quality local journalism … become a digital subscriber to the Evening Express
For as little as £5.99 a month you can access all of our content, including Premium articles.
Subscribe