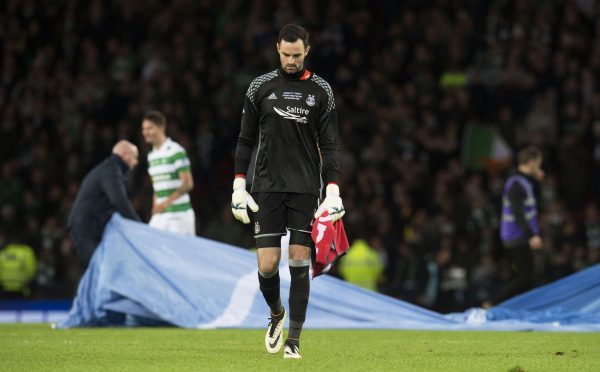 Joe Lewis is hoping for a picture perfect end to his first season at Pittodrie.
The big Englishman will be between the sticks when the Dons face Hibs in the Scottish Cup semi-finals at Hampden on Saturday.
Lewis is determined to take the club a step closer to lifting a trophy Aberdeen haven't won since 1990.
The 29-year-old would love that because he knows going all the way in the Scottish Cup would see him worshiped in the same manner as all the club's trophy winning sides.
He said: "You can't avoid reminders of how well the club have done through their history.
"The pictures of the lads celebrating their League Cup win in 2014 are plastered all over the walls inside Pittodrie.
"There's also a corridor with images of the teams who won all the club's other trophies down either side of it. I would love to be a part of something like that this season.
"We are still a bit short of being at that stage, though.
"We have to stay fully focused on the big job in front of us this weekend.
"Hibs have just won their league, which proves they are more than a Championship side.
"I have seen some of their games and know they have a lot of quality players.
"It's another huge test for us, just as the clash with Morton was at this stage of the League Cup.
"We have to make sure we are ready for another very difficult game or it could end up going wrong."
Plenty has been said about the Dons being eager to make up for losing this season's League Cup final 3-0 to Celtic at Hampden.
But Lewis warned it could be dangerous to get too caught up in that when they face Hibs.
"Losing to Celtic in the manner we did hurt a lot," he said.
"It's the obvious thing to look back at and we are desperate to get back to another final and prove we can do better.
"But teams who start thinking about what they might do in finals before they have actually reached them tend to end up losing out altogether.
"The need to make sure we are fully focused on the job in hand can't be emphasised enough."
The Dons head for Hampden after bouncing back from a 3-0 defeat to Rangers with a 2-1 win away to St Johnstone in the Premiership.
The victory in Perth also guaranteed the Dons will take part in next season's Europa League qualifiers, for the fourth year in a row.
"It was a very pleasing weekend," said Lewis.
"I loved playing in Europe at the start of the season, it's one of the main reasons I signed for the club.
"It's also great to be going into the semi on the back of a win.
"It's not that our confidence was ever dented by the defeat to Rangers.
"But you always feel better going into the next game if you've had a good result, and played well, in the previous one.
"It's also important to remember we played well against Rangers but for a mad four minutes or so.
"We are actually in great form when you look at how we have done around that.
"We've had great results and performances over the last couple of months.
"The target now is to try to keep that going over the final two months of the season."
Lewis was particularly pleased to see the Dons defence praised for the part they played in the victory at McDiarmid Park.
They had come in for some criticism in the wake of the Rangers game but the keeper knows he wouldn't have racked up 20 clean sheets already without their efforts.
Lewis said: "The guys in front of me have been brilliant all season.
"You need to be strong enough to take any criticism on the chin and respond to it in the proper manner.
"I feel we all did that at Perth. There was great determination to make sure there was no repeat of what happened in the Rangers game.
"Their penalty apart, I don't recall there being too many shots at me."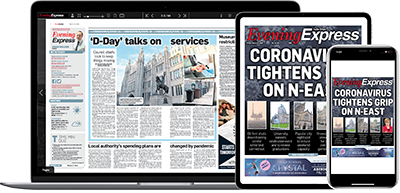 Help support quality local journalism … become a digital subscriber to the Evening Express
For as little as £5.99 a month you can access all of our content, including Premium articles.
Subscribe