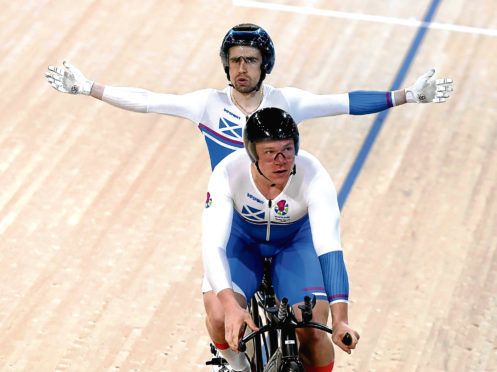 Aberdeen cyclist Neil Fachie was delighted to get Team Scotland's Gold Coast goldrush under way.
The 34-year-old and pilot Matt Rotherham romped to victory in yesterday's men's tandem B 1km time trial, with Fachie saying he'd been inspired by watching team-mate Marc Austin take triathlon bronze earlier in the day.
He said: "I knew with this being on day one, it was a real opportunity (to win Scotland's first gold in Australia).
"We got to see the triathlon earlier, of course, where we picked up our first medal and we were cheering that on back in the village, so that was great motivation.
"Yeah, (we're) really happy with that, so come on Team Scotland.
"If we can beat that total from Glasgow, I hope we can be part of it. It's so exciting."
The challenge is a big one – the home games in 2014 yielded 53 medals for the Scots, including 19 golds.
Double world champions from Rio de Janeiro two weekends ago, Fachie and Rotherham's Games record of 1:00.065 was enough to beat Wales' James Ball and Pete Mitchell (a former partner of Fachie, with whom he won 2012 Paralympic gold), who clocked 1:00:900.
Australian pair Brad Henderson and Tom Clarke, who won bronze, broke Fachie's Games record from Glasgow in their run.
The North-east man, who will go again in the sprint tomorrow, said: "As soon as I'd heard they'd broke the Games record, which was mine from four years ago, I knew we had a job on our hands.
"Fair play, they have really stepped it up from a couple of weeks ago at the world champs.
"We had to bring our A game, but we got it done and I'm so, so happy with that."
Elsewhere yesterday, Inverurie swimmer Hannah Miley saw her hopes of a third women's 400m individual medley title in a row end in a silver medal, while Ross Murdoch also took silver in the men's 200m breaststroke.
The Scots men's gymnasts won bronze in the team event.
Scotland's women's netball team (including Turriff's Claire Brownie) and women's hockey sides were beaten 74-28 and 6-1 in their opening group games respectively.
The Scots hockey men later saw off South Africa 4-2.
Today, Alford gymnast Izzy Tolometti got her Games under way in the women's team final, while Byron Boxing Club's John Docherty was set to fight Mauritius' Jean Alberte in the men's 75kg middleweight competition.
Aberdeen 14-year-old Toni Shaw was third in the women's S9 100m backstroke heat, while Robert Gordon University table tennis player Colin Dalgleish, after losing in the doubles yesterday as the Scots lost 3-0 to Australia, helped Scotland win in the team competition against Kiribati to reach the last 16.