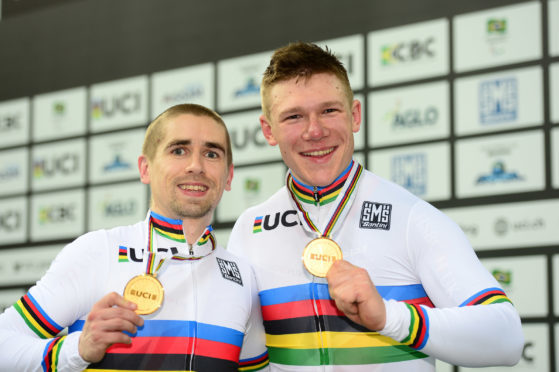 Defending Commonwealth Games champion Neil Fachie has arrived in Australia for the Gold Coast Games – and he's only missing his bike.
Fachie and pilot Matt Rotherham got to Sydney a few days ago straight from double gold redemption in Rio de Janeiro, Brazil, at the Para-cycling World Track Championships.
They won the tandem B 1km time trial and sprint events at the same velodrome where Fachie lost his Paralympic kilo title in 2016, both in times faster than any pair have ever gone at sea level.
A delighted Fachie, 34, still in Sydney, where Team Scotland's cyclists are in a pre-camp, said of his tardy tandem: "Our bikes are still waiting to clear customs, so we haven't actually got our tandem yet.
"It's due in the next couple of days, so fingers crossed.
"Other than that, everything's going really smoothly."
Fachie and Rotherham, who have only recently teamed up, enjoyed the perfect preparation last weekend, beating Fachie's main rival, Welshman James Ball, into silver to set the stage perfectly for more gold.
The Aberdonian said: "I felt like I had unfinished business really and to go back to Rio was quite an interesting turn of fate how it's turned out.
"To do it in a time that would've won at the Paralympics as well, clarified that I've still got what it takes and I'm still improving.
"The times Matt and I did in both events were both sea-level bests and quicker than we'd have expected to be going by this stage in a Paralympic cycle.
"It's opened our eyes to what might be achievable.
"It's nice to be back on top – it feels like a lifetime fighting to get back to the top, but it's not been that long since I won the world champs in 2016.
"To race again (at the Commonwealths) so soon after as a world champ is cool."
So, has Fachie's regained title added any extra pressure for him to live up to his billing in Gold Coast?
"I don't think it does this time (add pressure). In the past it's maybe been a bit like that," Fachie said.
"I'm certainly used to going into competitions as a favourite.
"Because it's so soon after the world champs, people are more likely to carry their form through.
"The races we delivered – there wasn't a lot that went wrong – so if we don't get that bang on there's always a risk someone else will come along and top us.
"But it gives me confidence that we're at the top of our game and there's not really been any time for anyone to have made that jump in between.
"I'd much rather be in this position than having a week to try and make the difference up on someone else."
To make sure they perform as well as they did at the worlds, Fachie and Rotherham have implemented exactly the same tapering process.
Fachie, who will head home to wife Lora, also a world champion, after his races to finish watching the Games on telly, said: "We're just making sure we have the same run-in that we had day-by-day going into the world champs.
"The other thing is we've heard the track in Brisbane is quite fast so we're hoping to go even quicker (than the worlds).
"That's a motivating factor."
At the moment, Fachie and Rotherham are breaking down the technical components of their races, but only working to the point where their legs are burning. It's a day on, day off strategy, which ensures they are as fresh as possible for competition.
The closeness of the two major competitions has helped the duo, because they can use the same strategy to boost performance.
Had there been a longer gap, Fachie said it would've been "trickier" to strike a balance between ensuring they were well-rested, but had not lost any of their power, endurance or sharpness.
The Granite City athlete doesn't do much training specific to the "fun" sprint, because it's not in the Paralympics, instead relying on his kilo sessions to be beneficial for the other event.
He paid tribute to Rotherham, a former European junior champion, with whom he eventually hopes to reach Tokyo 2020.
On their complementing qualities, he said: "Matt's very much known for being someone who likes to ride low gears, with low cadence. He's a very strong guy, which suits tandems, because we tend to ride bigger gears than solo bikes.
"Lower cadence can suit when there's two of you, because it's easier to sync up. He's taken to it incredibly well.
"He's got good length on the bike as well, so he's very strong throughout the race, where I'm more of a pure sprinter.
"I'm very explosive over the first two laps, but I tend to suffer towards the end, where he's got that longer sprint to him.
"We've not had that long together, but it's quite exciting what we might do, going forward."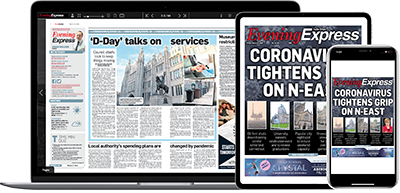 Help support quality local journalism … become a digital subscriber to the Evening Express
For as little as £5.99 a month you can access all of our content, including Premium articles.
Subscribe