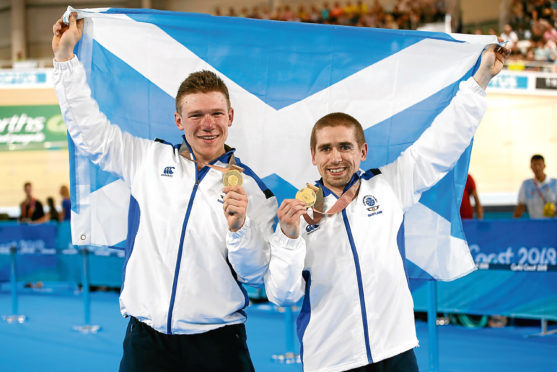 Aberdeen's golden boy Neil Fachie could yet be at Birmingham 2022 attempting to become Scotland's most decorated Commonwealth Games athlete.
Cyclist Fachie, 34, is back in the UK after a glorious fortnight, which saw him regain two Para-cycling Track World Championships in Rio de Janeiro, Brazil, and retain his double gold from Glasgow at Gold Coast 2018 in Australia.
Fachie, who was piloted in the men's tandem B kilo and sprint events by Englishman Matt Rotherham, is one Commies gold behind lawn bowler Alex Marshall and level with sprinter Alan Wells in the all-time list.
He would need to go beyond the Tokyo Paralympics in 2020 to equal or overhaul Marshall, and it's something he admits, chuckling, he hasn't ruled out.
Fachie said: "It would be an incredible achievement and when people started speaking about joining this illustrious list of all these people who'd won four golds, it crossed my mind it would be really nice to challenge for that.
"You've got to have motivating factors and it would be something really, really special to be able to do.
"I've not really spoken about going past Tokyo, but that would be something in the back of my mind now saying 'just two more years and you might be able to do this'.
"It would be tempting. Really it will be where I'm at after Tokyo, that's as far as I'm looking at this point in time.
"I'll definitely be getting on a bit by Birmingham.
"Our events are still to be confirmed for Birmingham, so it might be a case of taking up a different sport just to do it.
"I can't imagine I could turn around that quickly and start winning golds."
The Manchester-based rider jokingly proposed taking up lawn bowls for the next edition of the Commonwealths to play Marshall "at his own game".
Despite having no long-term plans to slow down, Fachie has been enjoying some time off.
After losing his Paralympic title from London 2012 – the kilo – in Rio four years ago, he admits he thought his days in the sport were numbered.
However, Fachie has battled his way back to the top. He and Rotherham, who he only linked up with this season, set sea level world records on the way to success at the worlds, with a Games record in the kilo and world record in the sprint on the way to their golds Down Under.
He flew home from Oz soon after to be reunited with wife Lora, herself a Paralympic champion, before her road racing season begins next month.
Of the couple's celebrations, he said they found time to "go out for some nice food and have a little drink or two, which is quite unusual."
Fachie admitted, now the highs of the season have passed, he's having to adjust to "loading the dishwasher and taking the bins out".
He will return to training in earnest shortly, with him and Rotherham having established themselves as the duo to beat in the Tokyo kilo event.
There are two more editions of the track worlds, with the next in March 2019, before the Paralympics. And, despite now knowing what they're capable of, Fachie feels double gold at both is the only thing which will guarantee him a berth for Team GB in Japan.
Fachie said: "That's firmly put us as No1, which is amazing just to be back up there.
"We set targets in the cycle of what we think it'll take to win in Tokyo and the times we are doing now are pretty much those times. We are way ahead of schedule at this point, so it makes sense to be targeting Tokyo now.
"The thing is those times might not be good enough now, and we will probably have to go quicker.
"I think we're capable of that knowing how fast we've gone at the track worlds and the Commonwealths.
"I'm excited about working towards Tokyo. We've got a couple of world championships and other events between now and then, but that's the end goal."
He added: "I'm going to have to perform at those championships just to make the team because the GB team is so strong."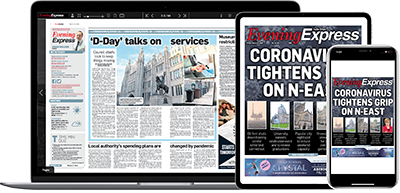 Help support quality local journalism … become a digital subscriber to the Evening Express
For as little as £5.99 a month you can access all of our content, including Premium articles.
Subscribe