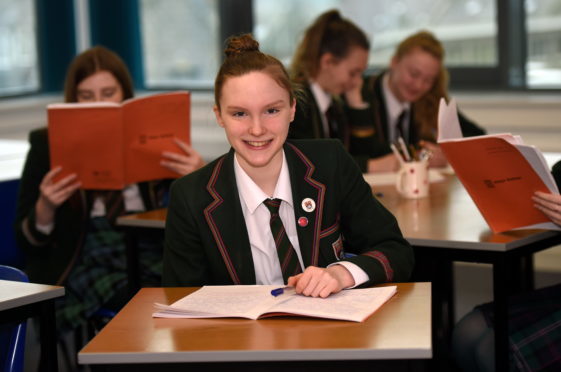 Aberdeen's 14-year-old Commonwealth Games swimmer is set for her long trip Down Under – after this afternoon's bell goes.
Albyn School pupil Toni Shaw is flying from Glasgow today to compete in the SB9 100m breaststroke, S9 100m freestyle and 100m backstroke and SM10 200m individual medley (IM) at the Gold Coast Games, which start on April 4.
The teen admitted to a few butterflies among the excitement.
Toni said: "I leave tomorrow. I'm getting quite nervous.
"I'm all packed and ready to go. We fly from Glasgow to Dubai, then Dubai straight to Brisbane.
"My dad is flying out too, with some of the rest of the team.
"All of my friends know and my teachers. I think they're as excited as I am.
"Because I don't have any real exams until next year it (the balance) has been ok. They're giving me stuff for when I'm away, but it doesn't really matter if I don't have time when I'm away.
"I think I'm off for a day (after the Games) and then I'm back to school."
Toni has only competed once since her Games' place was confirmed – at the Copenhagen 2018 World Para Swimming Series meet at the start of the month.
She took gold in the 400m freestyle open class, swimming 4:48.48 in the final, going well in the 50m and 100m butterfly as well.
However, the races she specialises in aren't on the "Commies" programme, so Toni has had to tweak her training to get ready for her Oz events, while keeping one eye on post-Gold Coast races.
She said: "Training is going really well. Each week I do nine swim sessions and three gym sessions.
"At the Commie Games, I'm swimming 100 free, 100 back, 100 breast and 200 IM.
"My usual main events aren't in the Commonwealth programme, so I've had to change it up a bit. I'd never usually swim that slow a breaststroke. I've had to do a lot more of that.
"I usually swim 400 free, so I'm really having to build the power up for that.
"I just came back from a competition in Copenhagen – that's the only one I've been to since I've been named in the squad.
"It was the World Para Series. It was good, I won a gold in the 400 free. It's given me confidence.
"I go to the gym with the rest of our squad three times a week.
"Once is circuits, the other time is weights and stuff like that, and the other one is pilates.
"I've been doing it for quite a few months, but I wasn't doing it before.
"Since I've been on the Scottish Institute squad, they want me to do it.
"It makes you feel stronger when you're swimming."
Of her training, which has seen the young athlete decide to ditch chocolate over the past month, she added: "There's more IM at the moment, but there's still a lot of endurance stuff, because a few weeks after the Commie Games I've got European trials. That's a targeted meet, so I still need to swim well there as well.
"The qualifiers are in Sheffield and the Europeans are in Dublin.
"The qualifiers are the British Championships and also another stage of the World Para Series.
"My aim is to get the qualifying standard for the Europeans, but being British champion is something I'm aiming at for the future.
"Most people (going to Gold Coast) would start their taper a week or two weeks before their competition, but I'm doing a shorter one, so I'm still ready for the competition after.
"I'll start my taper at just under a week. It's still quite intense at the moment.
"Obviously I want to swim really well (in Australia) as it's such a big competition, but because it's not likely I'll be near the top in the events I have, I need to focus on qualifying for Europeans."
Toni said, despite not racing in events she specialises in, she still hopes to make finals in Australia.
On top of this, she has a couple of other goals, namely appearing on the telly and meeting one of her aquatics heroes.
She said: "I'm not sure if any of my races will be on TV. It's cool, but all my friends are saying: 'we're going to be watching you'.
"I'm looking forward to meeting all of the people from other sports, but also all of the swimmers from other countries as well. I really want to meet Adam Peaty."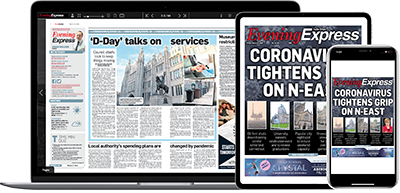 Help support quality local journalism … become a digital subscriber to the Evening Express
For as little as £5.99 a month you can access all of our content, including Premium articles.
Subscribe