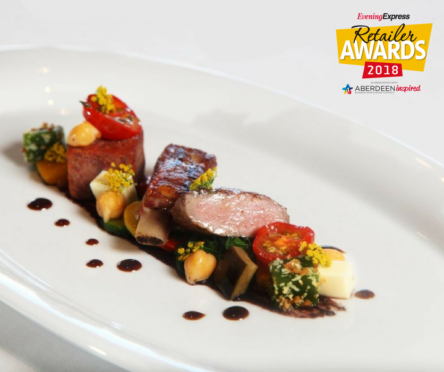 Here's the businesses shortlisted for Fine Dining Restaurant of the Year award at this year's Evening Express Retailer Awards.
Cafe Boheme
Cafe Boheme's staff aim to build relationships with their customers by offering an attentive, but not intrusive, service.
Cafe Boheme creates modern and traditional food with a twist of individual inspiration.
Paul Mair, owner of Cafe Boheme based on Windmill Brae, said: "We use the best of Scottish produce and cook with French, classic and more modern approaches.
"As the owner, I am always here serving and trying to build relationships with our clients.
"And as an independent business, we are now joining groups such as Grampian Food Heritage to try to promote a vibrant and diverse sustainable food economy."
Since Paul is also a chef, he enjoys a "menu design".
He explained: "I like thinking of a concept dish, then sourcing the produce, choosing how to prepare it, working out how to present it and then having a final product."
When Paul makes the transition from kitchen to front of house, he enjoys "meeting people, finding out what foods customers like, tailoring dishes for them but, most of all, seeing customers enjoying the restaurant".
Paul decided to enter the Retailer Awards because he thinks it is important to show his staff he is proud of the work they do every day.
He added: "It also shows our customers that we are serious about what we aim to do."
Cafe Boheme recently started opening on Sundays too.
Paul said: "We use Sundays as a platform to try out new things, such as brunches, afternoon teas or tasting menus.
"This Hogmanay we will be hosting a food and wine pairing tasting menu."
Wild Ginger
Wild Ginger aims to provide locals with a unique dining experience in the heart of Aberdeen.
It all started when one of Wild Ginger's loyal customers enquired whether the successful restaurant would take part in the Retailer Awards.
Co-owner Jeffrey Rahman said: "We took the opportunity to look into this and entered.
"We are here for our customers and these platforms will help us assess how we are performing locally.
"It is an honour for us (to be shortlisted) as it demonstrates that we are doing something right and our customers are happy."
Wild Ginger, located on Union Street, prides itself on using fresh, great quality ingredients.
Jeffrey said: "Every single day all our dish bases are prepared from scratch, which gives our dishes the unique taste they have.
"We have created the perfect ambiance at the restaurant, alongside a local design company, to try to ensure that the complete dining experience is provided."
Jeffrey and his team take the "customer is always right" approach to the next level.
He said: "We do not want to settle on normal standards, but try and excel on all aspects of our service.
"We will always try and accommodate any requests we receive, whether that be for events or custom dishes that are not even on the menu!"
Jeffrey simply loves his job.
He said: "I love the customer interaction aspect while on the floor and creating
new dishes behind the scenes as I am a trained chef with over 20 years of experience.
"We have the best chefs and unique mouth-watering dishes combined with all your timeless favourites."
Granite Park
Director of Granite Park, in Golden Square, Forbes Innes is ready to pick up odd jobs to make sure his business continues to flourish.
He said: "I believe that even as an owner, I have to keep a hands-on approach and lead by example.
"Therefore, whether some dishes need washing or the toilets need cleaning, that's where I am needed.
"We have been here now for seven years and come through some extremely hard times.
"Despite this, we strive to deliver the best food and service that we can. So whether it is a table for two or 42, we consistently deliver the same tasty and beautifully-presented food in an attentive and professional way."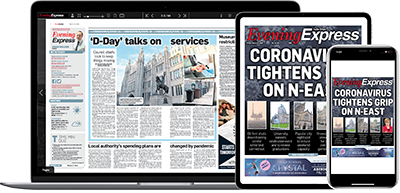 Help support quality local journalism … become a digital subscriber to the Evening Express
For as little as £5.99 a month you can access all of our content, including Premium articles.
Subscribe