Not heard of "clean meat" before? Listen up.
Meat is produced directly from animal cells, and so no animals need to be fed, bred or slaughtered for it.
And San Francisco start-up company Memphis Meats has revealed some delicious-looking southern fried chicken tenders are amongst the dishes on the way from their lab that uses this method.
The chicken tenders are definitely meat – Memphis Meats state the products aren't suitable for vegetarians or vegans – but the process to make them requires less than a tenth of the land and water and less than half of the energy that it takes to produce conventional meat.
The future of meat from @MemphisMeats at #houseofsmartAustin/@TOABerlin. On the market within 5 yrs – a big MOOve in the right direction! ? pic.twitter.com/m7uibiSrkm

— Yuli Levtov (@yulilevtov) March 12, 2017
"Clean" beef has been a thing for a while now, with Memphis Meats revealing their first clean meatball back in February 2016. And many people on Twitter seem very much behind the idea of eating lab-engineered chicken.
https://twitter.com/emmasilveri/status/842418945705558019
Americans eat 90.9lbs of chicken per person per year, a market worth USD$90 Billion. @MemphisMeats keep the lab crackin' on lab grown meat!

— Jesse Bowness (@JesseBowness) March 16, 2017
is out here trying to save the planet. All of us need to spread the word. #cleanmeat

— Ken Gumbs (@freshgiants) March 15, 2017
So, what's the process exactly?
Firstly, cells are harvested from livestock, in a way that doesn't harm the animal. Then the scientists grow cells which they've learned give the right flavours, textures and aromas into meat. It takes 4-6 weeks before the meat can be harvested, then cooked and then finally – hooray – eaten.
We could be waiting a while before we're doing this though – Memphis Meats say 2021 is their aim for the products to be on the market. But people are raring and ready to try it all out.
.@MemphisMeats reveals the first cell-cultured poultry: chicken and duck meat. Not for sale yet, but soooo exciting! https://t.co/cXXSAprS7l

— Jacy Reese (@jacyreese) March 15, 2017
Other slightly fancier meals being lab-engineered include duck a l'orange.
Duck à l'Orange, anyone? pic.twitter.com/ZLVofvR1AN

— Memphis Meats (@MemphisMeats) March 16, 2017
But it's that chicken that's really caught our attention…
Wonder what The Chicken Connoisseur would have to say about all this?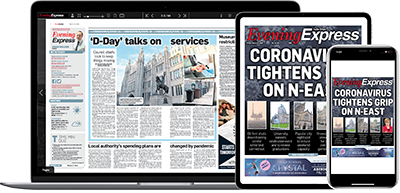 Help support quality local journalism … become a digital subscriber to the Evening Express
For as little as £5.99 a month you can access all of our content, including Premium articles.
Subscribe