Get ready, because Nubby Bowlin is about to become a very important part of your life.
He's a baby boxer who was born just three weeks ago with under-developed front legs.
An otherwise relatively healthy puppy, Nubby's story has amassed a large following on his Facebook page – where updates on his day-to-day life have captured the hearts of thousands of followers.
Nubby was born in Texas with little chance of surviving as the defect to his legs meant he could not compete to find and nurse from his mother. Not able to care for him, his original owners reached out to Warriors Educate About Rescue (WEAR) – a charity which aims to educate pet owners.
After initially having "no expectations" their attempts to nurse such a small pup would be successful, Nubby's carers saw the white boxer puppy grow stronger and stronger.
Raising the young pup on milk, Nubby's new carers saw him make his first week – a golden opportunity for a photoshoot.
Just look at that bow tie…
Sadly for Nubby though, things haven't all gone smoothly. After it was discovered he had a problem with his oesophagus he was taken to receive extra care and a check-up in a ward at FM1488 Animal Medical Centre.
It was initially feared the pup had pneumonia, but scans suggested a defect in his oesophagus. Nubby was given critical care including antibiotics and put in an oxygen chamber.
Whether the oesophagus problem is something Nubby will grow out of or not is unclear as his poorly formed limbs mask the area. The issue will only be clarified when, at eight weeks old, he is able to be sedated and the legs can be moved aside and a clearer scan can be taken.
For now though, Nubby is back at home living with WEAR's founder Lou Robinson as well as a family of other dogs – who look like they've taken a shine to the newcomer.
?
"Nubby turns six weeks old this week and is thriving," said Robinson. "We are still having some minor setbacks in his esophageal abnormality but we are still very hopeful. Nubby will be going to his regular vet this week for his first normal check-up and puppy boosters."
At eight weeks old Nubby will have his legs checked to see if his mobility can be improved. In the meantime videos show Nubby is brave enough and strong enough to explore his environment despite his disability.
Nubby's adventures at his exciting home include wrestling with a carrot almost as big as he is…
Playtime with his toys…
And his owners of course…
But playing with a condition like Nubby's isn't easy, so at the end of a long day – it's time for a snooze.
Nubby's owners say they hope his story is shared to "teach others compassion". You can follow the pup's journey here.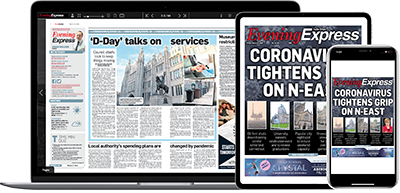 Help support quality local journalism … become a digital subscriber to the Evening Express
For as little as £5.99 a month you can access all of our content, including Premium articles.
Subscribe