If you have elderly relatives who live by themselves, it's worrying having no idea if they're going to have a nasty fall at home.
But now it could be a lot easier to keep an eye on them, thanks to a revolutionary home monitoring system developed by US scientists.
According to a study, by the Sinclair School of Nursing and the College of Engineering at the University of Missouri, the system includes infra-red monitors that can detect subtle changes in an old person's movements. These may show changes in their health which put them at risk of collapsing, and warnings can be sent for doctors to intervene.
But where the technology seems to be really impressive? The researchers have found the sensors can tell this deterioration three weeks in advance of a fall.
The monitors are placed on the wall in rooms of the house for the system to be effective. They measure movement using infra-red light so you can tell the speed and length of stride of the elderly person as they move around the home.
Experts found even just small changes can predict if someone is becoming frail and could therefore fall.
And the sensors handily send doctors an alert – by text or email – to get help before the fall happens if needed.
A person's risk of falling goes up more than four times if their walking speed slows, researchers say, and so the home monitoring system could be really effective.
In fact, if it decreases by 5.1cm a second, they are 86% more likely to fall within three weeks, as shown by a study carried out by TigerPlace, an innovative ageing-in-place retirement residence, according to the University of Missouri.
The researchers also found that shortened stride length was associated with a 50.6% probability of falling within the next three weeks.
The monitoring system was discussed at the American Association for the Advancement of Science's annual meeting in Boston, Massachusetts.
Lead researcher Professor Marjorie Skubic, from the University of Missouri, devised the system after her mother-in-law suffered a bad fall and damaged her shoulder, reported the Daily Mail.
According to The Guardian, Skubic said at the conference: "Our goal is to help people age in the home of their choice, which in many cases will be their existing home. People say 'I want to stay in my own home'."
This sort of technology could potentially be really useful in the UK – one in three pensioners across the country had a fall at least once in the past year.
It might also encourage OAPs to remain independent and stay in their own homes for longer, which could save money on assisted living costs.
Additional research by Skubic and Marilyn Rantz, Curators' Professor Emerita of Nursing, found that with the help of sensor technology at TigerPlace, residents were able to live independently an average of four years compared with the national average of 22 months.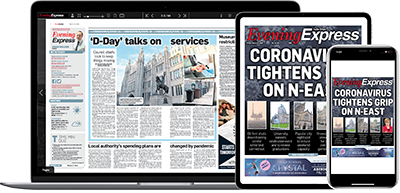 Help support quality local journalism … become a digital subscriber to the Evening Express
For as little as £5.99 a month you can access all of our content, including Premium articles.
Subscribe