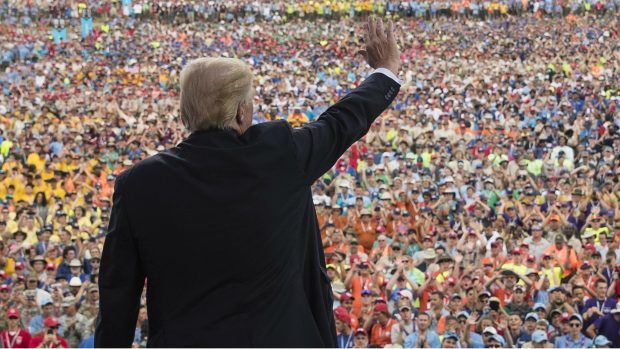 President Donald Trump gave an unusual address to US Boy Scouts at their annual jamboree, mixing a traditional message of encouragement about loyalty, service to others and never giving up, with a critique of US politics.
Mr Trump made mention of fake news, fake polls and former president Barack Obama as he gave a replay of his election campaign win. He also described how he though Washington is a swamp, or even worse "a cesspool or sewer".
Mr Trump addressed more than 40,000 Boy Scouts, leaders and volunteers at a national gathering in West Virginia, saying: "Who the hell wants to speak about politics in front of Boy Scouts?"
But he couldn't help himself as he shifted to themes in his typical stump speech from campaign days, with occasional references to scouting. It was clear that politics was very much on his mind.
Later, as he recited parts of the Scout oath, he paused at the word "loyalty."
"We could use some more loyalty, I'll tell you that," he mused.
#2017Jambo– Remember your duty. Honor your history. Take care of the people God puts into your life – and LOVE & CHERISH your country! pic.twitter.com/DnNYxGJm4I

— Donald J. Trump (@realDonaldTrump) July 25, 2017
Mr Trump is the eighth president to attend the National Scout Jamboree, which is typically held every four years. Mr Obama did not attend during his two terms, although he addressed a 100th anniversary event in 2010 by video.
Mr Trump said that 10 members of his Cabinet were Scouts, including Vice President Mike Pence.
Each US president serves as honorary president of the Boy Scouts of America, and the organisation said in a statement that it does not promote any political candidate or philosophy.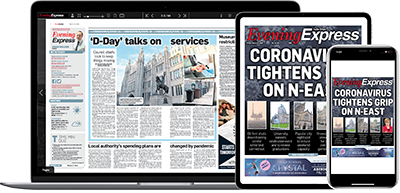 Help support quality local journalism … become a digital subscriber to the Evening Express
For as little as £5.99 a month you can access all of our content, including Premium articles.
Subscribe