Had a tough morning? Don't worry, we've got you. Meet Ralph the dog.
This is Ralph he is a dog that lives near school and waits for me everyday after school to say hi to him before I have to leave pic.twitter.com/9gJyYLk6IB

— ELISA (@babygirIe) February 22, 2017
While we can only make out half of Ralph's face, we can see a whole lot of gorgeous going on.
Every day 17-year-old Elisa Lee would walk past Ralph from her school in California, and soon she developed quite a bond with him. He would be waiting for her every day, ready to be petted through the fence.
Here he is in action.
For all the Ralph fans pic.twitter.com/F77iN125Ly

— ELISA (@babygirIe) February 23, 2017
Their relationship isn't all sunshine and rainbows: it can get rocky if Elisa isn't there every day, but Ralph will still be waiting without fail.
we had a 4 day weekend and he got mad at me since I didn't say hi for a while pic.twitter.com/Y6GBYPfWFq

— ELISA (@babygirIe) February 22, 2017
Ralph has gained legions of fans online, as people just can't handle how cute he is. The way he loyally waits for Elisa every day is hitting us right in the feels.
— mido (@midosworld) February 23, 2017
that's adorable

— Shadow Luke (@ShadowLukeYT) February 23, 2017
https://twitter.com/GaIaxynat/status/834895014253690880
its so cute pic.twitter.com/wS8otdEllj

— Alira?‍? (@hyungkyunbabes) February 24, 2017
And even though Ralph has become something of an Internet sensation, he hasn't let that go to his head.
Pup date : he is still here pic.twitter.com/2cHIOXfbU7

— ELISA (@babygirIe) February 23, 2017
Sniff. Find someone that looks at you like Ralph looks at Elisa.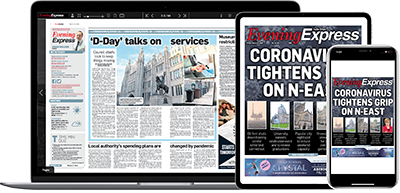 Help support quality local journalism … become a digital subscriber to the Evening Express
For as little as £5.99 a month you can access all of our content, including Premium articles.
Subscribe