Basketball isn't a classic contact sport, but it turns out you can get some pretty horrific injuries.
Akil Mitchell, an American basketball player who plays for the New Zealand Breakers, had his eye popped out by an opposing player on Thursday evening.
A video, which we'd advise the squeamish not to watch, shows the whole incident in all its gory glory.
Seriously, this is pretty grizzly stuff and you can't unsee it. Don't say you weren't warned.
Basketball Player Akil Mitchell's Eye Pops Out https://t.co/OoohE8PoeT #NBA

— All Ball (@allballapp) January 27, 2017
Mitchell reaches for the hoop multiple times, then scores. Immediately after, he falls to the ground clutching his face as commentators explain what happened. The camera shows Mitchell's eye just hanging outside of its socket.
It all worked out in the end, though. Mitchell told Radio Sport NZ that during the awful time it was hanging out, "I could still see out of the eye". Later, in the ambulance, they applied saline and he felt his eye "slide back into place".
He was pretty understated about the whole thing, telling reporters after the accident: "My eye was out of my head, so it was a little painful."
For us, the best thing about it is his on-point sense of humour about the whole thing.
?… too soon? Lol thanks for all the love, well wishes, and prayers tonight. I'm home and seeing fine, more tests tomorrow

— akil mitchell (@ajmitchell25) January 26, 2017
EYES, guys. EYES.
Mitchell told Radio Sport NZ that there was no major damage.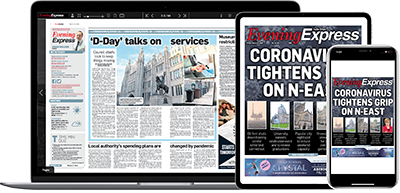 Help support quality local journalism … become a digital subscriber to the Evening Express
For as little as £5.99 a month you can access all of our content, including Premium articles.
Subscribe