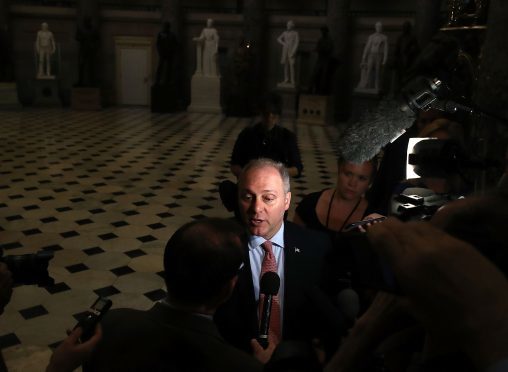 House of Representatives Majority Whip Steve Scalise has been shot at a congressional baseball practice in Alexandria, Virginia, congressional officials said.
Mr Scalise is in a stable condition at George Washington University Hospital, a congressional aide said.
Mo Brooks, the Republican Representative for Alabama, said several other people were also hit, including two law enforcement officers.
Mr Brooks said that Mr Scalise, 51, was down on the ground with what Mr Brooks described as "a hip wound".
Louisiana Representative Mr Scalise is the number three House Republican leader.
Alexandria police said a suspect is in custody over the shooting.
Mike Bishop, Republican Representative for Michigan, said Mr Scalise was standing on second base when he was shot.
"I was looking right at him," Mr Bishop told Detroit radio station WWJ.
"He was a sitting duck."
Mr Brooks said Mr Scalise "crawled into the outfield, leaving a trail of blood".
"We started giving him the liquids, I put pressure on his wound in his hip," Mr Brooks said.
Mr Scalise was first elected to the House in 2008 after serving in the state legislature.
Representative Jeff Duncan said in a statement that he was at the practice and "saw the shooter".
"Please pray for my colleagues," Mr Duncan said.
House Speaker Paul Ryan's office said Mr Scalise's wounds were not believed to be life-threatening and that a member of the security detail was also shot.
President Donald Trump said he and the vice president are "deeply saddened"by news of the "tragedy".
The president said in a statement that "the Vice President and I are aware of the shooting incident in Virginia and are monitoring developments closely".
Mr Trump said: "We are deeply saddened by this tragedy. Our thoughts and prayers are with the members of Congress, their staffs, Capitol Police, first responders, and all others affected."
Katie Filous was walking her two dogs near the field when she heard "a lot ofshots, probably more than 20".
She said the shooting "went on for quite a while".
Ms Filous said she saw the shooter hit a uniformed law enforcement officer, who she said was later evacuated by helicopter.
She said the officer had got out of a parked car, drawn a handgun and shouted something to the gunman, who then fired.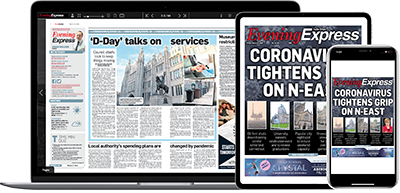 Help support quality local journalism … become a digital subscriber to the Evening Express
For as little as £5.99 a month you can access all of our content, including Premium articles.
Subscribe