French counter-terrorism prosecutors have opened an investigation into a car attack on soldiers in Paris that left six injured.
The Paris prosecutor's office says the investigation was opened after Wednesday's incident in Levallois-Perret.
No one is specifically named in the investigation yet, but it aims at pursuing perpetrators on charges of attempted murder of security forces in connection with a terrorist enterprise, the prosecutor's office said.
The move means authorities believe the attack was deliberate and planned with a terrorist motive. The car and driver have not yet been found.
It is the latest of several attacks targeting security forces guarding France over the past year. Four of the soldiers suffered slight injuries while two were taken to the Percy military hospital south of Paris, police officials said.
They were from the 35th infantry regiment and served in Operation Sentinelle, created to guard prominent French sites after a string of deadly Islamic extremist attacks in 2015, according to the Interior Ministry.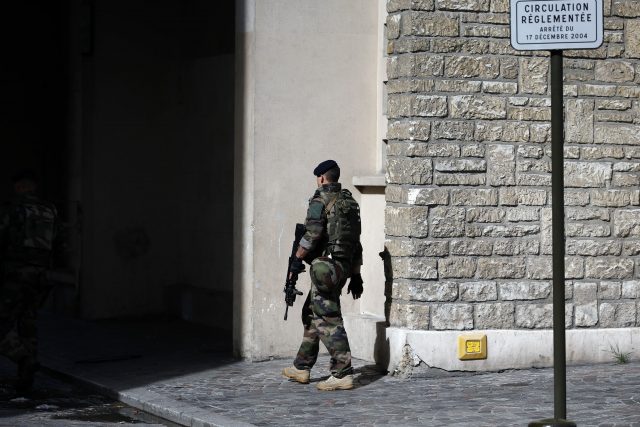 Witnesses described seeing a BMW with one person inside waiting in a cul-de-sac near a building used for Sentinelle soldiers, according to two police officials.
One official said the attacker hit just as a group of soldiers emerged from the building to board vehicles for a new shift.
Authorities are checking video surveillance of the area, near the city hall of Levallois, north west of Paris, to identify the vehicle and hunt the driver.
Levallois Mayor Patrick Balkany called it an "odious attack" and said it was "without a doubt deliberate".
"A BMW pre-positioned itself in the alley (where the barracks is located) and barrelled into them," he said on BFM television.
He said the car "accelerated very quickly when they left" the building.
A security perimeter was installed around the scene, and the Paris police chief and regional prosecutor are expected at the site.
French President Emmanuel Macron is holding a previously scheduled top-level security meeting.