This is not a drill. McDonald's has unveiled a new piece of cutlery you never knew you needed – an edible fork made of French fries.
Called 'Frork', the invention was announced in a tongue-in-cheek infomercial by former rugby union player-turned TV presenter Anthony Sullivan and McDonald's chef Michael Haracz.
The "uselessly useful" utensil is designed to help scoop up toppings that have fallen out of your burger.
It is part of a promotion for the fast food giant's new Signature Crafted Recipes sandwiches – Pico Guacamole, Sweet BBQ Bacon and Maple Bacon Dijon.
"Will the Frork change your life? Probably not," Sullivan says in the infomercial. "Will the Frork improve your Signature Crafted Recipes eating experience? I mean, sure… maybe!
"When savouring these recipes, there's a hitch you just can't ditch: The topping dropping.
"This is a real problem. Wait, sorry, is this a real problem? Probably not, but good news we solved it anyway."
Here's what the internet thought of the new McDonald's invention:
What a time to be alive. #frork

— Lance West (@lancewest) May 2, 2017
McDonald's has unveiled a totally useless, french fry-filled utensil for its new line of sandwiches. Introducing: the Frork. pic.twitter.com/IR5dg8niOQ

— Clara Lim (@Claralym) May 2, 2017
forget spilled toppings, I'm looking forward to using a #frork to scoop up a strawberry shake

— EazyE78 (@FnkyCldMacheena) May 2, 2017
Mcdonalds: Frork
Me, an intellectual: Fringlehopper

— Thrill Murray (@kamrontherunner) May 2, 2017
I Gave #Aquaman His Very Own #Frident XD @McDonalds @PrideofGypsies #JusticeLeague #Sumopaint #Frork pic.twitter.com/CltyO01bq6

— The Amazing Turnip Girl (@TATG_Kairi) May 2, 2017
Me after seeing the frork unveiling by McDonalds pic.twitter.com/LTB9zGTll1

— Raiyan♠ (@raiyan_07) May 2, 2017
And in case you were wondering, the Frork is "ludicrous-ly easy to use" for anyone – right handed, left handed or even in the dark.
Unfortunately, for those wanting to get their hands on this, the Frork is only available in the US.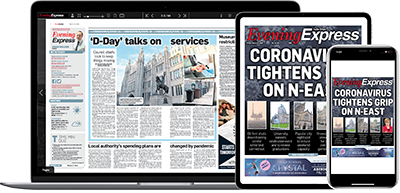 Help support quality local journalism … become a digital subscriber to the Evening Express
For as little as £5.99 a month you can access all of our content, including Premium articles.
Subscribe