This is the frantic emergency call from a mother whose son fell into a gorilla enclosure while on a trip to the zoo.
The woman, who is not identified in the call, tells the operator her son has fallen into the gorilla exhibit at Cincinnati Zoo and a male gorilla is standing over him. The dispatcher tells her that responders are on their way, and the woman yells four times to the little boy: "Be calm!"
As well as the call from the mother of the three-year-old, police have released the recordings from eyewitnesses who describe how "a baby fell into the gorilla enclosure" as they urge the police to do something and contact the zoo.
The child dropped about 15 feet into the zoo's Gorilla World exhibit. He was picked up by one of the animals.
Minutes later, the zoo's dangerous animal response team killed the gorilla, 17-year-old Harambe, to protect the boy.
Police are investigating the actions of the child's parents and US government inspectors are planning their own review of the zoo.
On Wednesday, the boy's family said he "is still doing well", they continued to "praise God" and were also thankful to the zoo "for their actions taken to protect our child".
While they have been blamed for the gorilla's death by some on social media, the family expressed appreciation for those offering support. The statement said some people had offered money, which they say they will not accept.
"If anyone wishes to make a gift, we recommend a donation to the Cincinnati Zoo in Harambe's name," said the statement released through publicist Gail Myers.
//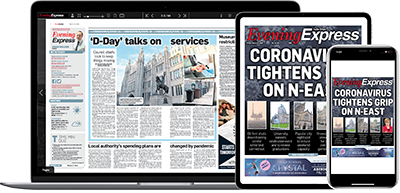 Help support quality local journalism … become a digital subscriber to the Evening Express
For as little as £5.99 a month you can access all of our content, including Premium articles.
Subscribe