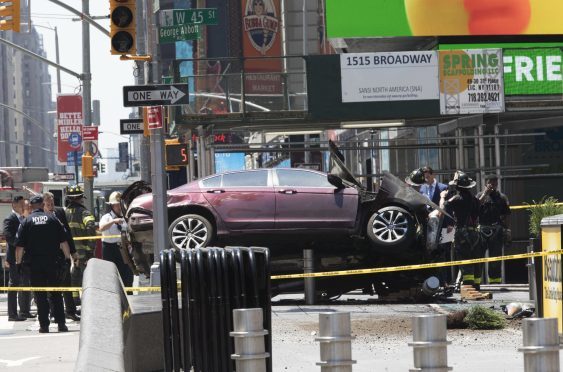 An 18-year-old woman has been killed and 23 people injured by a car that barrelled down a pavement in New York's Times Square on Thursday.
Here's what you need to know.
What happened?
On Thursday at around 11.55am, US navy veteran Richard Rojas drove a Honda sedan onto the pavement at 45th street towards Times Square, hitting pedestrians before crashing into steel security barriers.
Alyssa Elsman, from Portage, Michigan, died and 23 people were struck by the car before it was stopped by a security barrier. Police said the woman's 13-year-old sister was among the injured.
The car came to rest with its two right wheels in the air as Rojas got out of the car and attempted to run away. He was tackled shortly after by a group that included a ticket seller and a muscular door supervisor at a nearby Planet Hollywood restaurant.
The 26-year-old US Navy veteran told officers he was hearing voices and expected to die, two police officials said.
Rojas initially tested negative for alcohol, but more detailed testing was being carried out, according to two police officials.
Was this terror-related?
Recent attacks in England, France and Germany in which vehicles ploughed through crowds of pedestrians led to fears this was a terrorist incident. However, investigators quickly turned their focus to the sobriety and mental health of the driver, identified as Bronx resident Rojas.
"There is no indication that this was an act of terrorism," Mayor Bill de Blasio said.
Was the driver known to police?
A week ago, Rojas was arrested and charged with pointing a knife at a notary, whom he accused of stealing his identity. He pleaded guilty to a harassment violation.
He was arrested on charges of driving while intoxicated in 2008 and 2015, police commissioner James O'Neill said. He pleaded guilty to an infraction in 2015 and was ordered to complete a drink-driving programme and lost his licence for 90 days.
In previous arrests, he told authorities he believed he was being harassed and followed, one of the police officials said.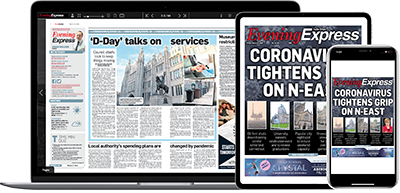 Help support quality local journalism … become a digital subscriber to the Evening Express
For as little as £5.99 a month you can access all of our content, including Premium articles.
Subscribe