A marine protection charity gathered more than 80 volunteers to tackle litter on a North-east beach.
The group assembled to take part in the Surfers Against Sewage's beach clean, at Newburgh Beach.
The charity – which looks to preserve oceans, beaches and marine life – collected 39 bags of litter – along with 121 plastic and glass bottle and 76 cans.
Lauren Smith, Surfers Against Sewage's regional representative for the North-east, said: "Considering it was a windy cold day it was really fantastic how the community came out in support.
"This is the first one we have organised at Newburgh and I was delighted by the turnout.
"It's very encouraging to see the number of people engaging in this kind of thing."
The charity was also joined by constituency MSP Gillian Martin at the litter clean-up.
Ms Martin and the volunteers managed to collect 327 nurdles – small plastic pellets used to make plastic products.
The pellets are a growing danger for the marine ecosystem as they attract and concentrate toxins and pollutants and can be mistaken for prey by aquatic animals and seabirds.
Ms Martin has now called for action on nurdle pollution.
The Aberdeenshire East MSP said: "I was shocked that in a half hour period we managed to find around 300 pellets in an area no more than three metres in length.
"These tiny bits of plastic go unnoticed and once they are in the sea they don't go away.
"They can take pollution from the surface water as they act like sponges making them even more toxic.
"I am calling for action on addressing nurdle pollution."
Surfers Against Sewage organises and campaigns for several beach litter picks throughout the year around the UK.
The next beach cleaning event will be held in Aberdeen on April 7, and more litter picks will potentially be organised in March along the coastline at Fraserburgh.
Lauren added: "The beach cleans not only make a difference directly to the local area and the wildlife inhabiting it, but are also great opportunities for education and awareness."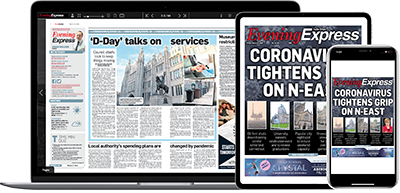 Help support quality local journalism … become a digital subscriber to the Evening Express
For as little as £5.99 a month you can access all of our content, including Premium articles.
Subscribe