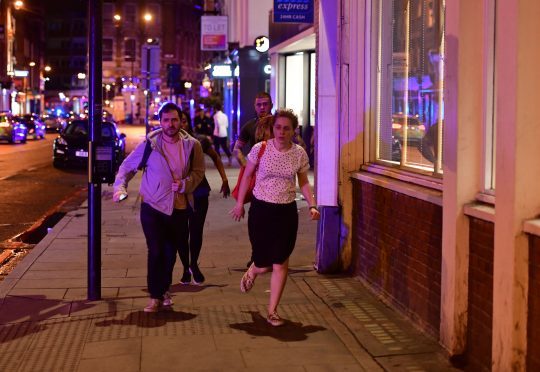 Witnesses have described seeing a speeding vehicle veer into crowds on London Bridge and people being stabbed in Borough Market, as police respond to incidents in the capital.
A van reportedly swerved off the road on London Bridge and in the popular food market in south London, witnesses said they saw a man with a large blade.
Scotland Yard have said they are responding to three incidents, in London Bridge, Borough Market and Vauxhall.
https://www.eveningexpress.co.uk/fp/news/uk/more-than-one-person-dead-after-major-incident-on-london-bridge/?utm_content=buffer3076f&utm_medium=social&utm_source=facebook.com&utm_campaign=buffer
Husband and wife Ben and Natalie told BBC Radio 5 Live they were outside Borough Market, coming up the entrance of the underground when they saw the incident.
Ben said: "We saw people running away and then I saw a man in red with a large blade, at a guess 10 inches long, stabbing a man, about three times.
"It looked like the man had been trying to intervene, but there wasn't much he could do. He was being stabbed quite coldly and he slumped to the ground."
Ben said the man walked away boldly with another person, and went towards the Southwark Tavern. He said they saw a metal chair being thrown towards the man.
"Then we heard three gunshots, definitely gunshots, and we ran."
Jamie, a witness who was in a restaurant on Rochester Walk near London Bridge, told the Press Association: "We were in the Black and Blue restaurant, we heard a fight and everyone got up and everyone rushed out of the restaurant and we heard a massive, massive bang.
"Then we hid under the table and people came into the restaurant and knocked a bunch of stuff over, like the till.
"And then we ran into the restaurant into the kitchen, where there was a bunch of other people and a guy had been stabbed and he was cut and he was bleeding quite a lot."
He added that they waited in the kitchen for "quite a while" before they were evacuated.
A female companion said: "We were in the restaurant and we just saw three guys come into the restaurant, stabbed someone in the face and someone in the stomach.
"One of them had a big knife, then he came in and walked around the restaurant, I guess they just kind of stabbed anyone that they saw and knocked things on the ground and then we just hid."
Another witness in the London Bridge area, Thomas Daly, was watching the Champions League final in The Sheaf when he saw security people running outside towards the entrance.
He tried to leave when the match finished but found the doors were closed and they were unable to leave.
The 36-year-old, from Liverpool, said: "People were saying there had been a stabbing at Borough Market and they locked us in.
"We sat down again and some minutes later people started coming into the bar and people were getting a bit hysterical.
"A lot of people were streaming through the rear exit and we went outside and heard gunshots.
"I heard gunshots, at least two gunshots, and at that point the people who were trying to get out the back entrance came back inside.
"We went outside to the back, there was the gunfire and then we decided to come back in again."
Armed police then came into the bar and evacuated people, he added.
Liam, who was in a flat above Southwark Tavern next to London Bridge, told BBC Radio 5 Live: "We heard people screaming and we looked out and I saw people running down into the underground, and simply running in any direction they could.
"The restaurant opposite had been completely smashed up, and a crowd of people were pointing into the market saying 'he's down there'.
"They got the attention of what looked like an armed police car, and pointed down Borough Market. The car screeched in that direction and we heard what sounded like five or six very loud gun shots."
Holly Jones, a BBC reporter at the bridge when the incident happened, said a van had swerved off the road into a crowd of pedestrians.
"A white van driver came speeding – probably about 50mph – veered off the road into the crowds of people who were walking along the pavement," she told BBC News.
"He swerved right round me and then hit about five or six people. He hit about two people in front of me and then three behind.
"I'd say there are about four severely injured people. They all have paramedics assisting them at the moment."
Ms Jones said police were on the scene within two minutes, quickly followed by ambulances.
Police boats were searching the river – apparently looking for people who may have been thrown off the bridge, she said.
She said that among the injured was a French woman who told her she did not know where the two people who had been with her were.
"She told me in French, 'I don't know where those two other people are'. So the police are checking the Thames," Ms Jones said.
"They were right near the edge of the bridge. It looks potentially they could have been thrown over."
Nick Archer, who was in the London Bridge area, told Sky News: "We came out (of a bar) on to the road and looked to my left and there was a guy, I thought he was just drinking but he was lying on the floor.
"And then a couple of seconds later, about three police vans flew past.
"He looked in a bad way."
A taxi driver called Chris told LBC he saw men armed with foot-long knives after a van drove on to the pavement.
He told the station: "I didn't see the van mount the kerb, but I saw everything else.
"A van came from London Bridge itself, went between the traffic light system and rammed it towards the steps. It knocked loads of people down.
"Then three men got out with long blades, 12 inches long and went randomly along Borough High Street stabbing people at random. I saw a young girl stabbed in the chest.
One witness reported having seen a van crashed into a lamppost after the bridge by the Barrowboy and Banker pub.
She added: "Just trying to get away at the moment. There are no trains leaving so we're just panicking a little."
Tony Murphy, who lives near the area, told Sky News he heard the sound of gunfire.
He said: "I thought at first it was fireworks then I recognised it was significant gunfire and that was the first instance.
"After that (came) the whole shooting match of ambulances and police.
"There was rapid fire because that's why I thought it was fireworks."
Will Orton, 25, told the Press Association: "We were in the Sheaf pub. Basically lots of people came running inside, we didn't really know what was going on.
"We thought maybe there was a fight or something outside. And then there were almost hundreds of people coming inside.
"The bouncers did a really good job, they shut the doors and locked everyone in.
"There was panic – it seemed like it was literally outside the door.
"People were coming inside and saying they had witnessed people being stabbed.
"They had seen and witnessed people being stabbed.
"It seemed like it was happening immediately outside the entrance."
Witness Eric was on the south side of London Bridge when he saw the van on the wrong side of the road.
He told BBC Radio 5Live: "It veered to the right and people were trying to run away from it."
When it stopped, he said three people got out and he thought they were going to help the people who had been hit.
"But the three people literally started kicking them, punching them, and took out knives. It was a rampage really," he said.
The three men ran off towards the nearby bars and restaurants and there was a shout of "this is for Allah", he added.
Mark told the programme he saw a van hit a group of people on the bridge.
"It knocked a person about 20ft in the air," he said.
"Within my line of sight there must have been about five or six people on the ground. They looked either dead or dying."
Alex Shellum was in The Mudlark pub, close to London Bridge, at around 10pm when a woman in her early 20s "staggered into the pub".
"She was bleeding heavily from the neck and from her mouth," he told BBC News.
"It appeared to myself and to my friends that her throat had been cut. People went to her aid."
He said the pub was then closed and armed police told them to leave the area.
He said: "I could see on my left a further individual was having CPR performed on them by the emergency services."
James Yates was in Katzenjammers Bierhall on Southwark Street, where police went inside and ordered customers to get on the floor.
"There was one man who said he had been slashed in the face," he told BBC News.
"It wasn't an overly bad wound but it had caught him straight under the chin but he was on the street – so the attack must have been outside where we were."
He said the incident happened at around 11pm and customers were made to stay on the floor for about half an hour.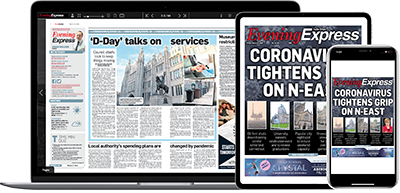 Help support quality local journalism … become a digital subscriber to the Evening Express
For as little as £5.99 a month you can access all of our content, including Premium articles.
Subscribe