There's nothing worse than your job being outside when it's absolutely pouring down with rain.
And one reporter for Mustard TV, a local channel in Norwich, definitely knows the feeling.
Lauren Hewitt was sent out to do a story in soggy Costessey and forced to stand next to a puddle while talking to the camera.
And, yep, we all saw it coming. She got seriously splashed… more than once.
The second soaking is amazing ??? https://t.co/3hRA0un8Ty

— Stewart (@cunning_chops) March 20, 2017
Wait for the second wave… Have to say @JournoLauren1 u take this rather well. https://t.co/s1wDNBugE5

— David Powles (@David_Powles) March 20, 2017
sorry to giggle at your expense-but was needed & v.appreciated today.TY! Hope u got fluffy towels & hot choc???☕️?

— Hall (@mrsnickih) March 20, 2017
Ast least she can laugh about it too.
I'm not sure I'll ever be dry again!

— Lauren De Boise (@JournoLauren1) March 20, 2017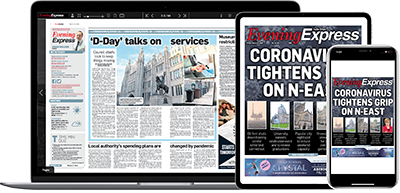 Help support quality local journalism … become a digital subscriber to the Evening Express
For as little as £5.99 a month you can access all of our content, including Premium articles.
Subscribe