This footage shows the moment an aircraft on approach to London's Heathrow airport was struck by lightning.
The video, uploaded to the @FlightAlerts777 twitter, shows the aircraft flying over London and being hit by the lightning bolt.
Aircraft on approach to London Heathrow a short time ago during thunderstorm pic.twitter.com/7Ila7rYwD2

— Flight Alerts ⚠ (@FlightAlerts777) April 27, 2016
The Icelandair plane was arriving from Reykjavik yesterday afternoon.
Plane just got hit by lightning on the descent into Heathrow. Didn't die #winning ✈️⚡️?

— liz dobson (@liz_dobson) April 27, 2016
Plane got struck by lightning on the way into Heathrow. Good to be back in London.

— Alaxen (@Alaxen) April 27, 2016
Passenger Catherine Mayer told the Evening Standard that the strike was "sudden and loud and very bright and unmistakable for what it was".
She added: "I think all the passengers were too shocked to react but when we landed everybody was talking about it.
"The captain came on the tannoy and said that we 'may have noticed a lightning strike' and people laughed."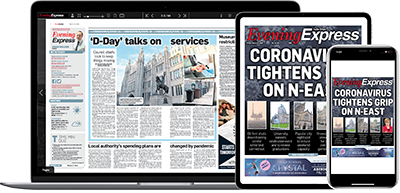 Help support quality local journalism … become a digital subscriber to the Evening Express
For as little as £5.99 a month you can access all of our content, including Premium articles.
Subscribe