Police have released CCTV footage of two pedestrians being struck by a car in a hit-and-run collision that left one of them paralysed.
Single mother Chanelle Higgins, 30, was paralysed from the waist down when she and a friend were run over near Scandals nightclub in West Norwood, south-east London.
You may find the video upsetting to watch.
Scotland Yard believes the assailant mounted the kerb and hit them while trying to flee an "altercation" further up Norwood High Street.
Higgins has spoken of the impact on her life in an appeal to trace the driver of the dark grey BMW 3 Series who struck at around 4.40am on May 29.
She said: "I'm now in a wheelchair. I can't move my legs and I only have limited usage of my hands. I have spent five whole months lying in a hospital bed, missing my children and wondering what type of future I will be able to have.
"Now I need care 24 hours a day and due to my disability, I can't look after my children by myself and they have to stay with my family.
"I spend hours and hours thinking about who did this to me. What type of person could run someone over and leave them for dead? What kind of evil person could do that? I just can't believe that the person is just living their life while I'm going through hell. It's just not right."
The car that hit the pair, who were both 29 at the time, was recovered around two weeks later parked in a street in south London. Her friend, who escaped with minor injuries, is seen in the footage checking on Higgins seconds after they were hit.
Pc Laura Travers said: "This was a shocking incident. These two women were simply on a night out to see friends and now their lives have changed completely."
A 25-year-old man who was arrested on suspicion of attempted murder on June 16 has been bailed until a date in December. Anyone with information should contact Pc Travers on 0208 649 2135 or Crimestoppers anonymously on 0800 555 111.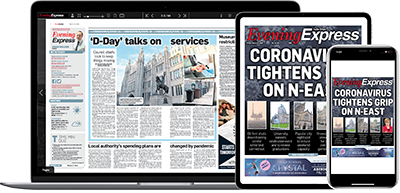 Help support quality local journalism … become a digital subscriber to the Evening Express
For as little as £5.99 a month you can access all of our content, including Premium articles.
Subscribe