The debate into fox hunting has resurfaced after Theresa May said the Conservatives remain in favour of allowing a free vote on overturning the ban.
The Prime Minister said she had "personally…always been in favour of fox hunting" and that a Conservative parliamentary majority would allow the issue to once again be voted on by MPs.
Here's everything you need to know about the contentious issue.
What is the fox hunting ban?
The Hunting Act 2004 bans the hunting of wild mammals with dogs – this notably includes foxes.
There are many exemptions under the act, for example killing a fox is still legal if it is used to preserve livestock, crops, fisheries or even the broad category of "other property".
Under this exemption only two dogs are allowed to "flush out" the fox, which then has to be shot by a "competent person".
So, if a fox rakes through your bins or kills your pet chickens, you can legally shoot it – though guidance on www.gov.uk says you "shouldn't use firearms in urban areas for reasons of public safety".
So what does the act actually prevent?
ACTUALLY, she's offering a free vote on whether people whose dogs kill a fox should have to pretend it was a terrible accident.

— Robert Hutton (@RobDotHutton) May 9, 2017
The Hunting Act prevents the "sport" of fox hunting, where participants track, chase and kill a fox with trained dogs who sniff the animal out.
What are the arguments against fox hunting?
Previous polls have shown that the majority of the British public are against fox hunting. Opponents of the activity say it is a cruel and unnecessary activity, which sees humans kill for fun.
After May announced her position on the ban, David Bowles, head of public affairs for the RSPCA, said the sport is a "barbaric and brutal practice that has no place in civilised society".
He added: "The Hunting Act was introduced to end the suffering caused to wild animals by chasing and killing them with a pack of hounds.
"Other blood sports such as dog fighting and cockfighting have been consigned to history and nobody is pushing for those to be legalised. Why should the hunting of Britain's wild mammals be treated any differently?"
And for?
Fox-hunting fans say the activity is an important and traditional part of rural culture.
They say it is useful for pest-control and conservation purposes, despite provisions in the act which allow for the killing of foxes under such circumstances.
Countryside Alliance chief executive Tim Bonner said: "There will be a huge amount of support for this commitment in the countryside where people understand that the Hunting Act never had anything to do with foxes but was a misplaced and prejudiced attack on a group within the rural community.
"Hunts are the subject of constant vindictive allegations by animal rights activists, and employees are often investigated and sometimes prosecuted. Very few hunts have been convicted under the Act but the impact on hunt staff is unpleasant and in some cases intolerable.
"Overturning the ban and allowing properly conducted hunting with dogs to restart would correct an historic injustice and get rid of one of the most illiberal laws passed in modern times."
What about the politics?
Sir Roger Gale, a patron of Conservatives Against Fox Hunting, told the Press Association: "I cannot see many Conservative votes for fox hunting in marginal seats we are hoping to win."
Sir Roger said he believed a "huge amount of parliamentary time and effort" has been spent on the issue, with the existing law "probably as good as we can get" given the difficulty in satisfying everyone.
"We have more than enough to occupy parliamentary time with Brexit and all that follows," he said.
"In my view, it'd be folly to waste further time on the issue."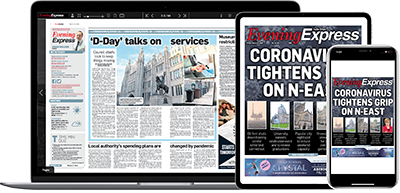 Help support quality local journalism … become a digital subscriber to the Evening Express
For as little as £5.99 a month you can access all of our content, including Premium articles.
Subscribe