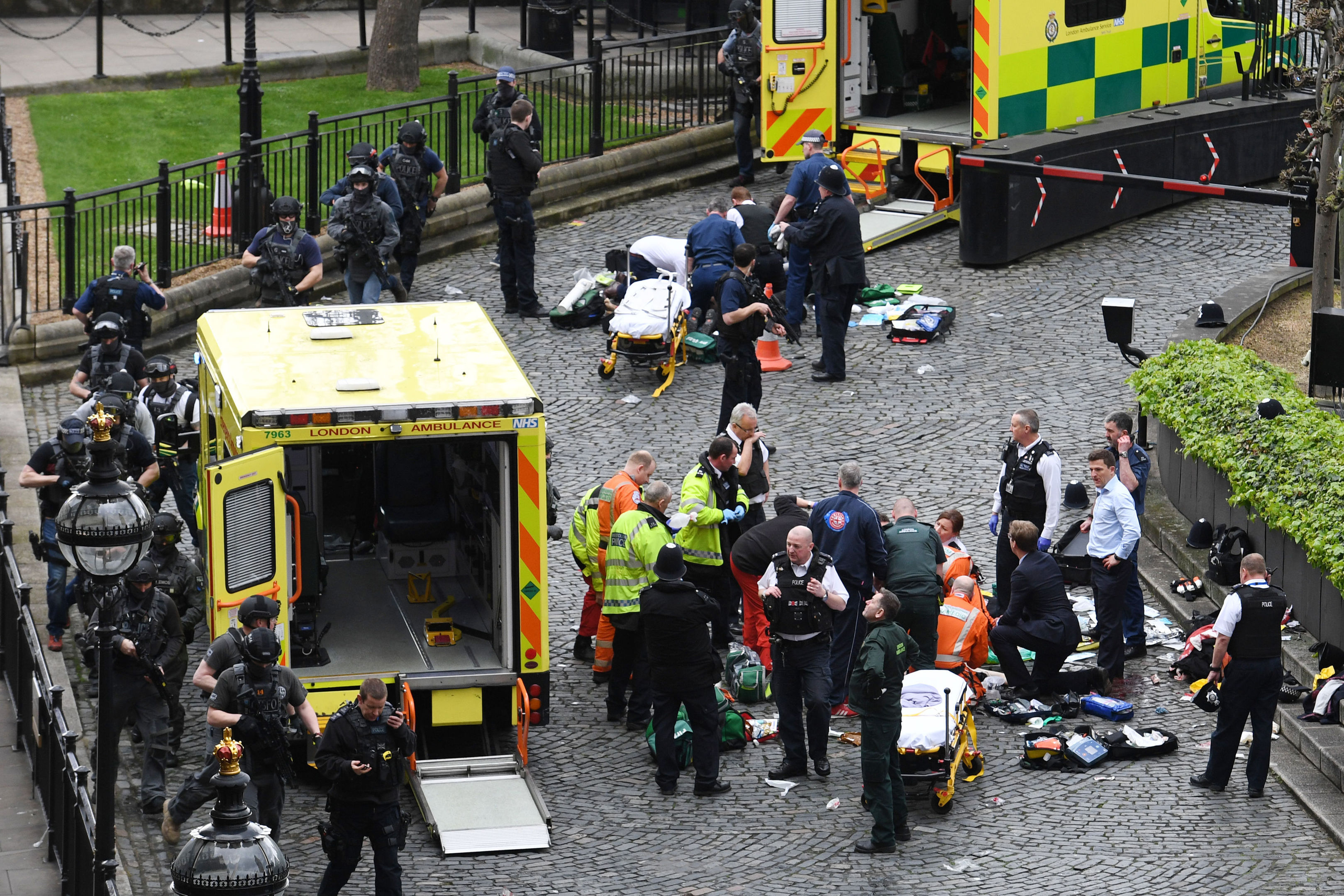 A policeman has been stabbed and his attacker shot by officers after a major terrorist incident at the Houses of Parliament.
The attacker mowed down several pedestrians as he drove a grey Hyundai i40 across Westminster Bridge before crashing it into railings then running through the gates of the Palace of Westminster and stabbing the officer.
Eyewitnesses said he was shot by police as he approached a second officer clutching his knife.
He left a trail of destruction as paramedics tended to his victims on the bridge and at the gate.
Prime Minister Theresa May was seen being ushered into a silver Jaguar in the grounds of the palace as what sounded like gunfire rang out at around 2.45pm.
A Downing Street source confirmed she was "OK".
Eyewitness Rick Longley described the attack.
"We were just walking up to the station and there was a loud bang and a guy, someone, crashed a car and took some pedestrians out.
"They were just laying there and then the whole crowd just surged around the corner by the gates just opposite Big Ben.
"A guy came past my right shoulder with a big knife and just started plunging it into the policeman.
"I have never seen anything like that. I just can't believe what I just saw."
Around three shots rang out as the attacker ran through the gates into the front yard of the parliamentary compound.
Two people – thought to be the knifeman and the officer – were then seen being treated on the ground in New Palace Yard amid shouts and screams.
An air ambulance landed in Parliament Square and a regular ambulance came in through the front gates as medics rushed to help the injured people.
Armed police cleared the area around the incident and Parliament Square was closed to traffic while Parliament went into lockdown.
As the sitting in the House of Commons was suspended, Commons Leader David Lidington told MPs: "What I am able to say to the House is there has been a serious incident within the estate.
"It seems that a police officer has been stabbed, that the alleged assailant was shot by armed police.
"An air ambulance is currently attending the scene to remove the casualties."
Witnesses described seeing a middle-aged man carrying a knife and running.
Jayne Wilkinson said: "We were taking photos of Big Ben and we saw all the people running towards us, and then there was an Asian guy in about his 40s carrying a knife about seven or eight inches long.
"And then there were three shots fired, and then we crossed the road and looked over. The man was on the floor with blood.
"He had a lightweight jacket on, dark trousers and a shirt.
"He was running through those gates, towards Parliament, and the police were chasing him."
Her partner David Turner added: "There was a stampede of people running out.
"You saw the people and you thought 'what the hell is going on'."
A witness, who did not want to be named, saw Mrs May and her undercover police detail near the area of Parliament where ministerial cars are parked.
He said there were undercover officers in a 4×4 vehicle in the car park.
"We just heard gunshots inside Parliament," he said.
"It looked like they are taking her away."
Another witness, from South Africa and living in Ireland, said she and two friends went towards the palace gates and saw a man lying on the floor inside.
She said: "I saw a body, they were working on the floor. They were just inside the gates.
"He had one gunshot wound to the right side of his chest. I don't know if he was dead or alive, but people were working on him.
"I saw that needed medical attention and I asked if I could help because I am a doctor, but they said they were fine.
"Then the police moved us back."
Daily Mail political editor Jason Groves witnessed the incident from his office window.
He said: "I heard a bang coming from Westminster Tube station, looked out the window, there's a commotion, armed cops were running, the crowd of people outside were running as if for their lives.
"A guy comes through the vehicle entrance wielding something, towards a copper, the copper tumbles.
"The man's running towards Westminster Hall, and then you've got a plain clothes copper comes running out.
"Not from the gate, but from the inside, shoots him once from maybe 10 or 15 yards away with a handgun, and then gets closer to him and shoots him again from over him and he doesn't get up."
London Ambulance Service "declared a major incident" in a statement, saying: "We were called at 2.40pm to Westminster Bridge to reports of an incident, with the first crew arriving within six minutes.
"We have sent a number of resources to the scene including ambulance crews, London's Air Ambulance and our Hazardous Area Response Team.
"We are working closely with other members of the emergency services at the scene, with our priority being to ensure patients receive the medical help they need as quickly as possible.
"We have declared a major incident and our priority is to assess patients and ensure that they are treated and taken to hospital as soon as possible.
"As we are very busy dealing with this incident, we would ask the public to only call us in a genuine emergency."
Kathy Casatelli, 58, saw a car rammed into the front gates of the palace and a man being treated on the floor.
She said: "We were coming up from the Tube and we walked out and there were officers there with their guns drawn.
"I saw this car that was smashed into the gate. It was a grey BMW, it looked like a nice car. The whole windshield was smashed.
"There was a man on the ground, it looked like he was moving. I don't know if he was the driver."
Ms Casatelli, from Syracuse in the US and on holiday in London since Saturday, said she heard that someone had been wielding a knife.
She said: "One of the officers was trying to him.
"He wasn't moving very much, I thought I saw him moving.
"I don't know if he was riding a bike and got hit. There was somebody with him and he was there with his hands on his head.
"I don't know if they were walking or biking and it hit them."
Police extended the cordon back up Broad Sanctuary beyond Westminster Abbey to the junction with Victoria Street.
Four police vans arrived at the scene at 3.40pm, as the air ambulance took off.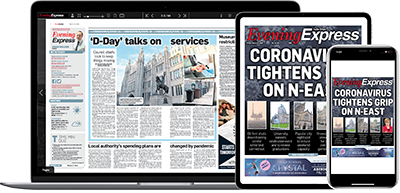 Help support quality local journalism … become a digital subscriber to the Evening Express
For as little as £5.99 a month you can access all of our content, including Premium articles.
Subscribe