Police are responding to three incidents in the capital, amid reports a vehicle collided with pedestrians on London Bridge, Scotland Yard said.
Officers are dealing with reports of stabbings in Borough Market, where armed officers attended and shots were fired.
They are also at an incident in the Vauxhall area.
Hundreds of people are evacuated from #LondonBridge after unconfirmed accident brings more than 15 police cars and helicopters come to scene pic.twitter.com/IfQLMOXsR0

— Kaine Pieri (@PieriKaine) June 3, 2017
Police were called to London Bridge at 22.08pm.
British Transport Police said there were reports of "multiple" casualties following the major incident on the bridge.
Nick Brandon of the BTP's force control room said he had received reports of an incident possibly involving a knife and a vehicle.
Info available at this stage: from 2208hrs officers responded to reports of a vehicle in collision with pedestrians on #London Bridge. 1/3

— Metropolitan Police (@metpoliceuk) June 3, 2017
Officers have then responded to reports of stabbings in #BoroughMarket. Armed officers responded and shots have been fired. 2/3

— Metropolitan Police (@metpoliceuk) June 3, 2017
Officers are now responding to an incident in the #Vauxhall area. 3/3

— Metropolitan Police (@metpoliceuk) June 3, 2017
A Downing Street spokesman said: "The Prime Minister is in contact with officials and is being regularly updated on the incident at London Bridge."
Prime Minister Theresa May, who has been campaigning in the General Election, was returning to Downing Street to receive further briefings from security officials, No 10 said.
The Prime Minister will chair a meeting of the Government's Cobra emergency committee on Sunday, No 10 said.
Armed police at Borough High St cordon. Uniform police telling everyone: "You are not getting anywhere near London Bridge at the moment." pic.twitter.com/z48XrYBGg3

— Ryan Hooper (@RyanJHooper) June 3, 2017
White House press secretary Sean Spicer said US president Donald Trump had been briefed on the incident by his national security team.
London Bridge is closed both ways Transport for London (TfL) said, warning the public to avoid the area.
Trains are currently not stopping at London Bridge or Borough stations.
London Bridge and Borough stations closed due to ongoing incident. Please avoid area.

Updates from @metpoliceuk

— BTP (@BTP) June 3, 2017
Holly Jones, a BBC reporter at the bridge when the incident happened, said a van had swerved off the road into a crowd of pedestrians.
"A white van driver came speeding – probably about 50mph – veered of the road into the crowds of people who were walking along the pavement," she told BBC News.
"He swerved right round me and then hit about five or six people. He hit about two people in front of me and then three behind.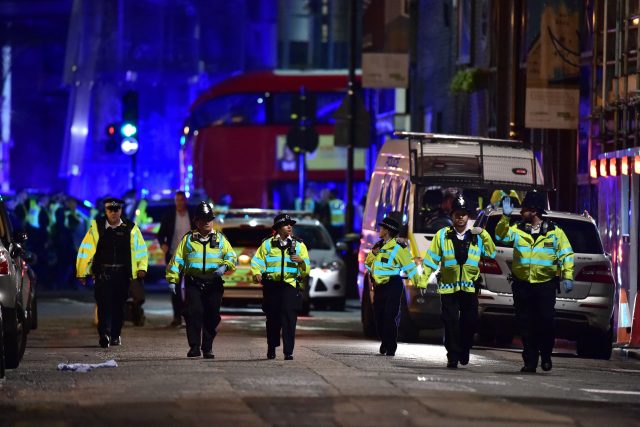 I'd say there are about four severely injured people. They all have paramedics assisting them at the moment."
Multiple resources attending an incident at #LondonBridge, please avoid the area. Only call 999 in an emergency. ➡️ @metpoliceuk for updates

— LAS Resilience Team (@LAS_TacAdvisor) June 3, 2017
Ms Jones said police were on the scene within two minutes, quickly followed by ambulances.
#Londonbridge #boroughmarket #vauxhall pic.twitter.com/a7OciBEBjH

— Metropolitan Police (@metpoliceuk) June 3, 2017
Police boats were searching the river – apparently looking for people who may have been thrown off the bridge.
She said that among the injured was a French woman who told her she did not know where the two people who had been with her were.
"She told me in French, 'I don't know where those two other people are'. So the police checking the Thames," Ms Jones said.
Busy at Elephant and Castle, two stops short of London Bridge on the Northern Line pic.twitter.com/SeS0cNv6ta

— Ryan Hooper (@RyanJHooper) June 3, 2017
"They were right near the edge of the bridge. It looks potentially they could have been thrown over."
Police are treating injured people and carrying them away at the end Thrale Street. Members of the public were told by police to "run as fast as they could" westbound.
A taxi driver called Chris told LBC said he saw men armed with foot-long knives after a van drove on to the pavement.
Announcement on the Northern Line re #LondonBridge – @TfL say tube not stopping at Borough or LB for time being pic.twitter.com/l03W8vhLpm

— Ryan Hooper (@RyanJHooper) June 3, 2017
He told the station: "I didn't see the van mount the kerb but I saw everything else.
"A van came from London Bridge itself, went between the traffic light system and rammed it towards the steps. It knocked loads of people down.
"Then three men got out with long blades, 12 inches long and went randomly along Borough High Street stabbing people at random. I saw a young girl stabbed in the chest.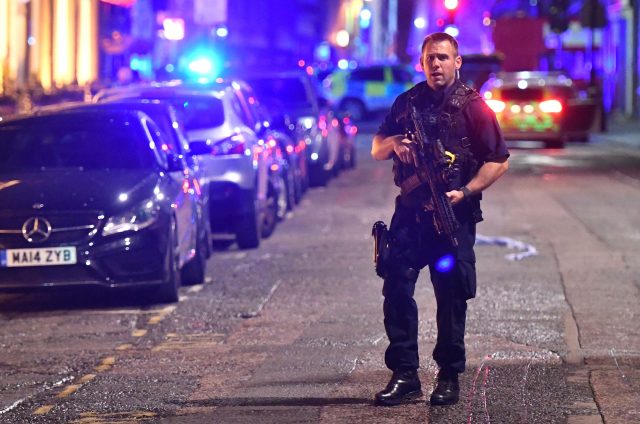 One witness reported having seen a van crashed into a lamppost after the bridge by the Barrowboy and Banker pub.
She added: "Just trying to get away at the moment. There are no trains leaving so we're just panicking a little."
Will Orton, 25, told the Press Association: "We were in the Sheaf pub. Basically lots of people came running inside, we didn't really know what was going on.
https://twitter.com/fayesos/status/871118597296467968
"We thought maybe there was a fight or something outside. And then there were almost hundreds of people coming inside.
"The bouncers did a really good job, they shut the doors and locked everyone in.
"There was panic – it seemed like it was literally outside the door.
Quite worrying scenes at London Bridge from above. Hope all is okay pic.twitter.com/57gp09nAwH

— Jack Fox (@JackFox7) June 3, 2017
"People were coming inside and saying they had witnessed people being stabbed.
"They had seen and witnessed people being stabbed.
"It seemed like it was happening immediately outside the entrance."
(function(i,s,o,g,r,a,m){i['GoogleAnalyticsObject']=r;i[r]=i[r]||function(){
(i[r].q=i[r].q||[]).push(arguments)},i[r].l=1*new Date();a=s.createElement(o),
m=s.getElementsByTagName(o)[0];a.async=1;a.src=g;m.parentNode.insertBefore(a,m)
})(window,document,'script','//www.google-analytics.com/analytics.js','ga');
ga('create', 'UA-72310761-1', 'auto', {'name': 'pacontentapi'});
ga('pacontentapi.set', 'referrer', location.origin);
ga('pacontentapi.set', 'dimension1', 'By PA Reporters');
ga('pacontentapi.set', 'dimension2', '5f42b6ce-686f-43ac-87b4-69be9f79bbf8');
ga('pacontentapi.set', 'dimension3', 'paservice:news,paservice:news:uk');
ga('pacontentapi.set', 'dimension6', 'story-enriched');
ga('pacontentapi.set', 'dimension7', 'composite');
ga('pacontentapi.set', 'dimension8', null);
ga('pacontentapi.set', 'dimension9', null);
ga('pacontentapi.send', 'pageview', { 'location': location.href, 'page': (location.pathname + location.search + location.hash), 'title': 'Stabbings reported as police respond to three London incidents'});