Primark has pulled a t-shirt inspired by TV show The Walking Dead after complaints of racism.
The white t-shirt has the words "eeny meeny miny moe" as well as a baseball bat wrapped in barbed wire emblazoned on it.
How pathetic has the world become when @Primark have removed this t-shirt from sale over claims of racism. #pathetic #stupid #walkingdead pic.twitter.com/bwpFDhM4IX

— Stuart Franklin (@SuperStu77) February 21, 2017
It comes from a scene in the show where character Negan chooses which of his victims to kill with the "eeny meeny miny moe" rhyme, clutching that particular weapon.
Here's the clip to give you a bit of context, but be warned: it's not for the fainthearted. Remember, this is a horror show about zombies, not the Teletubbies.
When Ian Lucraft saw the t-shirt in Sheffield, he complained directly to Primark's chief executive Paul Marchant in a letter he then circulated amongst various newspapers.
According the Sheffield Star, Lucraft wrote: "We were shocked when we came face to face with a new t-shirt with a racially explicit graphic and text. It was fantastically offensive and I can only assume that no-one in the process of ordering it knew what they were doing or were aware of its subliminal messages.
"The slogan is 'Eeeny meenie miny moe…' It stops there, but of course we all know what the original said: 'catch a n***** by his toe.'"
In The Walking Dead, the character played by Jeff Dean Morgan says "tiger" instead of the racial slur, but Primark has still subsequently recalled the t-shirt.
Some people come down firmly on Lucraft's side in this debate.
https://twitter.com/cheyennelouiseb/status/834119107163385856
However not everyone does, many thinking that Primark's response erred on the extreme side.
The complaint about the walking dead top I'm primark is hilarious. 'Fantastically offensive' ? No no it's not. #Primark #TWD

— Kim Kimmi H (@Kim_KimmiH) February 21, 2017
Primark's The Walking Dead tshirt was/is not racist. Stop reaching. #thewalkingdead #primark

— Ebz (@Ebzzzzzz) February 22, 2017
@Primark why has that Walking Dead t shirt been pulled? Ridiculous

— Frazer (@Frazer271009) February 22, 2017
In a statement, the discount store said: "The t-shirt in question is licensed merchandise for the U.S. television series, The Walking Dead, and the quote and image are taken directly from the show. Any offence caused by its design was wholly unintentional and Primark sincerely apologises for this.
"Primark has removed the product from sale."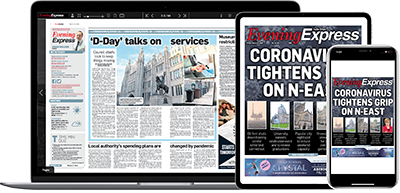 Help support quality local journalism … become a digital subscriber to the Evening Express
For as little as £5.99 a month you can access all of our content, including Premium articles.
Subscribe