An attack on a group of worshippers near a mosque by a man in a white van is being treated as terrorism, police said.
One man died after the driver, described as a large white man, targeted people near the Finsbury Park Mosque in north London early on Monday.
Witnesses described hearing the man, who was detained by members of the public at the scene, shout: "I'm going to kill Muslims".
LIVE: Statement from DAC Neil Basu on the incident in #SevenSisters Road #FinsburyPark https://t.co/sH35LQYZF0

— Metropolitan Police (@metpoliceuk) June 19, 2017
Metropolitan Police Deputy Assistant Commissioner Neil Basu said: "This is being treated as a terrorist attack."
The van driver was detained by members of the public after the attack in Seven Sisters Road at 12.20am on Monday.
The attacker struck as the area was busy with worshippers attending Ramadan night prayers at Finsbury Park mosque.
One witness described being surrounded by bodies in the wake of the attack outside the Muslim Welfare House, yards from the mosque.
Re #SevenSisters Rd #Finsburypark incident – At this early stage there are no other suspects, however the investigation continues.

— Metropolitan Police (@metpoliceuk) June 19, 2017
Another witness, who wanted to be identified as Abdulrahman, which is not his real name, told the Press Association: "I managed to get the driver of the van. He wanted to run away and was saying, 'I want to kill Muslims'.
"So he came back to the main road and I managed to get him to the ground and me and some other guys managed to hold him until the police arrived, for about 20 minutes I think, until the police arrived."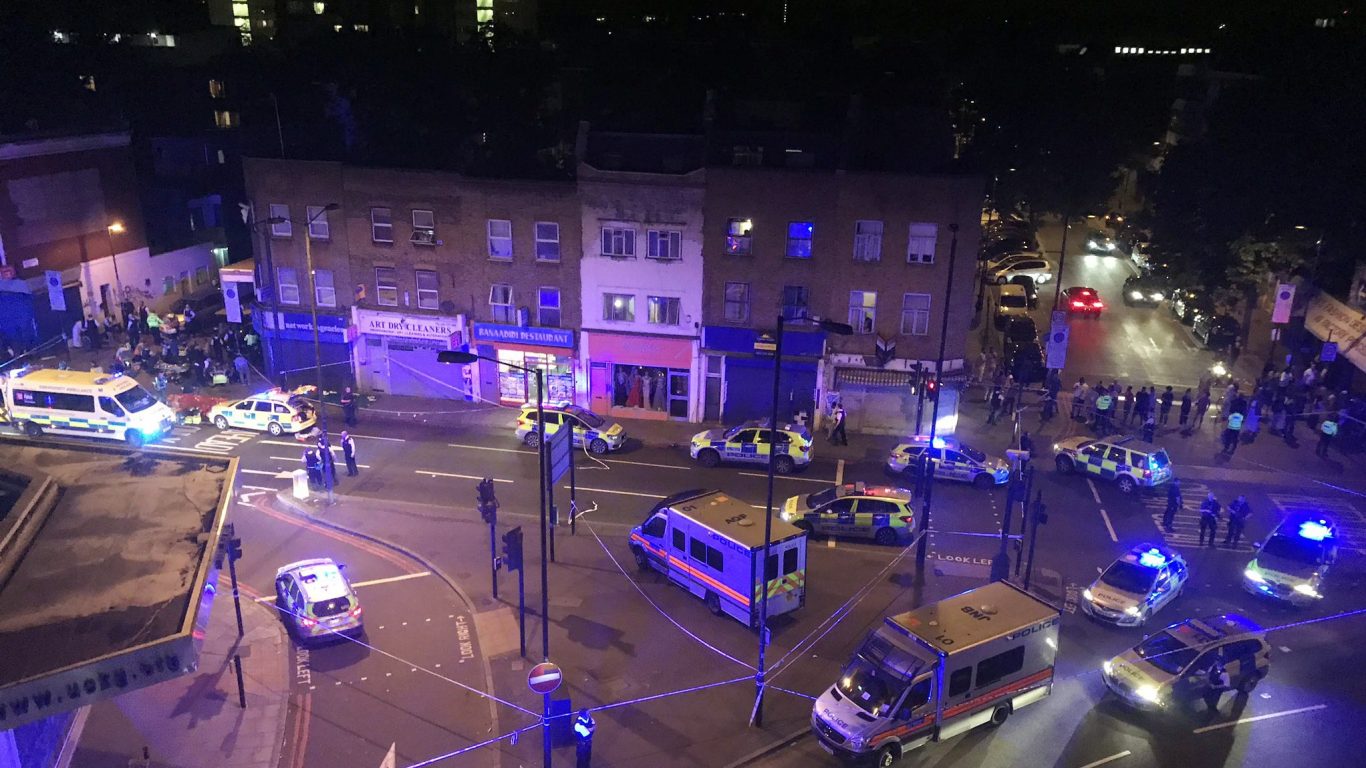 Abdulrahman claimed the driver said, 'kill me,' as he was held on the ground.
He added: "I said, 'tell me why did you try driving to kill innocent people?'
"When he went into the [police] van he made gestures, he was laughing."
Witness Ratip Alsulaimen told @Pa what he saw at #FinsburyPark pic.twitter.com/iR49oGC5IS

— Ryan Hooper (@RyanJHooper) June 19, 2017
Video posted online of the aftermath of Monday's attack showed a scene of chaos as people tried to help the injured.
One man could been seen giving CPR to a victim in the street while another man's head injury was treated with a makeshift dressing.
People could be heard shouting and screaming amid the chaos and bloodstains were visible on the pavement.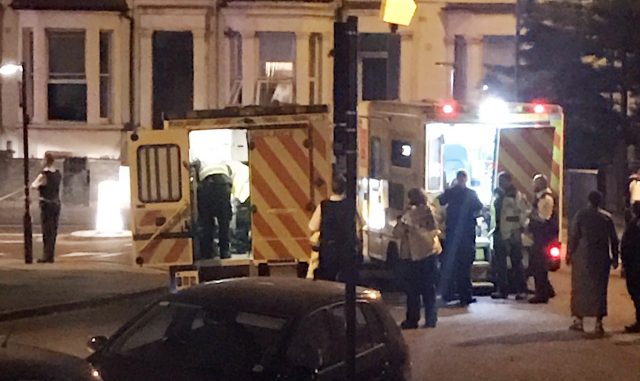 In one video, a group of men are seen holding the suspect to the ground as they call for the police.
Eight people were taken to hospital and two more were treated for minor injuries at the scene.
The Metropolitan Police said the investigation of the incident is being carried out by the Counter Terrorism Command.
LATEST on #SevenSisters Road #FinsburyPark incident. One person has died. Counter Terrorism Command investigating. https://t.co/S5whFriU3Z pic.twitter.com/PKHfgCI345

— Metropolitan Police (@metpoliceuk) June 19, 2017
The force said in a statement: "The driver of the van – a man aged 48 – was found detained by members of public at the scene and then arrested by police in connection with the incident.
"He has been taken to hospital as a precaution and will be taken into custody once discharged. He will also be subject of a mental health assessment in due course."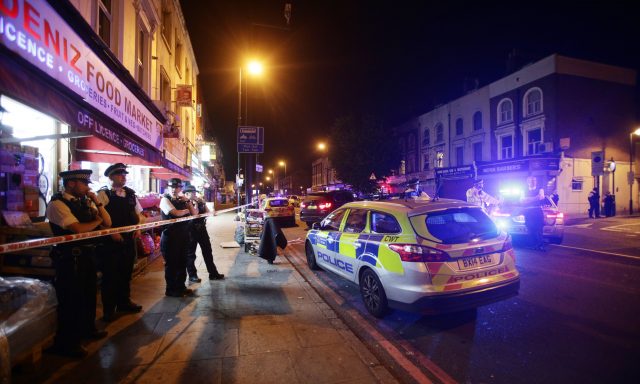 Some witnesses at the scene said more than one attacker may have been involved. But the Met said: "At this early stage of this investigation, no other suspects at the scene have been identified or reported to police, however the investigation continues."
The force also dismissed reports that the van driver produced a knife, saying: "At this stage there are no reports of any persons having suffered any knife injuries."
Thoughts & prayers with all those affected by the horrific terrorist attack on innocent people in #FinsburyPark. https://t.co/mbBCS9Gaad pic.twitter.com/Fvhl3DOAV4

— Sadiq Khan (@SadiqKhan) June 19, 2017
London Mayor Sadiq Khan urged people to "remain calm and vigilant" and said the Met had deployed extra police to reassure communities, especially those observing Ramadan.
Muslim Council of Britain secretary general Harun Khan condemned the attack and also urged calm.
He said: "During the night, ordinary British citizens were set upon while they were going about their lives, completing their night worship.
Shocked and outraged to hear a van has intentionally run over worshippers leaving #Ramadan night prayers on Seven Sisters Road #FinsburyPark

— Harun Khan (@harakha) June 19, 2017
"My prayers are with the victims and their families. It appears from eyewitness accounts that the perpetrator was motivated by Islamophobia.
"Over the past weeks and months, Muslims have endured many incidents of Islamophobia, and this is the most violent manifestation to date.
"Given we are approaching the end of the month of Ramadan and the celebration of Eid with many Muslims going to local mosques, we expect the authorities to increase security outside mosques as a matter of urgency.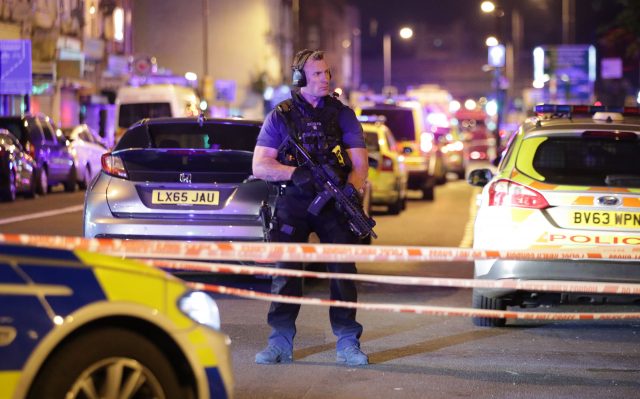 "Many will feel terrorised, no doubt be angry and saddened by what has taken place tonight.
"We urge calm as the investigation establishes the full facts, and in these last days of Ramadan, pray for those affected and for justice."
There has been an increase in hate crime reports since the Manchester Arena bombing and the London Bridge attack.
Armed police are standing at the junction of Seven Sisters Road and Yonge Park after a van struck pedestrians #London #finsburypark pic.twitter.com/yen5qUFj1h

— Alexander Britton (@adbritton) June 19, 2017
Prime Minister Theresa May issued a statement saying she would be chairing an emergency meeting on Monday morning and adding: "All my thoughts are with the victims, their families and the emergency services on the scene."
One resident told the Press Association he jumped out of the way as the van struck pedestrians. The man, who did not want to be named, said: "The gentleman went straight down this road, people were just conversing, talking, just doing what we're doing.
"And he just came into all of us. There was a lot of people. I was shocked, shocked, shocked. There were bodies around me."
BREAKING: We have been informed that a van has run over worshippers as they left #FinsburyPark Mosque. Our prayers are with the victims. https://t.co/FSE5m3bFpo

— MCB (@MuslimCouncil) June 19, 2017
UPDATE: the attack took place outside @MWH_London which is nearby the #FinsburyPark mosque, not outside Finsbury Park mosque itself

— MCB (@MuslimCouncil) June 19, 2017
Abdikadar Warfa said: "I saw a man underneath the van. He was bleeding. My friend said he had to lift the van.
"I was busy with a man who tried to escape. My friend said he said some words, but I didn't hear it. They (people who were hit) were mostly young. They are very bad.
"I tried to stop him (the suspect), some people were hitting him but I said stop him and keep him until the police came. He was trying to run away but people overpowered him. He was fighting to run away."
Mohin said his cousin was caught up in #finsburypark – he escaped with a graze after getting out the way of the vehicle, Mohin said pic.twitter.com/lAHKwDuKcZ

— Ryan Hooper (@RyanJHooper) June 19, 2017
Images of the van showed it was rented from Pontyclun Van Hire in Pontyclun, near Cardiff.
Finsbury Park mosque was once infamous as the stamping ground of hook-handed hate preacher Abu Hamza. But it was raided and shut down and later reclaimed by the local Muslim community, who have transformed it into a place which actively promotes better community relations across faiths.
In 2015, it was the target of an attempted arson when a white man with a jerrycan full of petrol tried to light it and throw it over the railings in front of the site before fleeing on a moped.
A close-up of Seven Sisters Road, from an elevated position, six hours after the #finsburypark attack pic.twitter.com/ICh4SETEub

— Ryan Hooper (@RyanJHooper) June 19, 2017
A member of staff at Pontyclun Van Hire said the company would not be issuing a statement.
She said: "We are not saying anything, we don't know anything at the moment."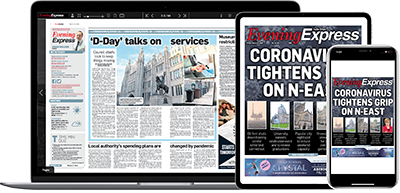 Help support quality local journalism … become a digital subscriber to the Evening Express
For as little as £5.99 a month you can access all of our content, including Premium articles.
Subscribe