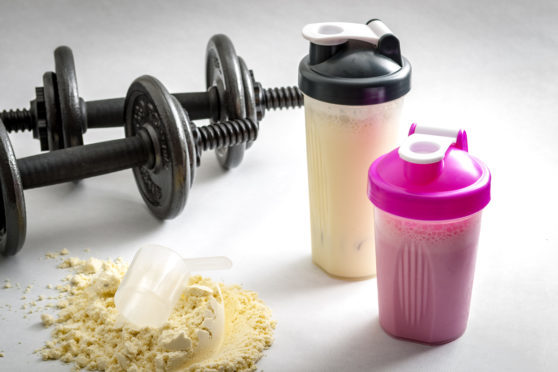 More than a dozen protein shake products, under two brands, have been recalled over fears they could contain milk.
Nutrisport Ltd have recalled 15 different products in their Atlas and Nutrisport range because the ingredient has not been included on the label.
This means the shakes could pose a possible health risk to anyone with an allergy or intolernce to milk or milk constiutents.
Anyone with an allergy or intolerance to milk or milk constituents is urged to not consume the product and instead return it to the point of purchase.
Here's the full list of all recalled products
Atlas Superweight Gainer 1500 Strawberry
Pack size: 1.5kg and 5kg
Batch code: 31547, 31548, 58199, 81780, 81781, 81782
Best before: All
Atlas Superweight Gainer 1500 Vanilla
Pack size: 1.5kg
Batch code: 31547, 31548, 58199, 81780, 81781, 81782
Best before: All
Nutrisport Protein & Carbs All in One Banana
Pack size: 1.4kg
Batch code: 32306, 58297, 58298, 58299, 58355, 58356, 58357, 58358, 58368, 65307
Best Before: All
Nutrisport Weight Gain & Free Shaker Chocolate
Pack size: 1.4kg
Batch Code: 32306, 58297, 58298, 58299, 58355, 58356, 58357, 58358, 58368, 65307
Best before: All
Nutrisport Weight Gain & Free Shaker Strawberry
Pack size: 1.4kg
Batch code: 32306, 58297, 58298, 58299, 58355, 58356, 58357, 58358, 58368, 65307
Best before: All
Nutrisport Weight Gain & Free Shaker Vanilla
Pack size: 1.4kg
Batch code: 32306, 58297, 58298, 58299, 58355, 58356, 58357, 58358, 58368, 65307
Best before: All
Nutrisport Weight Gain & Free Shaker Banana
Pack size: 1.4kg
Batch code: 32306, 58297, 58298, 58299, 58355, 58356, 58357, 58358, 58368, 65307
Best before: All
Atlas Superweight Gainer 1500 Chocolate
Pack size: 1.5kg and 5kg
Batch Code: 31547, 31548, 58199, 81780, 81781, 81782
Best before: All
Atlas Superweight Gainer 1500 Banana
Pack size: 1.5kg
Batch Code: 31547, 31548, 58199, 81780, 81781, 81782
Best Before: All
Atlas All-Whey Protein (Vanilla)
Pack size: 1kg
Batch code: 44159
Best before: All
Nutrisport Whey Protein Isolate Strawberry
Pack size: 1kg
Batch code: 32306, 58297, 58298, 58299, 58355, 58356, 58357, 58358, 58368, 65307
Best before: All
Nutrisport Protein & Carbs All in One Chocolate
Pack size: 1.4kg
Batch code: 32306, 58297, 58298, 58299, 58355, 58356, 58357, 58358, 58368, 65307
Best before: All
Nutrisport Protein & Carbs All in One Strawberry
Pack size: 1.4kg
Batch code: 32306, 58297, 58298, 58299, 58355, 58356, 58357, 58358, 58368, 65307
Best before: All
Nutrisport Protein & Carbs All in One Vanilla
Pack size: 1.4kg
Batch code: 32306, 58297, 58298, 58299, 58355, 58356, 58357, 58358, 58368, 65307
Best before: All