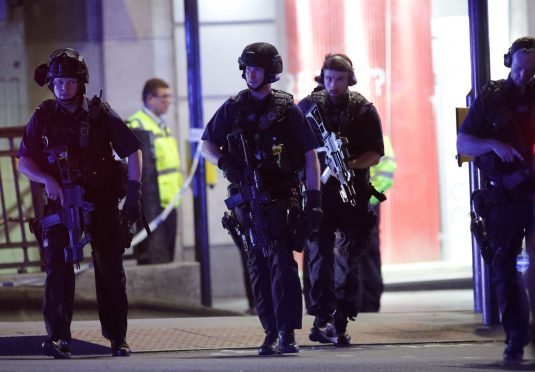 Police have confirmed that incidents at London Bridge and Borough Market are "terrorist incidents", following reports of a vehicle ploughing into pedestrians on a bridge and stabbings.
The Metropolitan Police tweeted: "At 0025hrs 4/6/17 the incidents at #LondonBridge & #BoroughMarket were declared as terrorist incidents."
A stabbing at Vauxhall was unrelated, the force added.
Prime Minister Theresa May said she was being updated by officials on the "fast-moving" situation, adding: "I can confirm that the terrible incident in London is being treated as a potential act of terrorism."
She will chair a meeting of the Government's Cobra emergency committee on Sunday, No 10 said.
Scotland Yard said officers were responding to three incidents in the capital.
Police were called at around 10.08pm to reports of a vehicle hitting pedestrians on London Bridge.
Officers then attended a second incident at nearby Borough Market after reports of stabbings. Armed officers responded and shots were fired.
A third incident, which is unrelated, was taking place at Vauxhall, Scotland Yard said.
The Prime Minister added: "This is a fast moving investigation. I want to express my huge gratitude to the police and emergency services who are on the scene.
"Our thoughts are with those who are caught up in these dreadful events."
Labour leader Jeremy Corbyn tweeted: "Brutal and shocking incidents reported in London. My thoughts are with the victims and their families. Thank you to the emergency services."
British Transport Police said there were reports of "multiple" casualties following the major incident on London Bridge.
Witnesses described seeing a speeding vehicle veer into crowds on the bridge, while video showed dozens of people with their hands on their heads escorted away from the scene by officers.
And in the popular food market in south London, witnesses said they saw a man with a large blade.
Nick Brandon of the BTP's force control room said he had received reports of an incident possibly involving a knife and a vehicle.
The seriousness of the injuries were not not yet known, he said.
He said trains were not stopping at London Bridge and Borough Market. Vauxhall station, which was temporarily closed, has now reopened.
White House press secretary Sean Spicer said US president Donald Trump had been briefed on the incident by his national security team.
Facebook has activated its safety check for people in London to let loved ones know they are OK.
The Metropolitan Police advised people caught up in the incidents to "RUN – to a place of safety. This is a better option than to surrender or negotiate. If there's nowhere to go then…
"HIDE – turn your phone to silent and turn off vibrate. Barricade yourself in if you can.
"TELL – the police by calling 999 when it is safe to do so."
London Bridge is closed both ways Tfl said, warning the public to avoid the area.
London Ambulance said multiple resources were attending.
Police boats were searching the river – apparently looking for people who may have been thrown off the bridge.
London Ambulance Service assistant director of operations Peter Rhodes said: "We have sent a number of ambulance crews, advanced paramedics and specialist response teams to the scene, with the first of our medics arriving in six minutes.
"An advanced trauma team from London's Air Ambulance has also been dispatched by car."
People staying in the Premier Inn Bankside have been evacuated across Southwark Bridge.
Dozens, including children, were brought across the bridge by police after the fire alarm in the hotel went off, according to one.
Emergency services were seen treating people lying injured at the junction of Thrale Street and Southwark Street, near Borough Market.
One woman was taken away on a stretcher while others sat injured on the ground, with shocked people crying and shouting around them.
Frightened people were led up Southwark Street away from Southwark Bridge Road, and police officers were seen screaming to people and ordering them to run.
Many were in tears, with friends supporting each other and carrying people up the road.
Cordons were put up across Southwark Street before repeatedly being pushed back as police widened the critical zone around Borough Market.
National Rail said lines at London Bridge would be reopened shortly.
Samuel Templeton, from Belfast, one of the guests in the hotel, said there was a heavy police presence and they were told to cross the bridge in single file.
The guests have since been escorted to a nearby hotel.
London Fire Brigade said it was assisting emergency service colleagues at London Bridge and Borough Market.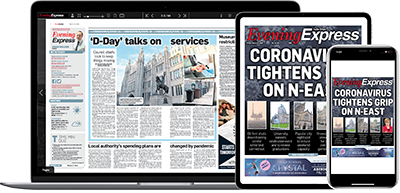 Help support quality local journalism … become a digital subscriber to the Evening Express
For as little as £5.99 a month you can access all of our content, including Premium articles.
Subscribe