Live: Theresa May gives statement to House of Commons
Prime Minister Theresa May is to give an statement to the House of Commons on the European Union at 3.30pm today, the Speaker's office has confirmed.
Reports have suggested that Theresa May has decided to call off the "meaningful vote" on her Brexit deal scheduled for Tuesday.
Only minutes after a Downing Street spokeswoman insisted that the vote would go ahead, the Bloomberg news agency reported that "a person familiar with the matter" had revealed it was off, while the BBC reported that two Cabinet sources had confirmed it has been pulled.
A senior Downing Street source poured cold water on the reports, telling the Press Association: "I would ignore that. They've no business reporting that."
The developments occurred as Mrs May took part in a conference call with her Cabinet ministers.
Labour leader Jeremy Corbyn said: "The Government has decided Theresa May's Brexit deal is so disastrous that it has taken the desperate step of delaying its own vote at the 11th hour.
"We have known for at least two weeks that Theresa May's worst-of-all-worlds deal was going to be rejected by Parliament because it is damaging for Britain. Instead, she ploughed ahead when she should have gone back to Brussels to renegotiate or called an election so the public could elect a new government that could do so.
"We don't have a functioning government. While Theresa May continues to botch Brexit, our public services are at breaking point and our communities suffer from dire under-investment.
"Labour's alternative plan for a jobs-first deal must take centre stage in any future talks with Brussels."
Just off call with PM. Expressed my deep frustration that the interests of a divided Tory party are taking priority over the interests of country and that delaying the vote is an abdication of responsibility, leading to even greater chaos.

— Nicola Sturgeon (@NicolaSturgeon) December 10, 2018
Green MP Caroline Lucas tweeted: "You can't run from democracy, Theresa May.
"PM's Brexit deal is destined to fail and she's grasping at straws to stay in power – but it's clearer than ever she's lost control. We no longer have a functioning Government. Parliament must deliver a Peoples' Vote now."
Liberal Democrat leader Sir Vince Cable said: "Theresa May appears to have marched her depleted troops to the top of the hill only to lose her nerve. She is hopelessly weakened.
"There is little point postponing the vote when nothing concerning the deal will change. The Conservatives are wilfully prolonging Brexit uncertainty because they can't get their deal through Parliament.
"This deadlock must be broken by giving the people the final say, including the opportunity to remain in the EU."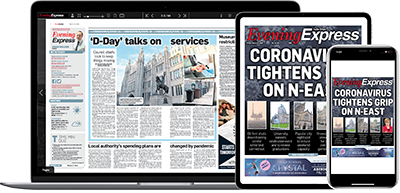 Help support quality local journalism … become a digital subscriber to the Evening Express
For as little as £5.99 a month you can access all of our content, including Premium articles.
Subscribe