Jeremy Corbyn has left the door open to a potential deal with other parties in order to secure the premiership after the General Election.
The Labour leader has ruled out forming a coalition with the SNP but after YouGov modelling suggested the June 8 poll could result in no party gaining an overall majority, Mr Corbyn sidestepped questions about looser arrangements which could see him take the keys to Number 10.
Mr Corbyn insisted he was "doing no deals, no coalitions" and was "fighting to win this election".
But pressed on whether he would strike a deal once the results came in, he told ITV News: "You'd better ask me on June 9."
Mr Corbyn was earlier challenged about whether he would be open to a "confidence and supply" arrangement with the SNP, which would see Nicola Sturgeon's party offer limited support to a Labour government.
Such a deal could see the SNP backing a minority Labour government in House of Commons votes on motions of confidence and the budget.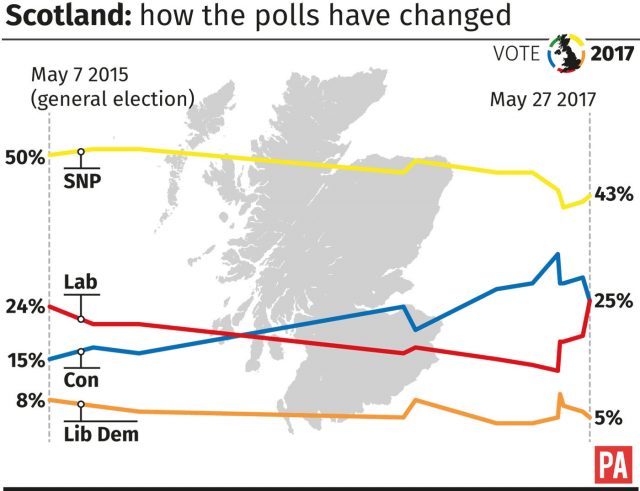 At a press conference in Westminster, Mr Corbyn suggested that he planned to be celebrating a victory rather than engaging in negotiations with other parties after the election.
He said that away from the Westminster village there was a "very different story", highlighting "the enthusiasm, the step-change, and the whole ambition of people to win this election for Labour, to elect a Labour government with a majority to carry out what will be an agenda that will radically improve the lives of so many people".
He added: "I invite you to join us when we celebrate victory."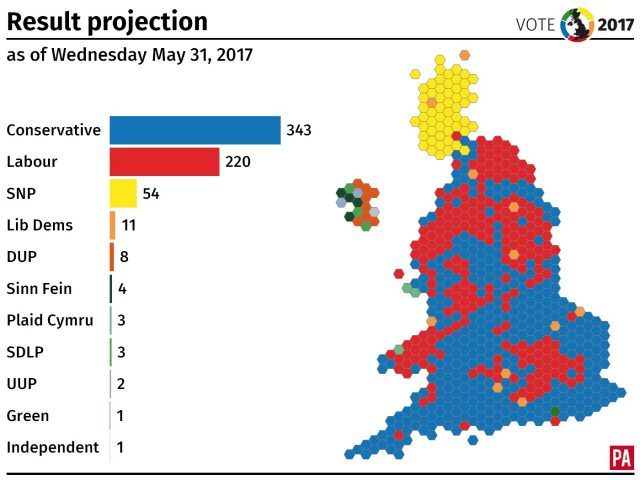 The Tories have made the prospect of a "coalition of chaos" a key part of their electoral attack on Mr Corbyn and again seized on the suggestion that Labour could engage in talks with other parties.
Conservative Party chairman Sir Patrick McLoughlin said: "Jeremy Corbyn has made clear that he will do a deal in order to get the keys to Downing Street.
"Corbyn propped up by the Lib Dems and the SNP in a coalition of chaos would be a disaster for Britain and would mean a bad Brexit deal, higher taxes, more borrowing and weaker defences.
"If you don't think Jeremy Corbyn is fit to be Prime Minister, if you don't think he's up to negotiating Brexit, if you oppose a second referendum – vote for Theresa May and her Conservative team."
2/ The accompanying voting intention figures from the model are
CON 41%
LAB 38%
LD 9%
UKIP 4%
OTH 8%https://t.co/UkjRSGCg5g pic.twitter.com/XMXvMPjuDi

— YouGov (@YouGov) May 31, 2017
The results of YouGov's model, published in The Times, suggested that the Tories could secure 310 seats, down from the 330 Mrs May went into the election campaign with, and 16 short of an overall majority.
According to the model Labour would get 257 seats, up from 229, the Liberal Democrats 10, up from the nine Tim Farron's party held when the election was called, the SNP 50, the Greens one and Plaid Cymru three.
But a poll by Kantar put the Conservative party on 43% (+1) ahead of Labour on 33% (-1), the Lib Dems on 11% (+2) and Ukip unchanged on 4%.
The Press Association's poll of polls, a seven-day rolling average of all published polls, puts the Conservatives on 44% and Labour on 35%.
Kantar interviewed 1,199 adults in Great Britain between May 25 and 30.
(function(i,s,o,g,r,a,m){i['GoogleAnalyticsObject']=r;i[r]=i[r]||function(){
(i[r].q=i[r].q||[]).push(arguments)},i[r].l=1*new Date();a=s.createElement(o),
m=s.getElementsByTagName(o)[0];a.async=1;a.src=g;m.parentNode.insertBefore(a,m)
})(window,document,'script','//www.google-analytics.com/analytics.js','ga');
ga('create', 'UA-72310761-1', 'auto', {'name': 'pacontentapi'});
ga('pacontentapi.set', 'referrer', location.origin);
ga('pacontentapi.set', 'dimension1', 'By PA Reporters');
ga('pacontentapi.set', 'dimension2', 'c05c239b-2eae-4409-90fa-5148b0d92849');
ga('pacontentapi.set', 'dimension3', 'paservice:news,paservice:news:uk');
ga('pacontentapi.set', 'dimension6', 'story-enriched');
ga('pacontentapi.set', 'dimension7', 'composite');
ga('pacontentapi.set', 'dimension8', 'paasset:graphic,paasset:video');
ga('pacontentapi.set', 'dimension9', null);
ga('pacontentapi.send', 'pageview', { 'location': location.href, 'page': (location.pathname + location.search + location.hash), 'title': 'Jeremy Corbyn leaves door open for potential deal with SNP'});