ITV's The Nightly Show has been savaged by viewers, who called it "drivel" and "cringeworthy" and suggested it was a case of "dumbing down".
The topical entertainment programme – which will run for eight weeks, hosted by a series of celebrities – was launched at 10pm on Monday, pushing the channel's flagship news show back half an hour.
Sky News aired its revamped News At 10 in the same slot, setting up a three-way ratings battle with the BBC.
But ITV's new series may have its work cut out after the first instalment, hosted by David Walliams, was slated online.
Sketches about the Oscars mix-up and US President Donald Trump failed to win over the audience, who dismissed the series as "absolutely awful" and suggested ITV had "plumbed new depths with this trash".
One person wrote on Twitter: "I would call the #NightlyShow a turkey, but that would be an insult to our feathered friends."
@ITV David Walliams #NightlyShow is truly awful, gut wrenching rubbish. Martin Clunes is virtually incoherent, pathetic drivel turned it off

— ????????? (@Pumpwater1) February 27, 2017
#thenightlyshow was absolutely awful!!! Didn't crack a smile once.

— Stampolina (@sandii_lou) February 27, 2017
#itv Well done. Brilliant. The dumbing down of the channel is complete #thenightlyshow . Your one decent programme relegated to 10.30

— Steve Crawshaw (@eversoverbose) February 27, 2017
At least we all watched it. The subsequent drop in ratings tomorrow will be visible from space. #TheNightlyShow

— Zorro P Freely????❄️ Ambridge Analytica (@banalyst) February 27, 2017
Many called for the channel to reinstate its news programme at 10pm, and others said they were switching over to the BBC.
wtf? #TheNightlyShow is a bag of shit. career threatening programme mr walliams. bbc news it is then.

— Steve Neale (@webbysteve) February 27, 2017
Another wrote: "Don't like the idea of the #thenightlyshow I want my news at 10, looks like I'm turning over to watch the news on the BBC."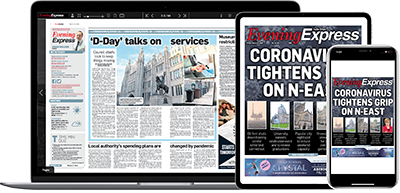 Help support quality local journalism … become a digital subscriber to the Evening Express
For as little as £5.99 a month you can access all of our content, including Premium articles.
Subscribe