Dramatic footage shows the moment a lorry driver using his mobile phone on a motorway crashes into the back of a car.
Razvan Rusu, 30, injured two drivers and caused a pile-up when he crashed into slow-moving traffic on the M1, in Edgware, north London, Scotland Yard said.
Rusu was jailed for eight months at Harrow Crown Court after pleading guilty to dangerous driving.
The footage, caught on two dashboard cameras, shows the HGV driver staring at his phone as he hurtles towards traffic at around 8.20am on March 17 last year.
The driver in front averted injury by swerving out of the way upon noticing Rusu's fast approach, the Metropolitan Police said.
But two drivers were taken to hospital to be treated for their injuries after Rusu drove for more than a mile while using his phone, the Met said.
Rusu, a Romanian national living in the UK, returned to his home country but was arrested on his arrival back in the UK, the force added.
Detective Sergeant Stephen Pidgeon, of the Serious Collision Investigation Unit, said: "Rarely is it possible to see such a clear example of the risks some drivers are willing to take with mobile phones and the danger that using them whilst driving can cause.
"It is only down to the quick thinking of one of the drivers who moved just before impact that there weren't multiple serious injuries or even worse.
"That the driver was willing to take these risks whilst being aware that he was being filmed is even more incredible."
Rusu, who admitted the charge on October 10, was also banned from driving for three years and ordered to take an extended retest.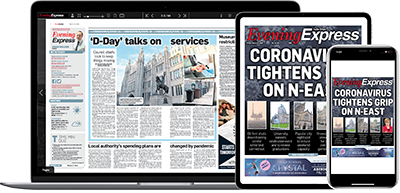 Help support quality local journalism … become a digital subscriber to the Evening Express
For as little as £5.99 a month you can access all of our content, including Premium articles.
Subscribe