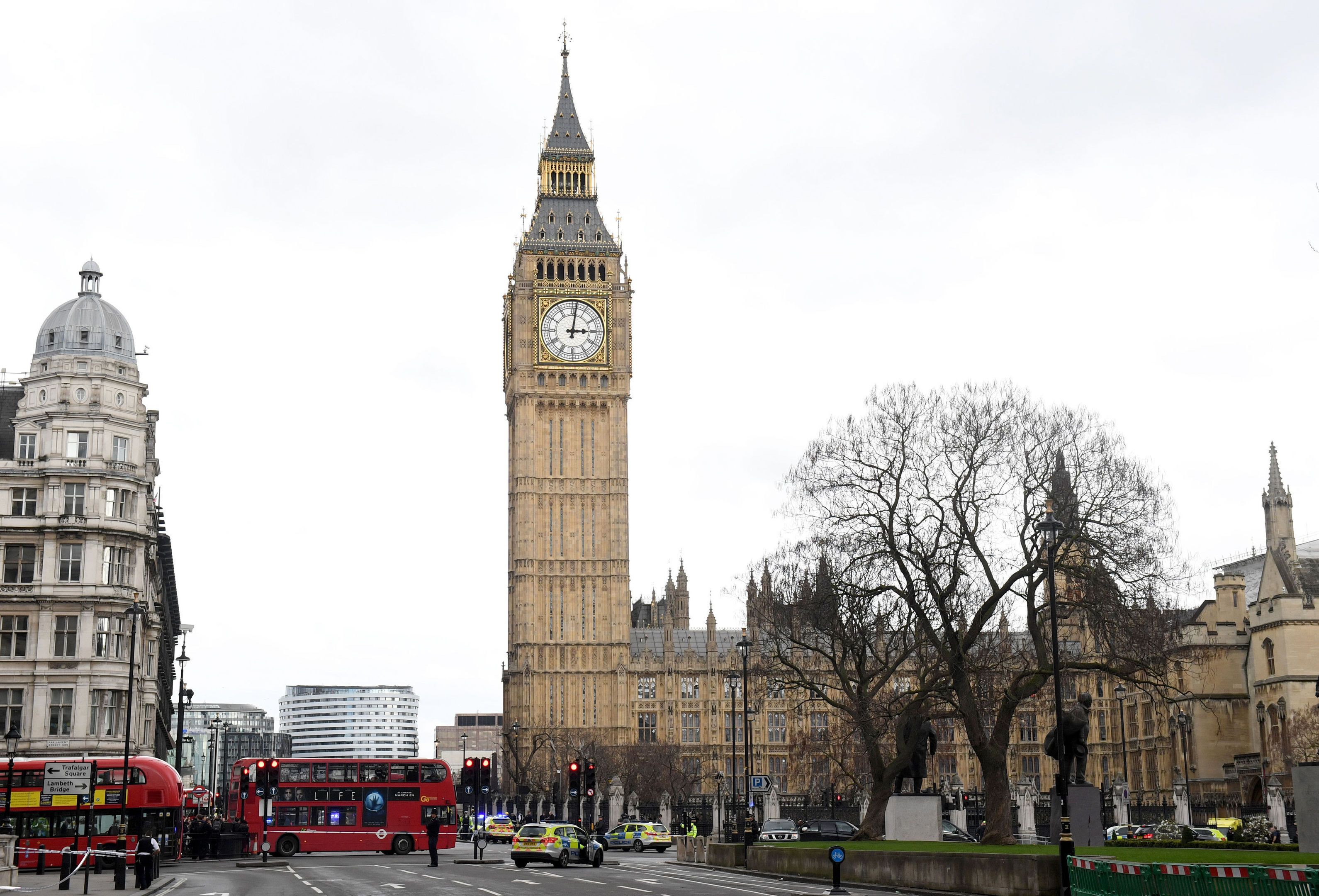 A policeman has been stabbed and his apparent attacker shot by officers in a major security incident at the Houses of Parliament.
This article is updating frequently – please refresh for the latest version
Around three shots rang out outside the Palace of Westminster after a man ran through the gates into the front yard of the parliamentary compound apparently waving a knife.
Two people were seen being treated on the ground in New Palace Yard amid shouts and screams.
https://www.eveningexpress.co.uk/fp/news/uk/live-terror-alert-at-westminster-heres-what-we-know-so-far/
An air ambulance landed in Parliament Square and a regular ambulance came in through the front gates as medics rushed to help the injured people.
Armed police cleared the area around the incident and Parliament Square was closed to traffic.
A Downing Street source confirmed that Prime Minister Theresa May was "OK".
Mrs May was seen being ushered into a silver Jaguar car as what sounded like gunfire rang out at Parliament during the incident at around 2.45pm.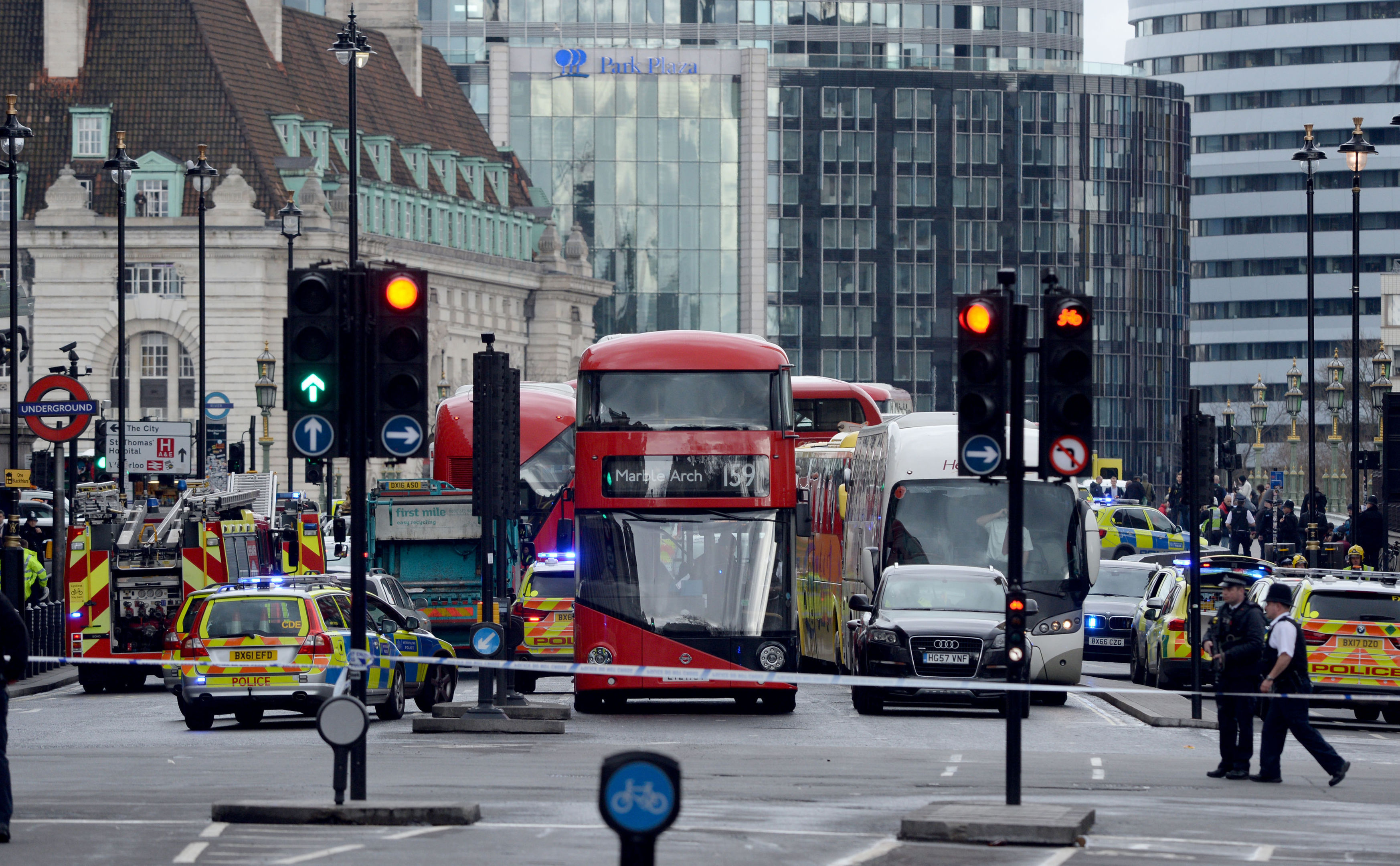 As the sitting in the House of Commons was suspended, Commons Leader David Lidington told MPs: "What I am able to say to the House is there has been a serious incident within the estate.
"It seems that a police officer has been stabbed, that the alleged assailant was shot by armed police.
"An air ambulance is currently attending the scene to remove the casualties.
"There are also reports of further violent incidents in the vicinity of the Palace of Westminster but I hope colleagues on all sides will appreciate that it'd be wrong of me to go into further details until we have confirmation from the police and from the House security authorities about what is going on."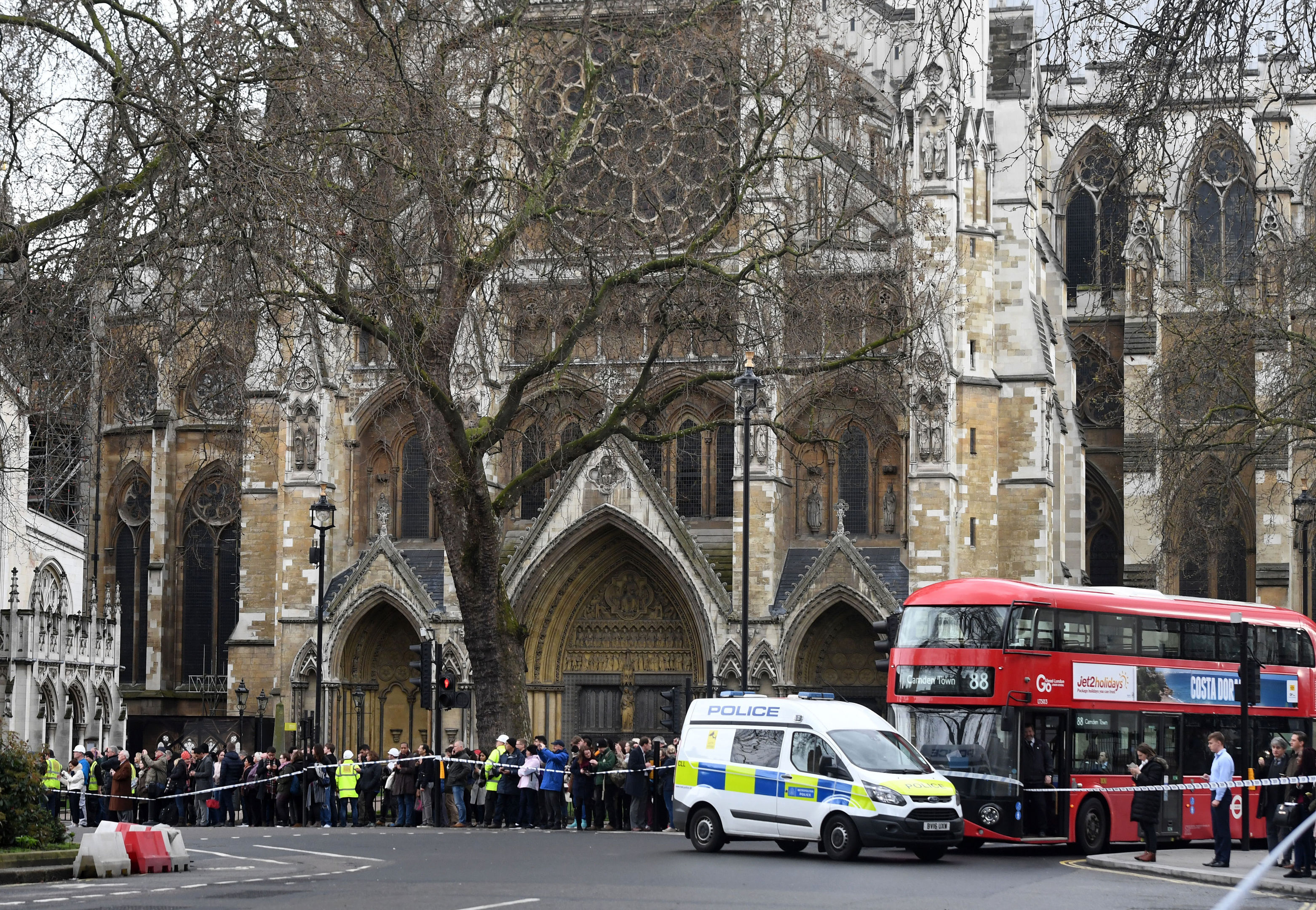 Witnesses described seeing a middle-aged man carrying a knife and running.
Jayne Wilkinson said: "We were taking photos of Big Ben and we saw all the people running towards us, and then there was an Asian guy in about his 40s carrying a knife about seven or eight inches long.
"And then there were three shots fired, and then we crossed the road and looked over. The man was on the floor with blood.
"He had a lightweight jacket on, dark trousers and a shirt.
"He was running through those gates, towards Parliament, and the police were chasing him."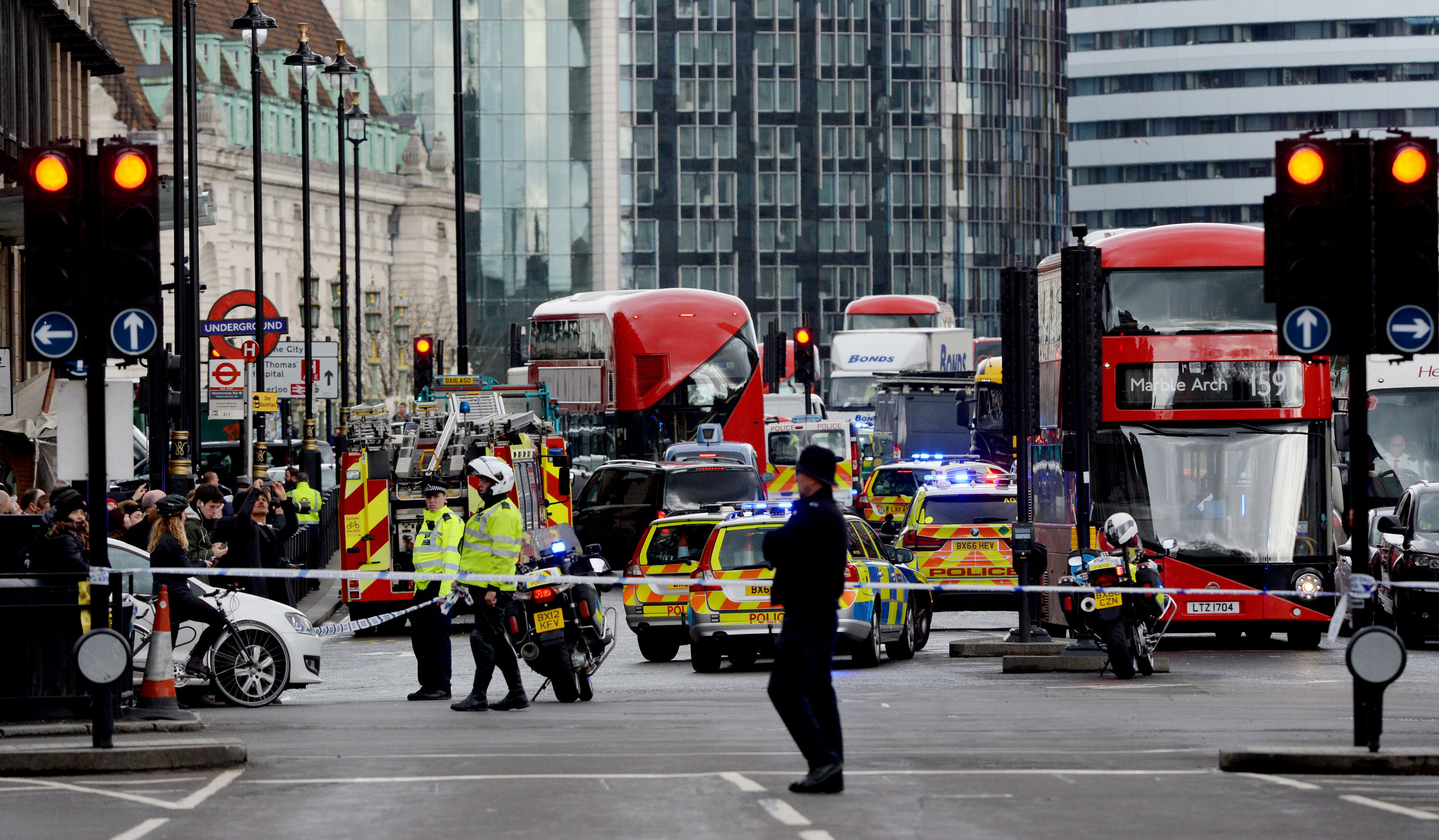 Her partner David Turner added: "There was a stampede of people running out.
"You saw the people and you thought 'what the hell is going on'."
After the incident, Radoslaw Sikorski posted a video to Twitter purporting to show people lying injured in the road on Westminster Bridge.
Mr Sikorski, a senior fellow at Harvard's Centre for European Studies, wrote: "A car on Westminster Bridge has just mowed down at least 5 people."
Press Association Political Editor Andrew Woodcock witnessed the scenes unfolding from his office window overlooking New Palace Yard.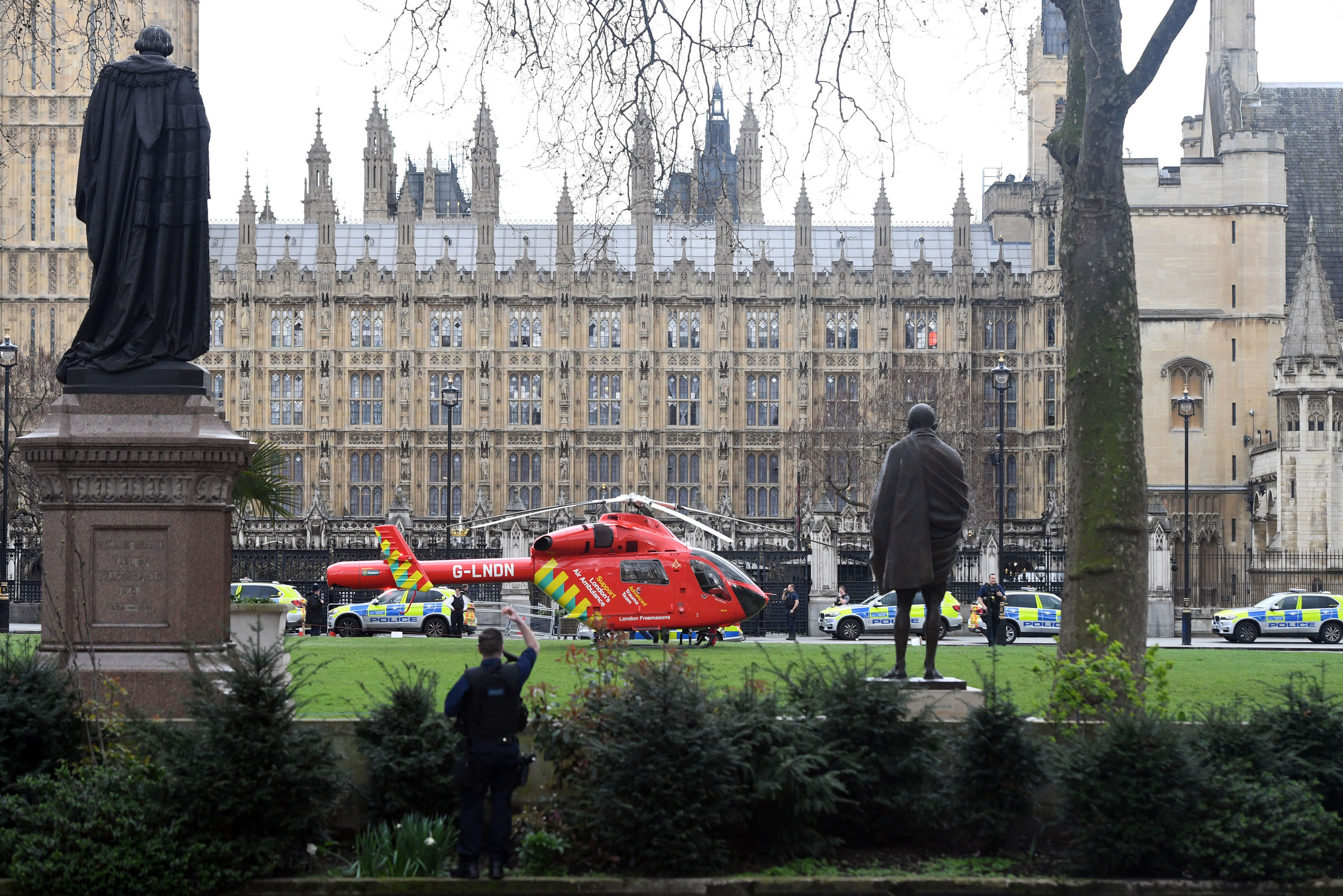 "I heard shouts and screams from outside and looked out, and there was a group of maybe 40 or 50 people running round the corner from Bridge Street into Parliament Square," said Mr Woodcock.
"They appeared to be running away from something. As the group arrived at the Carriage Gates, where policemen are posted at the security entrance, a man suddenly ran out of the crowd and into the yard. He seemed to be holding up a long kitchen knife.
"I heard what sounded like shots – I think about three of them – and then the next thing I knew there were two people lying on the ground and others running to help them. Armed police were quickly on the scene and I heard them shouting to people to get out of the Yard."
A witness, who did not want to be named, saw Mrs May and her undercover police detail near the area of Parliament where ministerial cars are parked.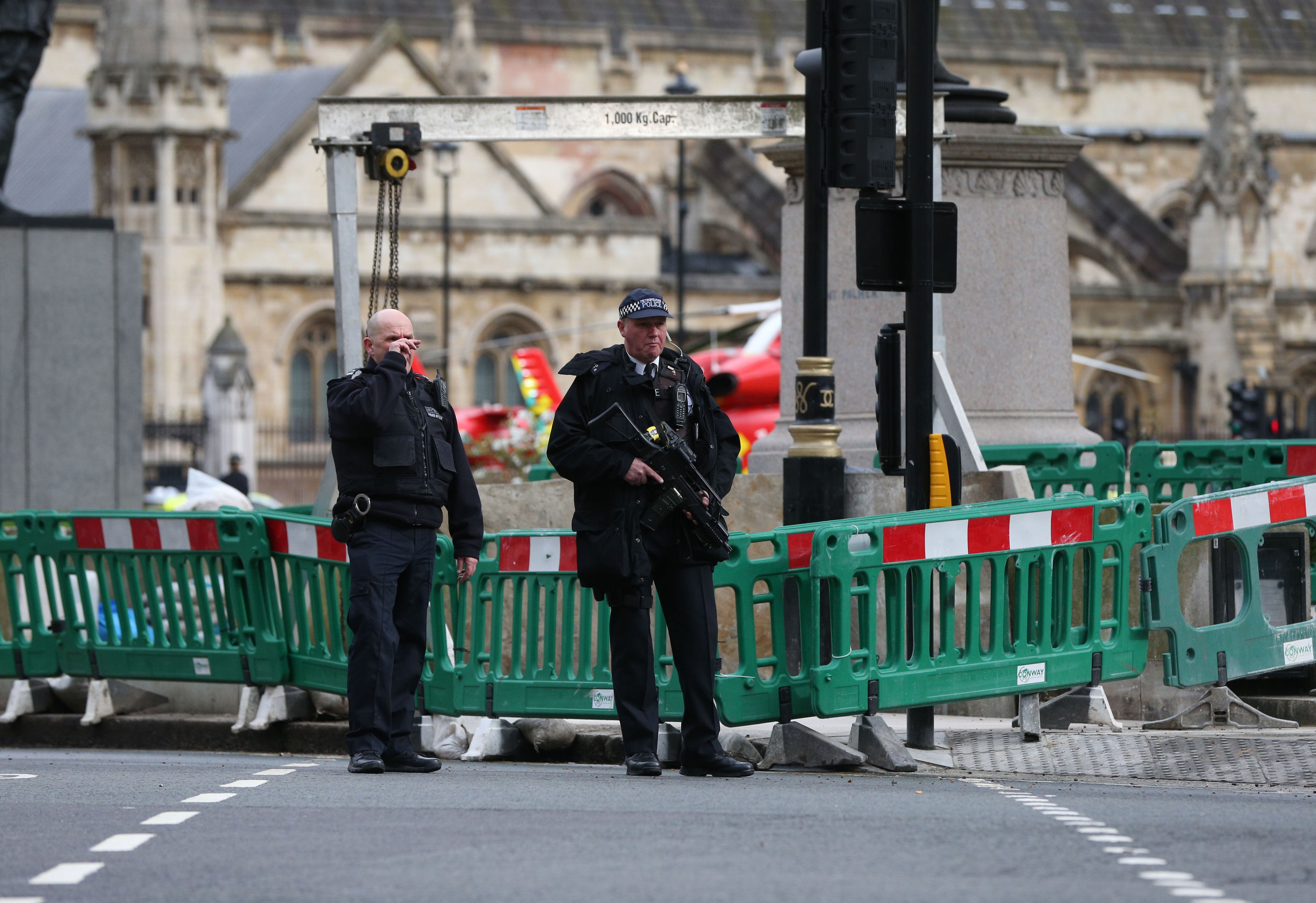 He said there were undercover officers in a 4×4 vehicle in the car park.
"We just heard gunshots inside Parliament," he said.
"It looked like they are taking her away."
The Prime Minister was seen getting into the back of a silver Jaguar before driving off – first apparently heading to Black Rod's entrance but then turning towards Carriage Gates, near to where the incident took place.
The Metropolitan Police tweeted: "We were called at approx 2:40pm to reports of an incident at #Westminster Bridge. Being treated as a firearms incident – police on scene."
Dennis Burns, who was just entering Parliament for a meeting when the security alert happened, told the Press Association: "As I was coming through the doors at Portcullis House, a policeman grabbed someone who was coming in and threw him out.
"As we were coming though the glass doors I was told by one security guard to get out while another one told me to get in.
"As I walked in I heard a security guard get a radio message saying 'a policeman has been stabbed'.
"Then I walked in as police officers and security start rushing out of the front doors on to the street.
"When I got inside I was wondering what the hell was going on and I saw dozens of panicked people running down the street. The first stream was around 30 people and the second stream was 70 people.
"It looked like they were running for their lives."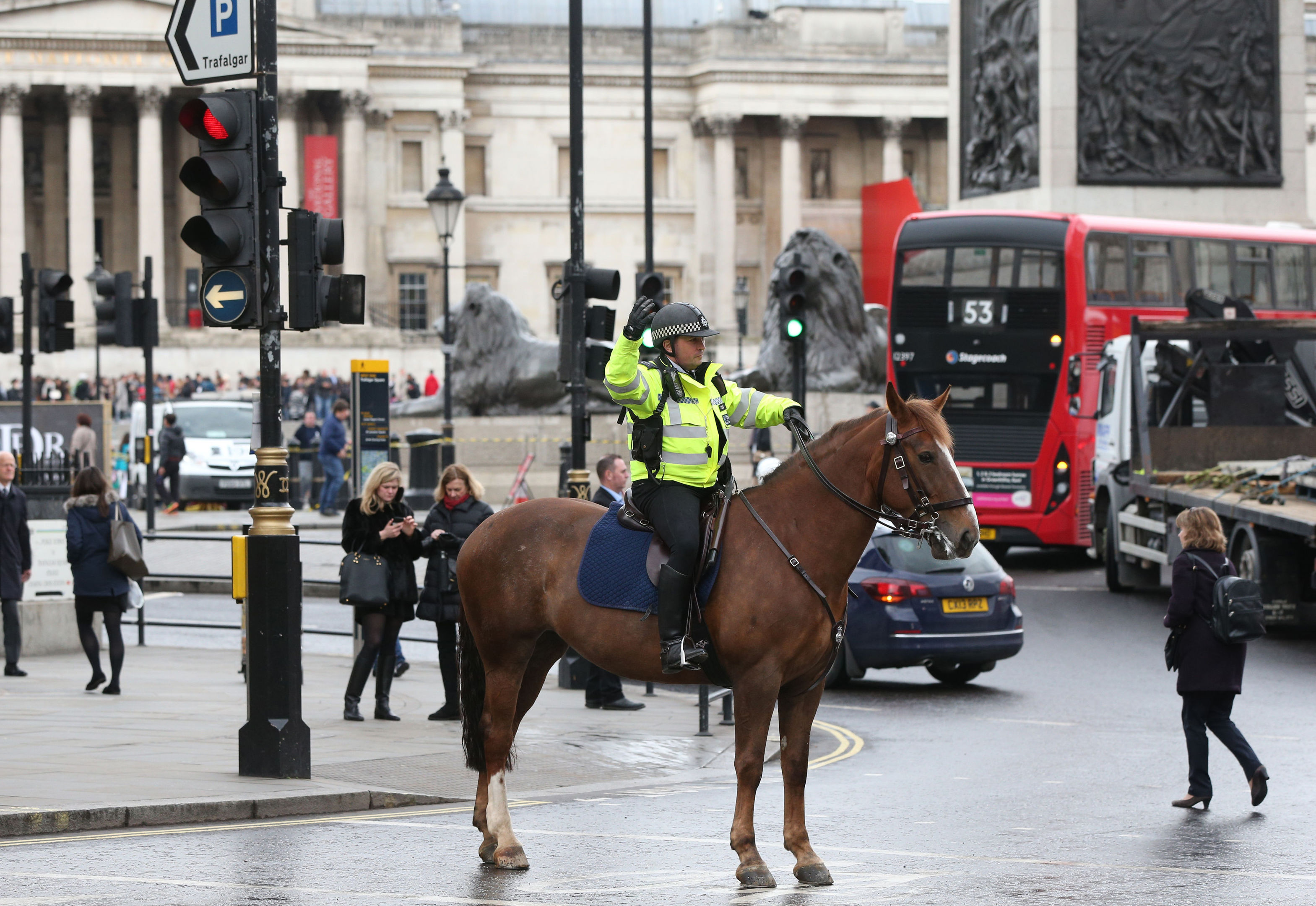 Staff inside Parliament were told to stay inside their offices.
Witness Don Brind told the Press Association he heard shots being fired and saw two people apparently injured on the ground.
Mr Brind, a researcher for MPs, said: "I heard some shouting and saw some running out of the corner of my eye and then a short time after that there was a shot. I looked and I saw a civilian on the ground, with somebody standing over him with what I assumed to be a gun.
"Then I looked and, about 10 yards away, there was a yellow jacketed person on the ground, who appeared to be alive and talking."
He said he assumed the person in the high-visibility jacket was a police officer.
Press Association reporter Laura Harding, who was in Westminster at the time of the incident, said: "Everyone has been evacuated into Central Lobby, including a group of schoolchildren and kitchen staff – around 15 schoolchildren aged around 10 – with armed police coming through the lobby now.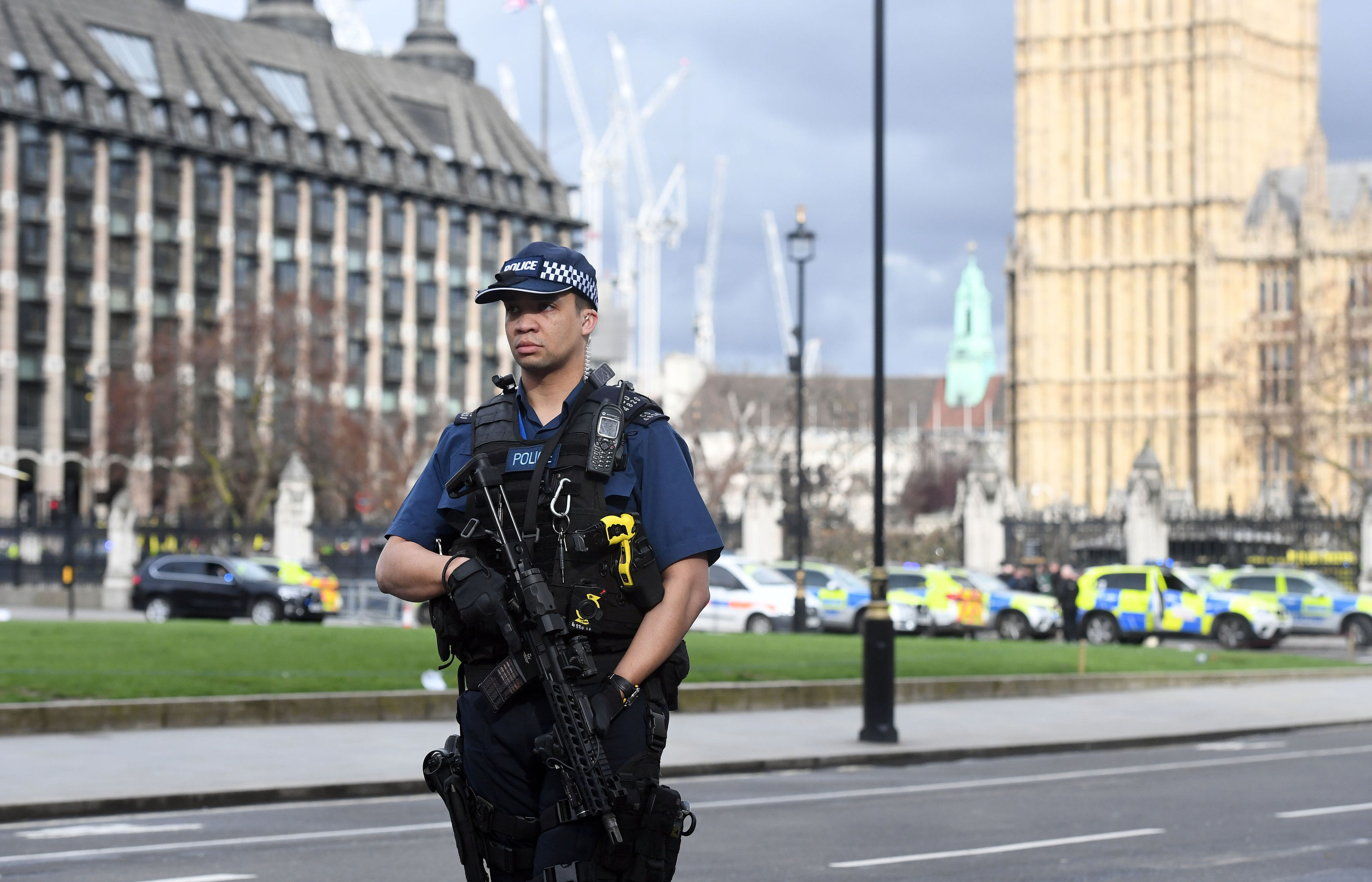 "The children are really calm, the teachers are comforting them.
"Everyone is standing around on their phones.
"There are also a bunch of young people from the Hammersmith Boxing Club in their tracksuits and the British Lionhearts boxing group."
A woman at the scene was on the opposite side of the square when she heard shots ring out at about 2.45pm.
She said: "We literally just heard shots and then saw people running, and we went to have a look."
The woman, from South Africa and living in Ireland, said she and two friends went towards the palace gates and saw a man lying on the floor inside.
She said: "I saw a body, they were working on the floor. They were just inside the gates.
"He had one gunshot wound to the right side of his chest. I don't know if he was dead or alive, but people were working on him.
"I saw that needed medical attention and I asked if I could help because I am a doctor, but they said they were fine.
"Then the police moved us back."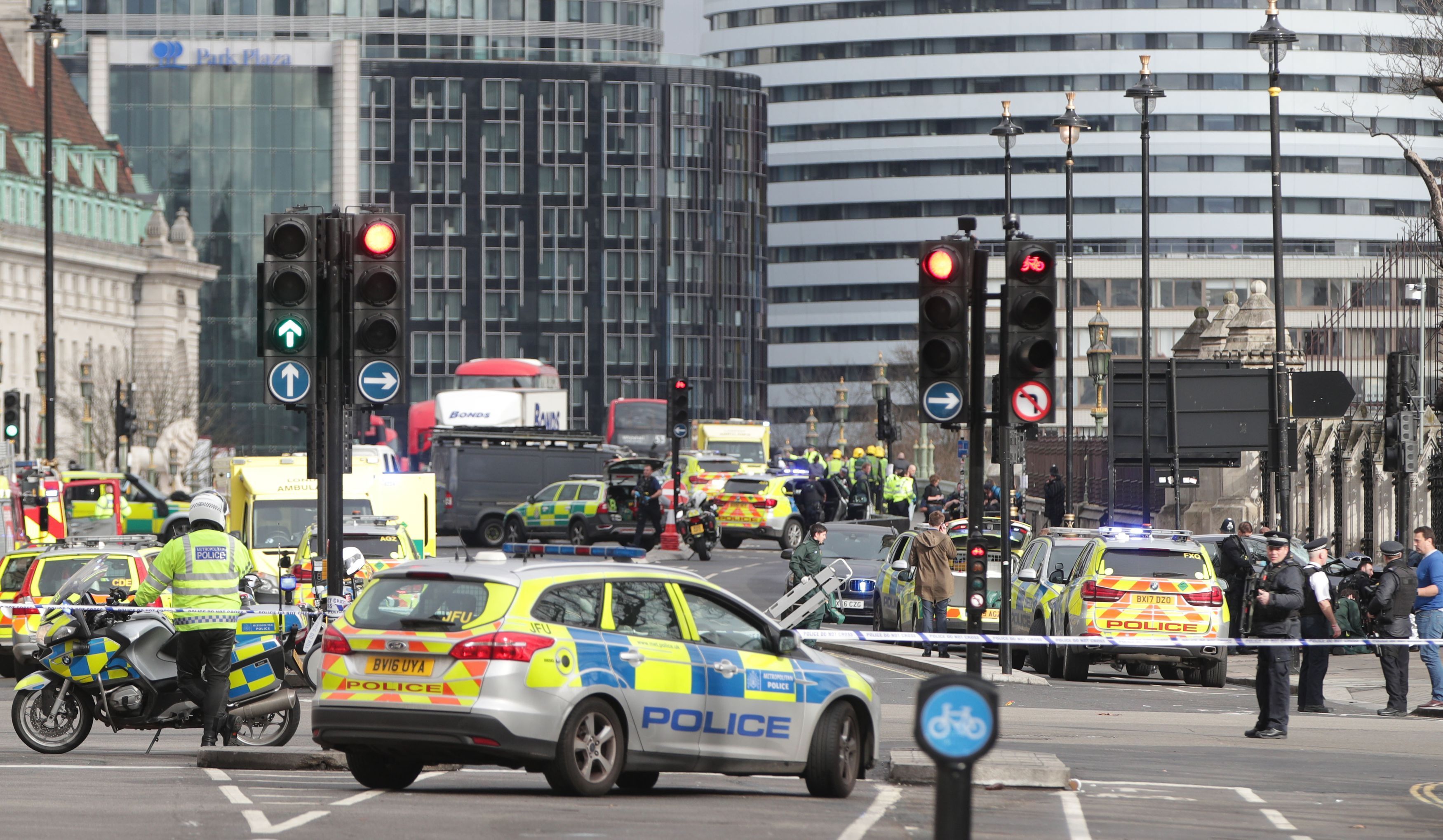 Mr Lidington said the House of Commons would "remain in lockdown" until further notice.
He said: "I shall endeavour to do the very best I can, both at the despatch box and by communicating with my opposite numbers in other political parties, to ensure that Members are kept aware of what is happening but at the moment the very clear advice from the police and the director of security in the House is that we should remain under suspension and that the chamber should remain in lockdown until we receive advice that it is safe to go back to normal procedures."
Shadow leader of the House Valerie Vaz said: "Our thoughts and prayers are with the police officer and to thank the police and all the security services and all the staff for looking after us so well."
Deputy Speaker Lindsay Hoyle suspended the sitting of the House and told MPs: "This House is now suspended but please wait here."
The main doors into the House of Commons were shut as MPs sat on the benches and checked their phones while others stood in groups and spoke to each other.
Labour's David Winnick raised a point of order to try to seek clarity.
He said: "Something serious has apparently happened. Could we know if we were to have a statement either from the leader of the House or the Home Secretary?"
Mr Hoyle replied: "It's not the time or appropriate to this moment until I have got further information.
"What I would say is the House is suspended. I want members to stay in here until we know where we are.
"It's far too serious to get into a debate. We can worry about that later."
A Transport for London spokeswoman said Westminster Tube station has been closed "on the request of the police" and buses are being diverted.
Scotland Yard said in a statement: "Police are asking people to avoid the following areas: Parliament Square; Whitehall; Westminster Bridge; Lambeth Bridge; Victoria Street up to the junction with Broadway and the Victoria Embankment up to Embankment tube.
"This is to allow the emergency services to deal with the ongoing incident.
"Officers – including firearms officers – remain on the scene and we are treating this as a terrorist incident until we know otherwise.
"We thank the public for their assistance."
MPs and staff sent messages to friends and family to let them know they were safe.
Labour MP Jon Trickett thanked the police and tweeted: "Democracy will not be intimidated by terror."
Pauline Cranmer, of London Ambulance Service, said: "We were called at 2.40pm to Westminster Bridge to reports of an incident.
"We have sent a number of resources to the scene including ambulance crews, London's Air Ambulance and our Hazardous Area Response Team.
"We will issue more information when we have it."
The service tweeted: "As we continue to respond to the incident in £Westminster please only call for an ambulance in a genuine emergency."
US President Donald Trump "has been briefed on the situation" in London and is monitoring events, his press secretary Sean Spicer tweeted.
According to US network NBC, President Donald Trump told reporters: "I was just getting an update on London. Some big news having to do with London just happened."
The Met Police is appealing for anyone with photos or footage of the incidents to pass it to them.
"If you have photos or film of the incident in #Westminster please make sure you pass them to police
http://www.ukpoliceimageappeal.co.uk
" the force tweeted.
Buckingham Palace declined to comment about its security arrangements in light of the terrorist incident and referred all inquiries to the Met Police.
But with the Royal Standard flying above the palace – indicating the Queen was in residence – it was clear some precautions had been taken as the gates, patrolled by armed police, had been closed.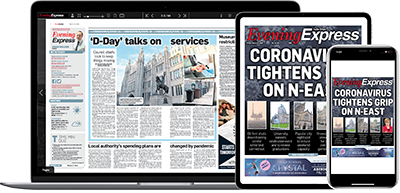 Help support quality local journalism … become a digital subscriber to the Evening Express
For as little as £5.99 a month you can access all of our content, including Premium articles.
Subscribe