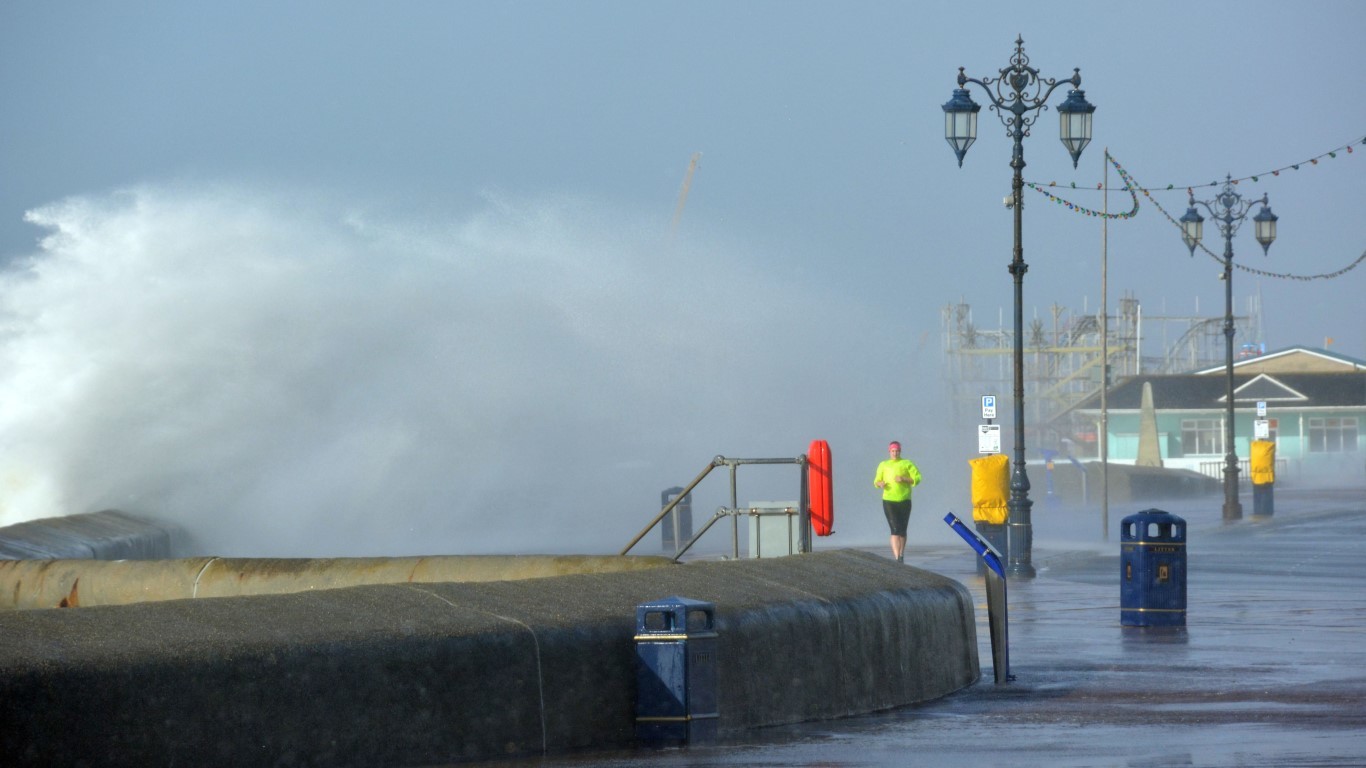 Britain was lashed by hurricane-force winds that reached nearly 100mph as Storm Imogen battered southern parts of the country and left commuters braced for havoc on the transport networks.
Almost 300 Environment Agency flood warnings are in place across the UK amid heavy downpours, with 59 warnings calling for "immediate action", particularly in the south west and Wales where parts are expected to see up to more than 1.5ins (40mm) of rain during Monday.
Here are 10 images that show just how much havoc Storm Imogen wreaked on Britain

1. The waves crashed over the seafront in Brighton, Sussex.
2. A trampoline impaled on a caravan in Chipping Campden, Gloucestershire.
3. Fallen trees scattered the road in Bromley, London.
If only all trees were as considerate as this one… #StormImogen pic.twitter.com/0rZ9SoEFn2

— FR Jones and Son (@frjonesandson) February 8, 2016
4. Croyde, North Devon, was completely and utterly covered with sea foam.
4. The Arriva Trains Wales train tracks flooded along the Cambrian line.
5.The winds sent scaffolding tumbling down in Worthing, West Sussex.
Fallen scaffolding brought down by #StormImogen in #Worthing today. @BBCSussex @AlamyNews pic.twitter.com/QECGkmK0wu

— Scott Ramsey (@SRPix) February 8, 2016
6. Aberystwyth seafront, Wales, took a lashing as the waves flooded over the promenade.
7. Fences were blown over in Frimley, Surrey, putting residents in an awkward predicament…
#StormImogen is encouraging us to get close with our neighbours #fencedown pic.twitter.com/7wiefC5k3l

— Andy North (@northie100) February 8, 2016
8. The blustery winds piled sand onto the pathways in Exmouth, Devon.
9. A trampoline found itself on the rood of a conservatory in Gosport, South Hampshire.
It's not every day you get to take a trampoline down off a conservatory roof!! #imogen #notjustfires pic.twitter.com/5WmZxoLuJr

— Gosport Fire Station (@Gosport18) February 8, 2016
10. Recovery vehicles work to right an overturned lorry on the M4 between Bridgend and Port Talbot.
//