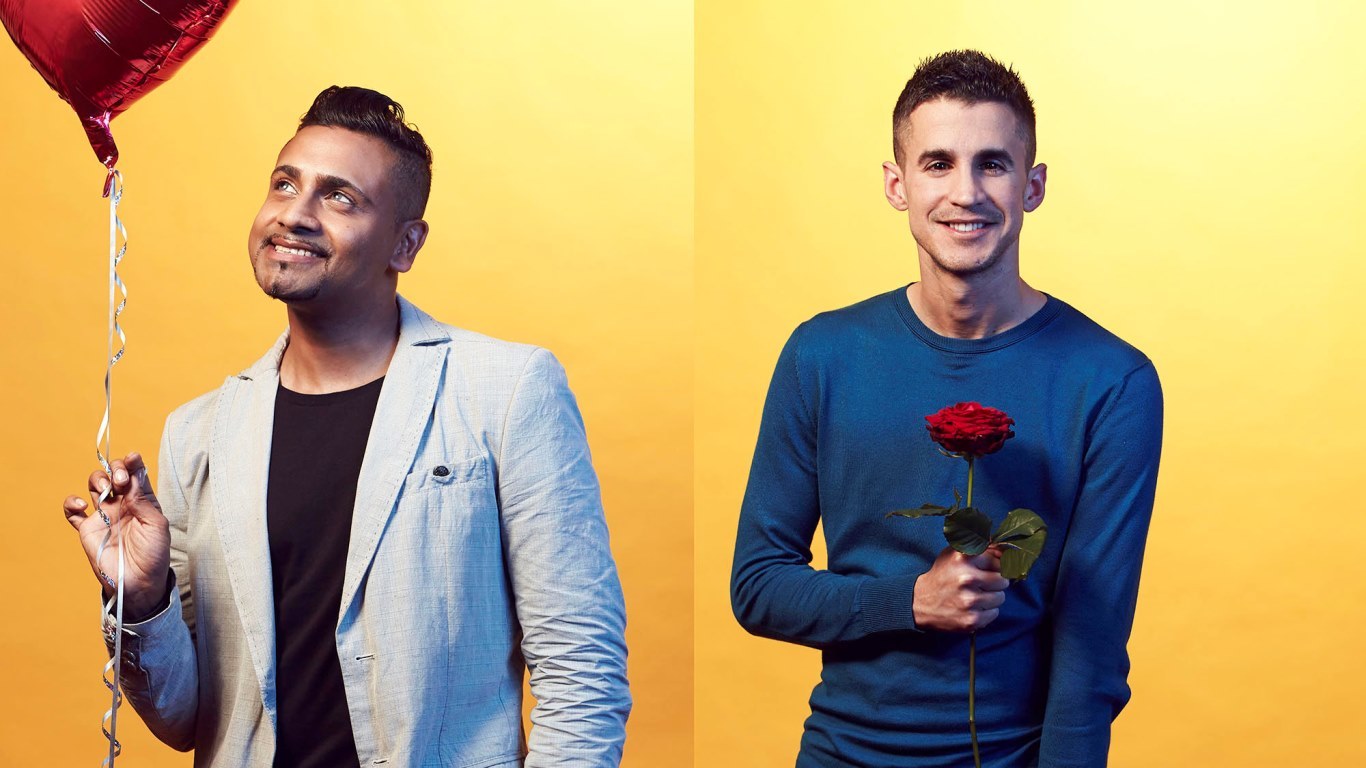 It feels as though it was only yesterday that the doors of the First Dates restaurant closed for Christmas, yet our favourite dating hotspot is back in business, welcoming hopeful romantics with the chance to meet that special someone.
And if there was one couple who stole the hearts of viewers on Tuesday evening, it was the absolutely fabulous Jay who was hoping sparks would fly between him and his date Robbie.
Before he had the chance to lay eyes on his date, choirmaster Jay admitted he'd struggled with love due to his Muslim faith, and hadn't had a date in five years.
"One thing I do know for sure, is that I'm of a homosexual persuasion," Jay admitted.
"I knew as soon as I fell out of my mother's womb and into my mother's heels."
The gay couple on #FirstDates are both good looking chaps! I hope they hit it off! ????

— Julie Barrance (@Crown_Jewelz_) March 15, 2016
Have a feeling I'm not going to stop smiling during Jay and Robbie's date #FirstDates

— Nick (@NiickBoii) March 15, 2016
The gay guys on #FirstDates are all kinds of cuteeee

— keff (@keff_afzal) March 15, 2016
Moments after Robbie, who was searching for his partner in crime, had taken his seat opposite Jay at the bar, both men began grinning uncontrollably – and we all had pretty high hopes for the couple.
Jay and Robbie were soon pretty well acquainted – swapping compliments and comparing workout regimes – before talk soon took an intense turn.
"I came out to my parents when I was 17 and it took them about 10 years to accept it," Jay admitted.
The 36-year-old then took a deep breath before revealing he had endured a brutal homophobic attack by seven males and ended up in hospital fighting for his life – and it wasn't just Robbie's heart that seemed like it had broken in two.
https://twitter.com/1979_Rom_/status/709853329921318912
Jay being attacked to an extent that he had to have a colostomy bag fitted in breaks my heart? #FirstDates

— Aleesha? (@LeeshVerma) March 15, 2016
Jay is breaking my heart, how can people be so damn cruel! #FirstDates

— Jackie Farr (@Jackie_Farr) March 15, 2016
https://twitter.com/AlyaMarquardt/status/709855710054629377
"There are good people out there like Robbie," Jay admitted once the meal was over.
Turning to his date, he said: "I'm going to put it out there – I think there's something special between us. The date was nice – and you're cute."
And so the couple came to the unanimous decision they would indeed love to meet up for a second date and skipped off into the night, much to viewers' delight.
//