It almost feels like 1996 again when the familiar strains of Underworld's Born Slippy ring out in the long-awaited trailer for T2 Trainspotting.
The hugely anticipated two-minute trailer opens with Jonny Lee Miller's Sick Boy greeting Ewan McGregor's character Renton, saying: "Hello Mark, so what have you been up to for 20 years?"
It has indeed been 20 years since we spent time running round Edinburgh with Ewan and his circle of friends in Danny Boyle's film, but it almost feels like no time has past.
Mark's motto of "choose life" is back, but this time for the modern era.
He says: "Choose Facebook, choose Twitter, choose Instagram and hope that someone, somewhere cares."
He also refers to reality TV slut-shaming, revenge porn and zero-hour contracts before saying "choose to smother the pain with an unknown dose of an unknown drug".
We see Mark reunite with Kelly Macdonald's Diane and the return of Robert Carlyle's Begbie and Ewen Bremner as Spud.
Mark tells Diane he does not take heroin any more but "choose history repeating itself" tells us that probably won't last long and it would not be Trainspotting without a montage of conspicuous drug use.
T2 Trainspotting will be released on January 27. It can't come fast enough.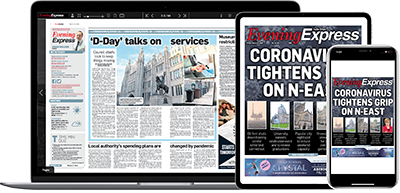 Help support quality local journalism … become a digital subscriber to the Evening Express
For as little as £5.99 a month you can access all of our content, including Premium articles.
Subscribe